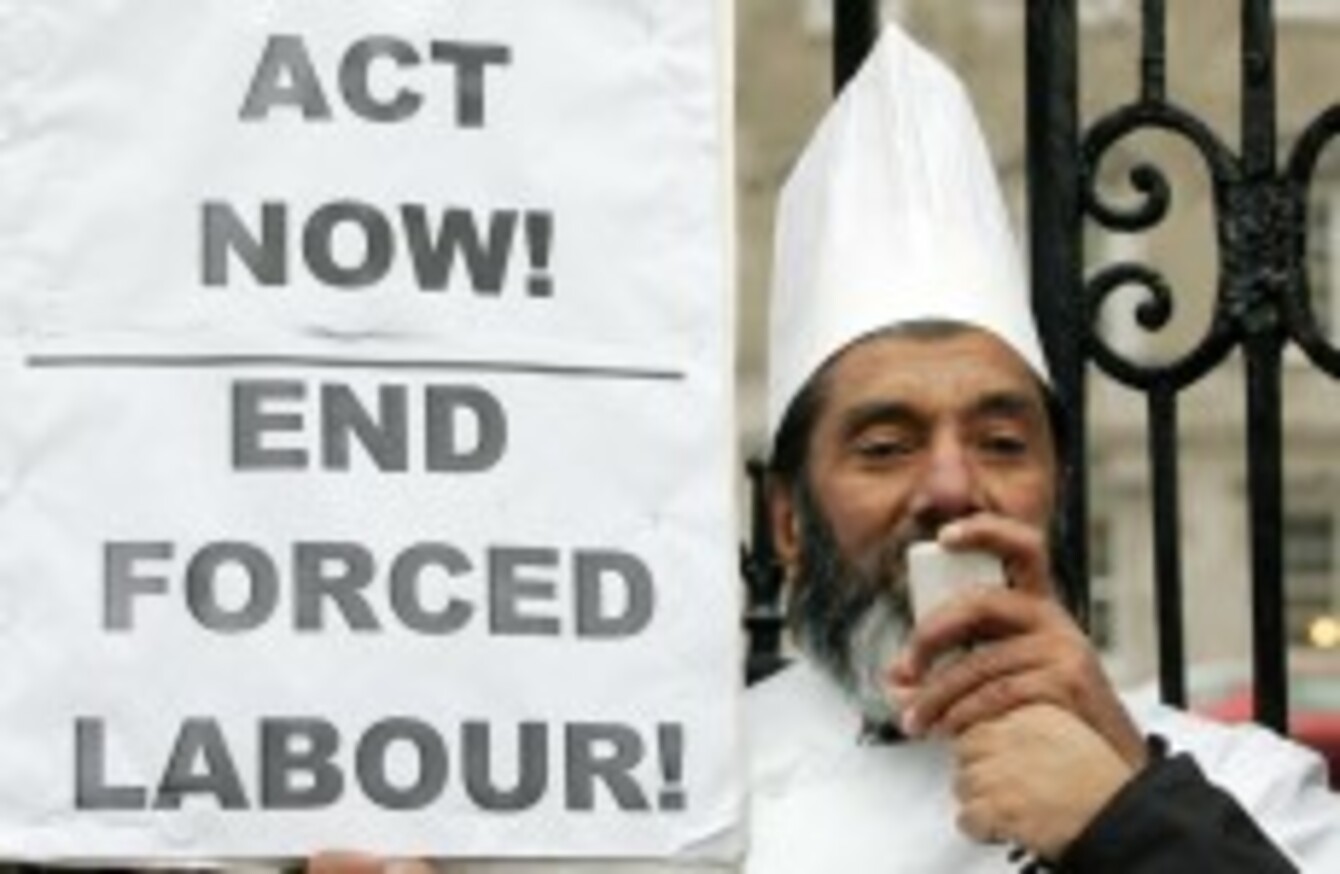 Chef Muhammad Younis protesting against forced labour outside the Dail in Dublin in December.
Image: Sam Boal/Photocall Ireland
Chef Muhammad Younis protesting against forced labour outside the Dail in Dublin in December.
Image: Sam Boal/Photocall Ireland
As part of its campaign to criminalise modern day slavery Migrant Rights Centre Ireland (MRCI) today protested outside Poppadoms Restaurant in Clondalkin, Dublin and called for a boycott. Here, Grainne O Toole of Migrant Rights Centre Ireland explains why.
MODERN DAY SLAVERY is forced labour. It is severe exploitation involving threats, abuse, deception and coercion of workers – and it is a growing problem in Ireland and globally.
MRCI has dealt with 169 cases of this kind over the last 6 years and we know this is only the tip of the iceberg. From MRCI's experience, workers in modern day slavery situations mainly work in non-unionised, unregulated sectors such as private homes, agricultural, restaurant, entertainment, seafaring, care and construction sectors.
In Ireland, there is no punishment for modern day slavery. As such there is no justice for workers who have been subjected to this severe exploitation and unscrupulous employers continue to profit from this heinous act. In line with international and European law, the State has a legal obligation to ensure there are laws protecting people from slavery, servitude and forced labour. Ireland is in breach of these laws by not having legislation to tackle modern day slavery in force.
A key problem that is faced in Ireland, which is common to other countries, is the identification of victims of modern day slavery. A common misconception is that victims are physically constrained, for example, the ball and chain scenario. However, in practice, modern day slavery involves a complex set of dynamics. Coercion and psychological abuse are used to extract consent in a range of explicit and subtle ways.  For example, a worker might be threatened by her employer that her family members will be injured if she leaves or a worker may be told that he will be imprisoned by the Irish police if he leaves as he had no legal papers to be in the country.
For some, their position of vulnerability is such that they have no real alternative but to submit to the abuse involved.  In some cases, they may have no money as they have not been paid, no passport or legal documents as the employer has withheld them and as such feel they have no options. For all workers in modern day slavery situations they are living in fear and need to be supported to leave these chronically exploitative situations.
Modern day slavery can potentially affect all workers. Workplaces where poor standards go unchecked can degenerate in to such situations. We do know from experience that migrant workers are particularly vulnerable to modern day slavery largely because of the ease at which an exploitative employer can control someone who has fewer rights and is less secure.
Forced to work for 51 cent an hour in a Dublin restaurant
The case of Muhammad Younis, a restaurant worker, shows the urgent need for the law. Muhammad Younis was awarded over €92,000 by a Rights Commissioner, following an official complaint about alleged breaches of employment rights. However, Muhammads' ex-employer, Mr Amjad Hussein trading as Poppadom, has not yet paid the award.
For many years Muhammad was paid well below minimum wage, 51 cent an hour. He worked extremely long hours (77 hours per week) with no day off. He was subjected to threats and severe exploitation. The employer also failed to renew Muhammad's work permit which rendered him undocumented in the State. He was forced to share a house with nine other workers in very poor conditions. He had to endure these degrading conditions for many years. Muhammad now lives in a hostel, is unemployed and has not seen his family in 9 years. He is still suffering yet his employer has been subjected to no penalty and refuses to pay Muhammad what he owes him.
To ensure the law is meaningful, workers who have been subjected to modern day slavery forced labour need to be protected and their safety guaranteed.  This is also essential to ensure that people come forward and report the crime and that it is prosecuted successfully.
Gráinne O'Toole works at the Migrant Rights Centre Ireland. MRCI is campaigning for the government to introduce a law to criminalise modern day slavery and protect victims urgently.