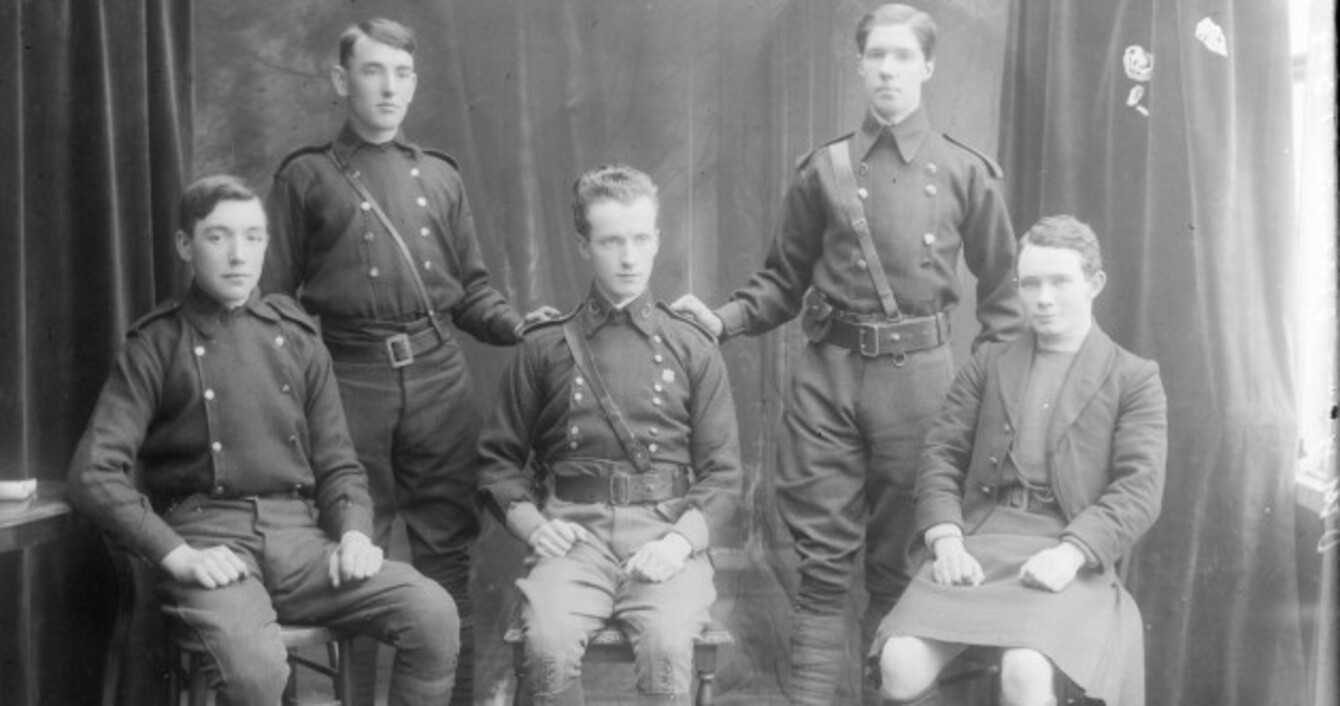 Con Colbert (wearing kilt) pictured with other members of the Fianna Éireann Council. Front, l-r: Paddy Holohan, Michael Lonergan, Colbert; back, l-r: Garry Holohan, Pádraig Ryan.
Con Colbert (wearing kilt) pictured with other members of the Fianna Éireann Council. Front, l-r: Paddy Holohan, Michael Lonergan, Colbert; back, l-r: Garry Holohan, Pádraig Ryan.
THIS WEEK, our Voices section is dedicated to the men, women and children whose first-hand experiences contributed to the rich patchwork of testimony that chronicles the events of 1916.
Elizabeth Colbert's brother Con – known as Cornelius to his family – was executed in Kilmainham Gaol for his part in the Easter Rising, aged just 27.
At the time of the rebellion, he was working as a clerk in Kennedy's Bakery on Parnell Street (then called Britain Street). He had been born in Monalena, Castlemahon, Co Limerick, one of 13 children, but had come to live and finish his schooling with his elder sister Katherine in Ranelagh, Dublin after the death of their mother at the age of 37.
It was in Dublin that he became fluent in Irish and "enthusiastic about everything Irish; he always bought clothes of Irish manufacture".
Even so, Elizabeth, called Lila by her family, knew little of his connection with the Fianna:
He was constantly telling us that there would surely be a fight but I don't think I ever took him seriously. He came to say goodbye to me before the Rising. I can't say what day. He was very solemn about it but I don't think I was.
However, Con did bring Lila into his confidence about the other matter close to his heart, giving us a poignant insight into a future cut short by his execution. This testimony is recorded in full here from Elizabeth/Lila at the Bureau of Military History.
I went to a céilidhe with Con shortly before the Rising. There were a lot of prominent people in the movement at it and many of them have since become well known.
In the course of the evening he said to me "I'll show you the nicest girl in Dublin". He introduced me to Lucy Smith. I think he was in love with her and would probably have married her if he had lived.
She was a nice, gentle, refined girl, a member of Cumann na mBan and a great worker in the movement. She afterwards married Tom Byrne of Boer War fame who was also keen on her at the same time. He was Con's rival.
After Con's execution I got to know Lucy well and she visited us in my brother's place at Ballysten near Shanagolden. On one occasion when I visited her own she showed me the letters that Con had written to her. It was from reading them that I came to the conclusion that he was in love with her.
I heard afterwards from Fr O'Mahony, a member of the CSSp order who was at that time at St Mary's College in Rathmines, that Con handed him a bulky packet addressed to Lucy when he visited Marrowbone Lane during Easter Week. It was to be delivered to her. Lucy never got it and afterwards, hearing about it from someone who was present when the packet was handed over, she went to see Fr O'Mahony about it. I was with her.
He told us that when he was taking the packet from Con, one of the girls present, probably a member of Cumann na mBan – he said her name was McNamara – took it from him and said she would deliver it as she was going there. I imagine she meant the GPO where Lucy was, I think, during Easter Week.
We went around to various places and people seeking information about the packet, but it was never located. We spent days and days at this and we were both very disappointed at its loss.
Elizabeth paints an intimate portrait of her brother's character in her testimony. Remembering him, she notes:
Con was always full of life and fun. He was constantly making jokes, though he took his work for the Fianna and the Volunteers very seriously and spent all his spare time at it.
He cycled all over Ireland organising Companies. I remember he inspected the Company at home in Athea and there is no fear that he showed them any more favour than he did to any of the others.
He was very serious where work for Ireland was concerned and that is why I never thought he was taking an interest in girls. So I was surprised when I found out that he had been writing love letters to Lucy Smith and thinking very seriously about her.
Con's earnestness was applied to every thing he did. When he was at school he felt he had to do his very best at his lessons. And when he worked at Kennedy's he thought he should improve his position in the best way possible, so he devoted himself to the study of accountancy.
He did not waste a moment and no matter how late he went to bed, he would make sure to get up in time by tying the alarm clock to the head of his bed. He had to be at work at Kennedy's at 8 o'clock. He never wasted a moment.
His favourite phrase was "for my God and my country". He had unbounded energy and was very healthy.
While Con refused visits from his family while in jail awaiting execution in May 1916 – he feared it would upset them too much – he wrote prodigiously to them. To Lila he wrote:
Con's movements during Easter Week are more detailed in an eyewitness account by Annie O'Brien (née Cooney), who was 19 at the time of the Rising. She and her sister Lily had been members of Cumann na mBan and good friends to Con.
It was from their city centre house that Con would leave for the Rising on Easter Monday. She seemed to think that Con was too interested in "his work for Ireland" to be interested in girls. And her statement would indicate that Con was more than capable of balancing the two:
I remember particularly one might a couple of weeks before that he [Con] came after one of his meetings. He had asked me to make some signalling flags. He took two photographs out of his pocket and asked me: "Would you care to have one of these?"
One of the photos was of himself alone and the other of himself and Liam Clarke. I said I would be delighted and he actually gave me both and I have brought in one of them to show you. I was charmed because, to tell the truth, I thought an awful lot of him and, of course, he must have known it.
He was not, however, at all interested in girls; he was entirely engrossed in his work for Ireland and devoted all his time to it. He had taken me to a few ceilis and concerts and always brought me home. There would be others in the party.
He said, rather significantly: "Would you mind very much if anything happened to me in this fight that is coming on?"
I said, "I would indeed, why do you ask?"
He answered: "I might just be the one to be killed."
#Open journalism No news is bad news Support The Journal

Your contributions will help us continue to deliver the stories that are important to you

Support us now
Sadly, Con's prophecy would come true, but Annie also recalls the enthusiasm with which he embraced the fight of Easter Week, notwithstanding the danger to himself.
Lily, when she came back, and myself were feverishly busy filling Christy Byrne's and Con Colbert's haversacks and our own with any food we could find.
They were both now in uniform. We helped them to buckle on the haversacks and Sam Brown belts and they were all excited to get out. During the time I was buckling him up Con – who had not a note in his head – was singing "For Tone is coming back again," he was so excited and charmed that at last the fight was coming off. He thought of nothing else.
Con Colbert fought at Watkin's Brewery and Jameson's Distillery in Marrowbone Lane during the Rising. Following the surrender, Annie and Lily were also imprisoned in Kilmainham and saw Con receive Communion along with Eamon Ceannt, Michael Mallin and Sean Heuston, all four marked out for execution.
They were the only ones to receive Holy Communion, which we thought significant. That affected us all and I began to cry. When the Volunteer prisoners were leaving the church, those four were the last to leave and they looked up at us.
We waved down to Con Colbert, who waved his hand in reply shaking his head up and down as if in farewell. They evidently knew what their fate would be. They were all four executed next morning.
A portrait of Con Colbert is to be unveiled on 8 May, the centenary of his execution at Colbert train station in Limerick city.
The chaplain's story: 'Crying, terrified children came to us for shelter'>
The nurse's story: 'John Healy, 14, a schoolboy, had his brain hanging all over his forehead'>
The printer's story: 'I knew it meant war but I was honoured to print the Proclamation'>
The doctor's story: 'As I arrived I saw the dead body of a big policeman on the ground'>