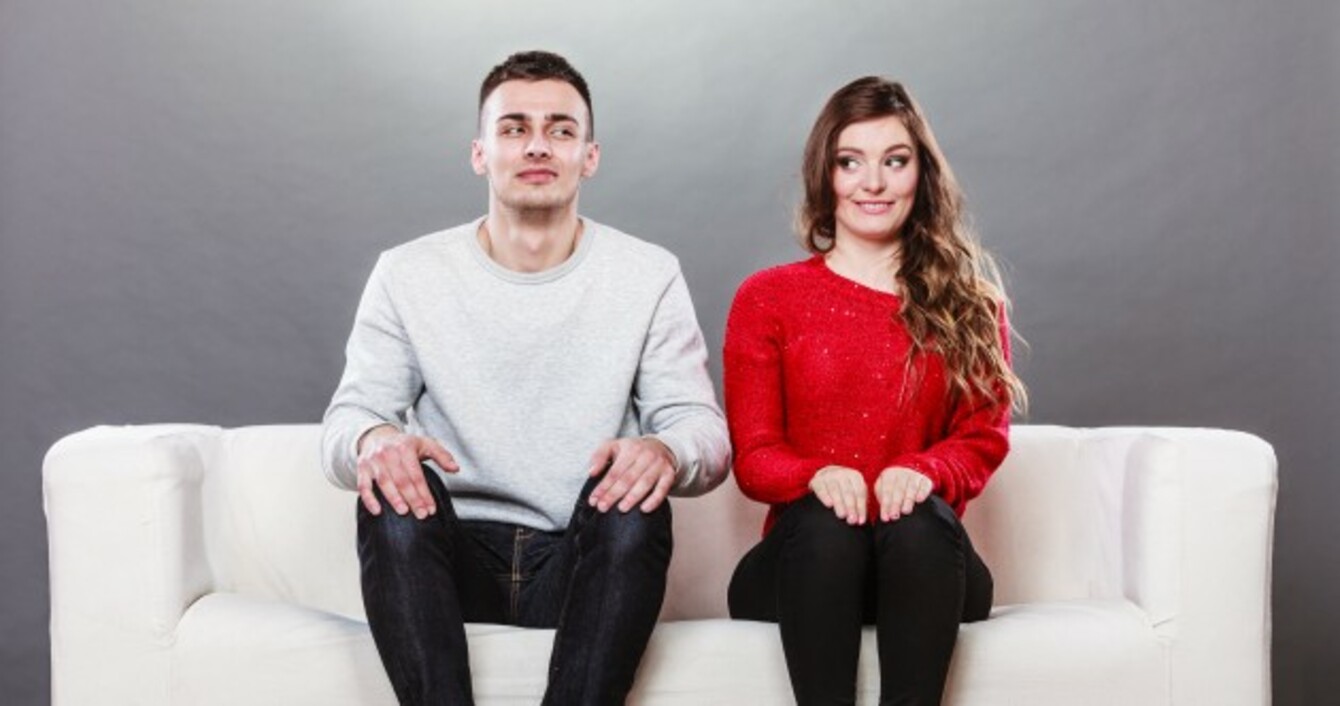 Image: Shutterstock/Voyagerix
Image: Shutterstock/Voyagerix
YOU'VE ONLY BEEN dating for two weeks and Valentine's is upon you – how to mark it appropriately? To gift or not to gift?
I'm the founder of a matchmaking agency, and even though we arrange up to 100 dates each week, with the majority taking place across the weekend, just like every other year we have only managed to get one couple to agree to meet on Valentine's day this year.
The 14th of February is the proverbial dating hot potato – anyone on the cusp of a burgeoning relationship wants to avoid it lest they should seem prematurely keen by looking to mark it or insultingly aloof by refusing to mark it at all.
There are so many sub-levels when it comes to defining the status of a relationship depending on how many dates you have been on together, is one half a little keener than the other, are both parties looking for the same outcome – relationship/casual fling etc?
The possibilities are endless.
Generally, it's easy enough to tell after four or five dates if you are both on the same page. There is a mutual excitement about your connection, communication is fluid and no games are being played.
It's early days 
However, it's early days and nobody wants to scare/be scared off by an over eager bunny-boiler. There are some rules of thumb to bear in mind if you are trying to find appropriate ways to mark Valentine's with your shiny new love interest.
Archaic as it may sound, guys should do the planning. Take the bull by the horns and booking a romantic outing. Ladies, sit back and let him take the lead if he is inclined to.
Bring the elephant into the room. After four dates it's early enough to poke fun at the looming day so if you bring it up you won't be fretting about it.
Avoid cards around Valentine's. It's far too hard to find a card that's not bursting with sentimentality or cheesy, loaded meanings. Cards are deep. Far too serious for week three!
No expensive gifts: Jewellery, a dozen roses, perfumes/colognes, thoughtful cufflinks are all far too much for a fledgling romance. Keeping it light is essential for ensuring neither party feel they are more (or less) emotionally invested than the other. Unreciprocated big gifting makes for an extremely awkward moment and potentially tense last and final date.
Keep it lighthearted 
Try to keep it light: A nice text on the morning of Valentine's Day wishing your sweetheart a Happy Valentine's day. If you would like to present something rather than arriving to your date arms swaying, then a single red rose is quite enough.
Valentine's Day falls on a Sunday this year which is perfect for the budding romantics because it naturally lends itself to a more casual, less daunting, day-time date. There's no big pressure to do a big formal sit-down meal to show each other you care.
Here are 5 low pressure ways to celebrate your fresh romance this Sunday:
Walk on the beach and get a 99: Cheap and cheerful but there's something special about having nothing but each other and a view to focus on getting to know one another. And maybe hold hands.
Dublin Bus Tour: If you're near Dublin then joining the tourists on the Dublin Bus Tour is a fun way to take a trip down memory lane and regale each other with tales of antics gone by. If you're so inclined, you can also hop off near Aungier Street and see the relic of St. Valentine at Whitefriar Street Church. For the day that's in it.
Fota Wildlife Park/Dublin Zoo: Wrap up warm and enjoy an afternoon ambling around the Zoo/Park chatting. A nice relaxed place to have some alcohol-free fun.
Hiking: If you both enjoy the outdoors then pack your sandwiches, strap on the all- weather boots and take to the hills. Take a long but manageable route so you can both enjoy the experience without the risk of needing an emergency mountain rescue. Plan a nice Irish coffee by a fire afterwards to reward the exertion. Bliss.
Dine in for two : A woman loves a man who can/is prepared to try to cook for her. Even if you're efforts are not worthy of Masterchef and you plan a reheat special from M&S, you will certainly find that she is impressed by the effort.
Feargal Harrington is co-founder and Director of www.arealkeeper.ie, Ireland's online dating site for real people looking for real relationships. He also founded www.intro.ie which is a face to face matchmaking agency.