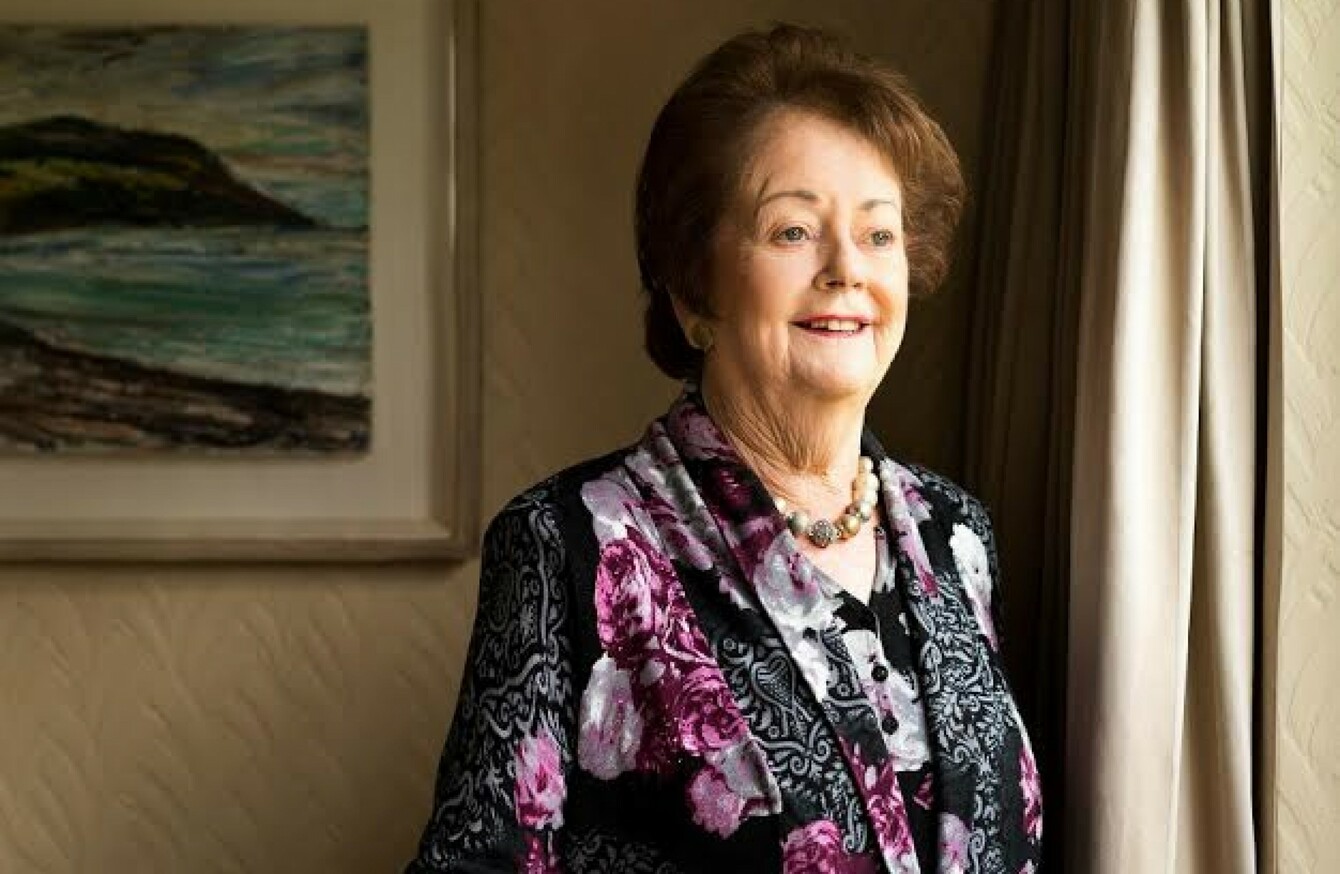 Image: Mark Nixon
Image: Mark Nixon
IN THIS EXTRACT from Mary O'Rourke's new book, the former Fianna Fáil TD writes to Facebook COO Sheryl Sandberg after the death of Sandberg's husband to talk about how her own husband had helped her so much with her career – and how women can balance it all. 
Dear Sheryl,
We don't know each other, but I have been following your career with great interest. I also read your bestseller, Lean In, because it said a lot that needed to be said about women in leadership roles. I didn't like the title, though, because I thought it was a bit weak. Why not Jump In? I thought, or Dig In? I can think of a lot of other verbs that might be stronger and more active and more dynamic, because that's what we need to be doing, Sheryl: encouraging women to get stuck in, not stand at the sidelines.
In fact, I have been travelling around the country recently, talking to women who are interested in politics, to encourage them and to stimulate them to take part in public life; my own party, Fianna Fáil, had not one single woman TD in the last Dáil Éireann. Thankfully, the party now has six, and I feel proud of the fact that my visits and talks might have helped to encourage those women along.
Of course, one reason that women may be reluctant to take part in political life is because they can see the long hours and the dedication that are needed and they rightly wonder how they might fit in with their other responsibilities. Of course, they don't like the snarling and the rows that they see nightly on TV either, and they feel they don't want to be a part of it. I also know that it is very hard to do this job without a supportive partner or without help. This is where I come to you, Sheryl.
My own experience
I know that you received a lot of criticism when the book was published. As COO of Facebook, you could employ nannies and housekeepers and gardeners to keep your household ticking over comfortably and your young family always provided for, which is obviously not the case for many women. You enjoyed a position of privilege, when many other women had to make do with part-time help, or with putting the children into crèches or asking family members to stand in. I think the comments were true, although, as is sometimes the case with social media, the tone was bitchy and sometimes venomous.
I could understand a lot of what you were saying, because of my own experience in politics and balancing the needs of my family with my work, first in Athlone Town Council and later in Dáil Éireann. I couldn't have done either of these things without the support of my husband, Enda, who was always there to listen and to encourage. I was also lucky enough to have help.
One day in 1976, when I was working full-time as a teacher in Summerhill College in Athlone, my doorbell rang. I opened it to see a small, neat woman on the doorstep, who announced herself as Pearl Samuels. 'You are going to be very busy now, being on the town council and teaching full time. I came to ask if you could be interested in taking me on as a part-time housekeeper.' I was delighted, and after discussing it with Enda, asked her to come every afternoon between 1pm and 4pm to be there for the children when they came home from school at 3.30 until I returned at 4.00. Pearl stayed with us for 18 years, long after my sons had left home; indeed, one of them had married by the time she retired. Pearl loved working for us, because it gave her a certain independence, which she relished.
How we managed to balance things out at home
Pearl was an essential part of our household, ensuring that clothes were ironed and the house was kept clean; for me, getting the evening meal was an easy matter, because the house was so tidy and ordered, thanks to Pearl. It also helped that Enda worked regular hours, so that when I became Minister for Education in 1987 we were able to work out a schedule that kept family life on track while I was in Dublin. Not that the process was without guilt or compromise, Sheryl, far from it. I can clearly remember that at the beginning of my career, I would make the two-hour journey home to Athlone and to Enda and the boys every night, after a long day in the Dáil. I suppose I wanted to feel that I wasn't neglecting them. Then Enda sat me down one night and said, "Are you serious about your job? Do you want to continue in political life?"
"Yes, I am," I replied.
Well then, you can't be racing up and down the Dublin road to Athlone every night. I can be Mum and Dad during the week, and when you come home on Thursday night, you can be Mum again.
What a modern man my husband was, and how lucky I was to have him there, always encouraging me and making every accommodation to me to ensure that home life ran smoothly.
I understand that, like you, I was in a privileged position. Yes, I had to balance my life carefully, but I had the means to employ help and a supportive husband, so my job was made so much easier. I know that there are so many women for whom this is not the case, particularly those women who have to raise their families alone.
I was intrigued to read your Facebook post about how much your position has now changed, due to the sad death of your husband Dave in 2015. You have become a single mother, Sheryl, and you have come to understand how hard that job is, attending parents' evenings and making tough decisions about and for your two children, without the advice and support of your husband. Of course, my own two children are now grown, but I understand just how difficult it can be. When Enda died in 2001, I was bereft. I, too, experienced the 'fog of grief' that you referred to in a lovely speech to students at Berkeley College, California, the emptiness.
Dealing with loss
I, too, returned to work a short while after Enda died, just as you did after Dave died, and, like you, I wondered what on earth everyone was talking about. How could they find something as trivial as a meeting important?! Yet, as you say, it is those little things that sustain us and that make it possible for us to understand that there is something else in life besides this overwhelming loss.
I had been in public life and very much able to do things on my own, but with the constant back-up and support and advice of Enda. Now, when I would come home fed up and exhausted from some political affray or other, there was no one to talk to, no one to share the burden. It was a very lonely time, as you said in your Facebook post:
I did not understand how often I would look at my son's or daughter's crying face and not know how to stop the tears. How often situations would come up that Dave and I had never talked about and that I did not know how to handle on my own. What would Dave do if he were here? I never understood how often the world would remind my children and me of what we don't have—from father-daughter dances to Parent Night at school.
You have come to understand that this is a situation many women face every single day, whether widowed or divorced or simply a single parent. (I know that many men are faced with this situation too, but they will forgive me if I focus on women, as this is a situation I am more familiar with). And yet, as you also point out in your post, there is a hidden side to this situation, that so many people – in particular women – also face poverty as well as the emotional issues. You quote many statistics which are relevant to the US, including the fact that it is the only economy in the western world that does not provide paid maternity leave, but I have a few statistics, too.
In Ireland, one in four families with children is a one-parent family and people in lone-parent families have the lowest disposable income out of all households in the state. According to the CSO, 42.5% of lone parents work, compared with 69.3% of heads of two-parent families. I'm not throwing these statistics out at the reader just for the sake of it; what I am saying is that for lone parents, particularly women, it is more difficult to raise a family and to work, as you have found yourself. Clearly, if we want to encourage more women to 'lean in', and to participate in the workforce, we have to make it easier for them to do so. The playing field is not a level one, as you yourself have discovered.
'Well, is it back to the knitting now?'
I think we also have to impress upon younger women the importance of having the skills to thrive in our modern society. It's not enough to be bright or determined, although that helps. And it's also not enough to rely on things like gender quotas or positive discrimination. I am strongly against that kind of thing, because I believe that women need to succeed on their own merits, not on their gender. Women need to be equipped with the skills to forge ahead in life, to be persistent and not to see setbacks as the end of the world. Setbacks are part of life, as we both realise; political life is full of setbacks: small triumphs and big failures, a sense of not being able to achieve everything you set out to achieve. If I were to have taken each setback personally, I would not have lasted long in politics!
I think women also need to develop their self-confidence and their self-belief. I can very well remember what it was like to be the only woman at the cabinet table, and to have to remind myself to speak up, to make sure my voice was heard, even though it might have been easier to stay silent. I can still remember the odd barbed remark from political commentators, such as the one I received when I lost my seat in the 2002 general election:
Well, is it back to the knitting for you now, Mary?
I was livid, I recall, retorting that I had never knitted and had no intention of starting now. No man would ever be asked that question, Sheryl.
I don't believe in the glass ceiling
I have heard the expression 'glass ceiling' many times when referring to women's lack of progress in the workplace, and I have to say, I have never believed in it. Some might call me naive, but perhaps this is the reason why I succeeded in politics; because I didn't acknowledge it, nor did I want to fit the 'knitting' box that some might have wanted to put me in. I simply got on with the job in hand and didn't pay any heed to gender.
It used to be that men were considered to have the kind of skills – toughness and ruthlessness – required of a leader, while women were thought not to have them – empathy and emotional intelligence were no good in the boardroom. And yet that has now changed, Sheryl. I read a very interesting article in the Irish Times about women in business. Louise Phelan is Vice President of PayPal's global operations and this is what she has to say about the matter:
It's not fair to categorise styles based on gender. For me, leadership is about empowering those around you and trusting their judgement. It's about investing in people and creating a culture of two-way engagement that rewards and values them.
She is absolutely right, Sheryl, as she is when she says, 'I never for one moment thought, "I'm not a man so I can't do that".' With role models like her, and marvellous examples of leadership among women today, including yourself, I hope that the next generation feels empowered and hopeful about the future.
Yours sincerely,
Mary O'R
This is an extract from Letters of My Life by Mary O'Rourke, out now, priced at €19.99 and published by Gill Books