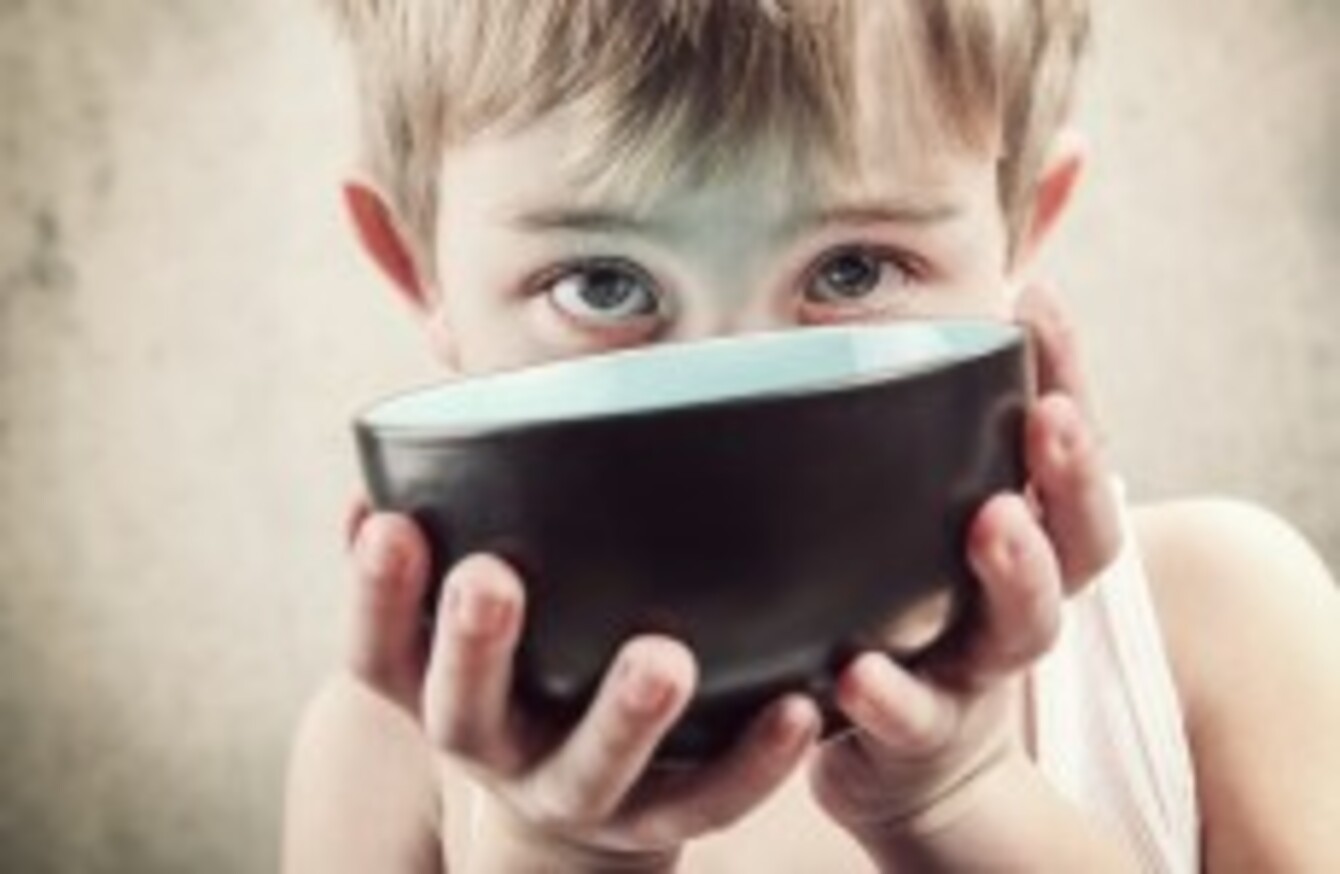 Image: Shutterstock/Suzanne Tucker
Image: Shutterstock/Suzanne Tucker
FOOD POVERTY IS on the rise in Ireland with over 600,000 people in the country being affected by it in 2013. Food poverty – which is defined as the inability to afford or access healthy food – impacts on low-income groups but children, lone-parent families and the unemployed are hit particularly hard. One in five of our children go to school or bed hungry.
Because of the recession, many families are struggling to put food on the table. Indeed, families with older children would have to spend almost two thirds of Child Income Support on food alone in order to buy the recommended diet for a teenage child.
So why are so many people experiencing food poverty in Ireland? There are four factors involved:
1. Affordability
Ireland has some of the highest food costs in the EU. The amount you have to spend on food once you have paid your household bills will influence what type of food you buy. Food often becomes the flexible item where people try to make savings.
2. Accessibility
The cost of food varies depending on whether you can shop in a large supermarket or your local corner shop. For those without a car, or those with limited mobility, shopping around is often not realistic.
3. Availability
The type of food available in local shops does not always promote the healthier choice. Often special offers tend to be on highly processed convenience foods and less on fresh produce. Choice is greater in supermarkets but if you are dependent on smaller stores unfortunately your choice is limited.
4. Awareness
The majority of people in Ireland never learned how to cook in school and many people lack the skills and confidence to prepare a healthy meal. An additional issue here is that parents cooking on a budget can't afford to risk trying out new foods in case their children don't eat it as they can't afford to waste food.
What needs to be done to tackle the growing problem of food poverty?
Evidence gained through Healthy Food for All's work with community groups and schools shows that by creating healthier food environments – like schools, workplaces, homes and community organisations – low-income households are empowered to make healthier choices.
Schools, in particular, provide an ideal setting to support children to access a nutritious diet – we know that 1 in 6 of children report never eating breakfast on a weekday. School breakfast clubs can have a positive impact on children's nutritional intake and can support children to get the most out of the school day. Evidence shows that breakfast clubs help increase attendance rates and punctuality, improve concentration, develop social skills around eating, provide schools with an opportunity to engage with families on an informal basis and support parental involvement.
The current School Meals Programme – with a budget of nearly €40 million supported by the Department of Social Protection – is a critical support to children and it provides meals to 200,000 children in DEIS schools (schools with designated disadvantage status). However, over 100 of the country's 850 DEIS schools are not currently providing school meals because they don't have the facilities to prepare and serve food, nor do they have the trained personnel in place. To tackle this problem, we believe that a once-off investment of €500,000 in 2016 should be made to ensure that all DEIS schools can serve healthy food.
Another key step in tackling food poverty involves empowering communities to address their own food needs. Healthy Food for All currently manages the safefood funded Community Food Initiative Programme. These initiatives improve the availability and accessibility of healthy food for low income groups at local level through community gardens, cookery and nutrition classes, community cafes, supermarket tours and budgeting courses. We know from direct experience that they have a life-changing impact on those who take part in them and we would like to see at least one in every county in the State. We're proposing that a budget of €2.5 million be put in place over a five-year period to deliver this objective.
#Open journalism No news is bad news Support The Journal

Your contributions will help us continue to deliver the stories that are important to you

Support us now
We need a fundamental shift in thinking 
These two practical – and low-cost – steps would make a real difference to those experiencing food poverty but, clearly, something more structured and fundamental is needed and this is why we're calling for a National Food Strategy.
Food poverty is linked to a number of government policy issues including income adequacy, health, planning, transport, education, social enterprise as well as to our food production and distribution systems. Clearly then a co-ordinated approach to developing and implementing the national food strategy is critical in addressing the multi-dimensional nature of food poverty so any response to this issue must be developed in partnership with all the relevant groups in society.
We know that such a strategy can work – look at huge progress we have made in tackling the tobacco epidemic since the adoption of Towards a Tobacco Free Society in the early 2000s – and this is why we are urging Government to take this important step forward.
Sinead Keenan, Project Co-ordinator, Healthy Food for All. 
Healthy Food for All is an all-island charity seeking to address food poverty by promoting access, availability and affordability of healthy food for low-income groups. For more information www.healthyfoodforall.com