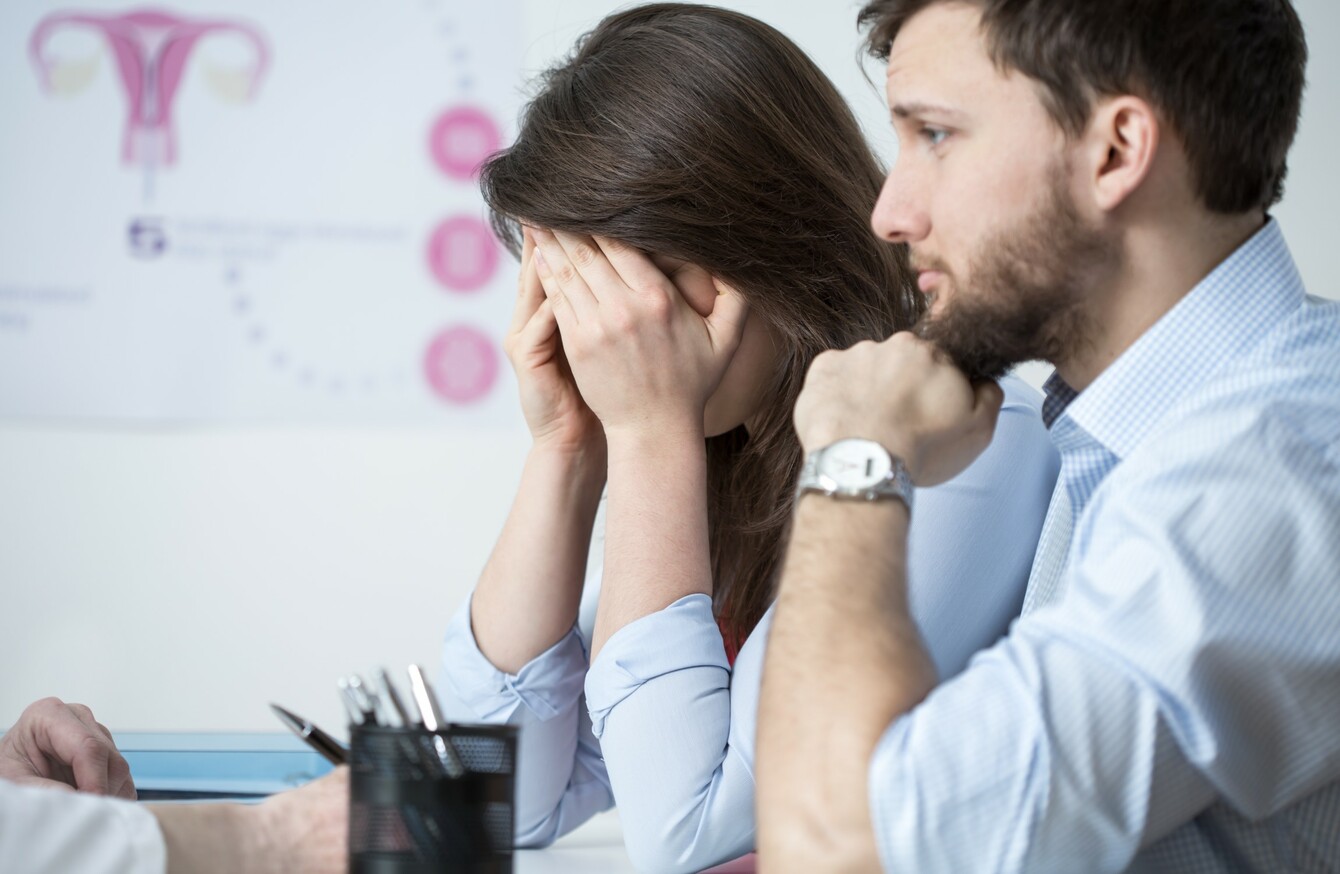 Image: Shutterstock/Photographee.eu
Image: Shutterstock/Photographee.eu
WITH ONE IN six couples in Ireland experiencing difficulties conceiving, infertility is a widespread issue. When a couple is faced with the realisation of infertility, it can be unexpected and can send them into crisis mode.
Adapting to this new reality and what it means creates a lot of stress and difficulty, both for the individual and within the relationship itself.
For many couples life can become focused on monthly cycles of hope and disappointment.
Ovulation calendars, doctors' appointments, tests and treatments start to take over.
The all-consuming nature of fertility struggles and treatments can result in increased amounts of anxiety and emotional distress. Couples struggling to conceive may feel a range of complex and painful emotions such as grief, anger, loss, feelings of isolation and anxiety for the future, all of which can be overwhelming. Studies have shown that increased levels of stress can actually affect fertility.
A recent study found that women with high levels of alpha-amylase, an enzyme that correlates with stress, have a harder time getting pregnant. So the stress and anxiety you feel could be the very thing that works against you when you are trying to conceive.
So, what practical steps can you take to help manage the psychological and emotional impact that infertility has on your daily life?
Recognise that a fertility problem is a crisis
Give yourself permission to feel however it is you feel. It is normal to have overwhelming feelings of loss and anger. It is normal to cry at the injustice of it. Try not to shut these feelings out, accepting them will help you to move forward and focus on what the next step is.
Take time out for yourself
Take time out of your week to focus on yourself. You had interests and hobbies before you started out on this journey, so reconnect with those things that bring you joy and make you feel good.
Look after yourself, be kind to yourself. Set time aside for yourself to do something that you love whether it's pampering, exercise, socialising or any other hobby that you enjoy.
Practice Mindfulness
Daily practice of mindfulness techniques have been proven to reduce stress and increase psychological wellbeing.
This incorporates not just practicing mindfulness meditation, but training yourself in your everyday life to focus on the here and now, taking in the moment and clearing your head of all those anxious thoughts.
It can be very challenging for couples struggling with infertility to remain in the present moment, when you are always thinking of the next appointment, the next menstrual cycle or what the next step is. There can be tendency to become consumed with what isn't happening or what isn't working, mindfulness can train you to be more present in the moment, to concentrate on the here and now.
Support your partner
Not everyone will react to or deal with infertility in the same way. Your partner may not react necessarily in the way you would like them to and vice versa. It is important to give each other permission to cope with the situation differently.
Ask your partner for help, let your partner know how you want to be supported, however that may be. Don't expect your partner to automatically know what you need, your partner cannot read your mind and you are more likely to have your needs met if you simply ask.
Nurture your relationship
Make time to reconnect with your partner, spend quality time together doing things you enjoy. Set aside a certain amount of time to talk about the infertility issues, but put a limit on it. It is important to concentrate and nurture the other aspects of your relationship and not let the fertility problems become the sole focus.
Counselling and Psychotherapy
Fertility counselling allows you to talk freely about how you are feeling in a non-judgmental environment, it can help you make sense of your emotions and develop ways of coping with the difficulties and decisions you are facing.
Counselling can help with managing the stresses associated with undergoing fertility treatments, such as dealing with possible negative outcomes and the impact that this has on your emotional wellbeing.
Laura Bayoumi is a Psychotherapist at Thetherapycentre.ie and at Insightmatters.ie. Laura has a special interest in working with the emotional aspects of infertility and provides perinatal counselling support for individuals experiencing difficulties in pregnancy or post childbirth. Laura also facilitates a Mother and Baby Support group for mothers who may be feeling isolated, anxious or need support. For more information call 086 1083669.