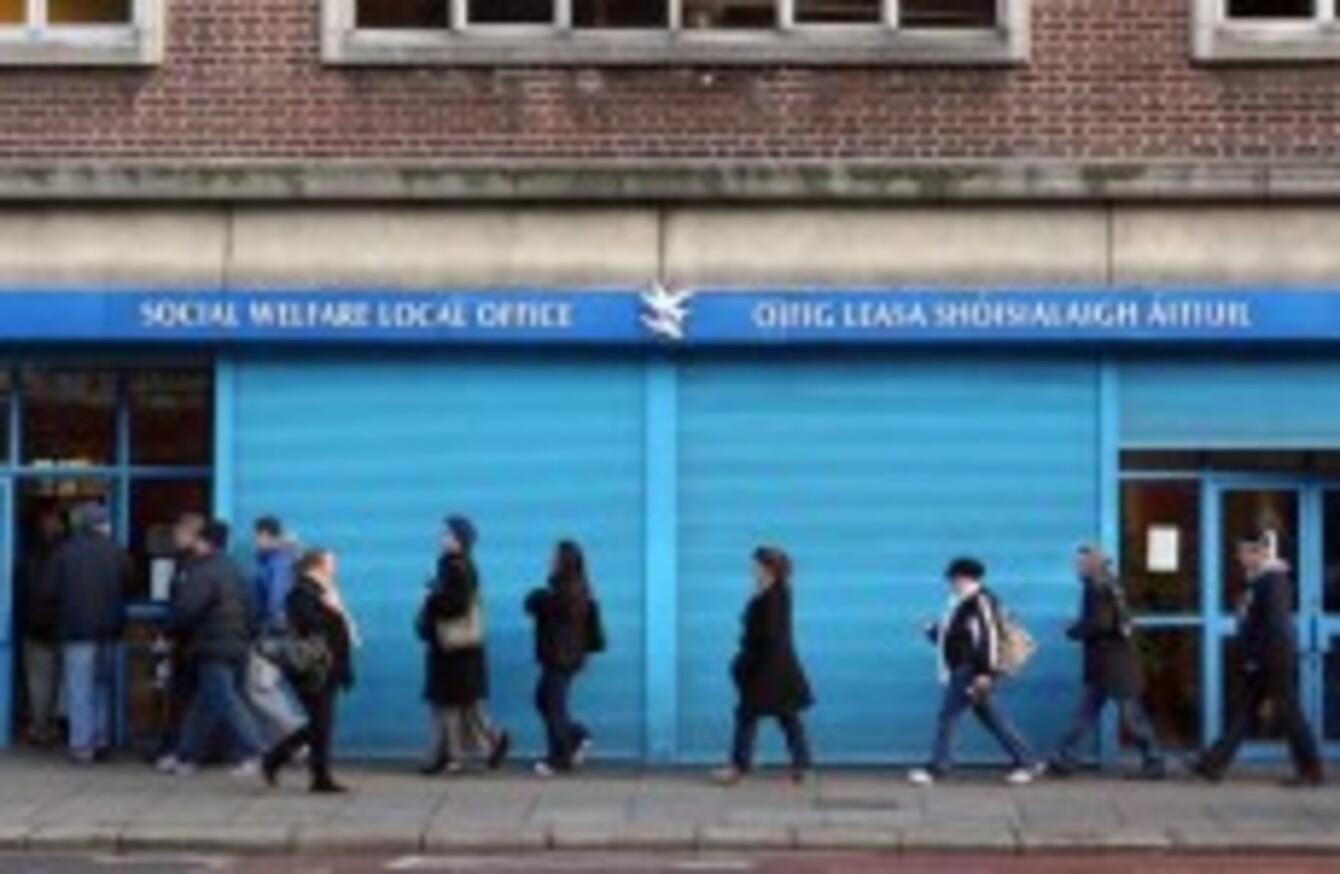 FOLLOWING CRITICISM OF the JobBridge internship program by trade unions, academics and activists, the Department of Social Protection has announced it will be reassessed and reformed in 2016.
To cynics, that might seem like electioneering promises, yet even that implies that the flaws of JobBridge have been recognised.
Indeed, now might be a good time to reflect on what has happened in Social Welfare policy since 2012, since very little thought seems to have been put into it then.
National mood
This summer the unemployment rate dropped below 10% for the first time since the global financial crisis hit. Government politicians will claim that their plan is working; the opposition will ineffectually complain that many people are still left behind, it is not happening quick enough or that it has nothing to do with the government plan.
One of the stranger things about Irish society is that most people know the unemployment rate off the top of their heads. Like the price of a litre of diesel, or a loaf of bread or Joe Duffy's telephone number; it is a number that lives large in Irish people's consciousness; one of the few government statistics worth giving a damn about.
The high number created a sense of panic about what was happening in our economy and society. People emigrated, gave up looking, felt hopeless; perhaps some did worse.  The number is remarkably important to our national mood.
Conditions and punishment
In January 2012 the number was 15%, and the Troika had demanded a radical overhaul in the memorandum of understanding. In particular they demanded an active rather than passive approach to welfare – not just supporting unemployed people, but directly working on them to make them find jobs.
Whilst in 2010 there were a wide range of labour market programmes (e.g. in-work benefits, job creation programmes, placement services, training and counselling) in 2012 under Pathways to work they were strengthened and made mandatory, and benefits were made more clearly conditional on job-seeking efforts and engagement with social welfare services; non-compliance of any sort can result in sanctions – a reduction of €44 per week or a cessation of payment for up to 9 weeks. For instance, refusing to take an internship can lead to this form of punishment.
Activisation policies have been popular in the USA and Scandinavia since the 1970s; and have been warmly embraced by Merkel in German and Cameron in the UK.
The problem with the term 'activation' is that it lumps together the offer of help with the threat of sanctions. The international evidence on active labour market policies is at best weak; and in Ireland non-existent. The state commissioned no research into the impact of the new Pathways to Work policies on employment or the well-being of jobseekers.
Knee-jerk response
Taking the best case scenario, there is some evidence in sclerotic economies that have not transitioned out of declining forms of employment, activisation polices can break down unemployment black-spots; but at huge social cost to the communities subject to the policies.
The other argument in favour of them is that they allow government to continue to support unemployment against popular calls to cut payments- by being seen to be tough on 'scroungers culture' the core payment system can be protected.
But they have a very negative impact on those subject to them. And those subject to the monitoring, dictates and threats of the new system are not limited to some subsection of 'scroungers'. Rather, everyone who finds themselves out of a job – at least quarter of a million in Ireland – is subject to these corrosive measures.
Surely this adds to the pressure which gradually makes anyone who is unemployed less healthy, happy and socially integrated. Indeed, those who are sanctioned internationally may earn less in the future.
At the time of this 'reform' the governments mantra was "TINA" – there is no alternative. We needed to do things and be clearly seen to do things to restore international investor confidence. Yet, this was a knee-jerk response, misdiagnosing the problem. The problem was the lack of jobs, not the work-ethic of the unemployed.
'Not a country of scroungers'
During the Celtic Tiger, around 0.25% of the workforce was long term unemployed – that is, unemployed for over 12 months – with short-term or 'frictional' unemployment at around 4%.
Both categories represent people moving from job to job, or retraining via FÁS or other schemes. 0.25% was under 10,000 people and, still, there is no good reason to think these people were 'scroungers', because obligations to care for children or older people or the lack of employment in rural areas may well account for a vast proportion of these cases.
More compellingly, the huge increase in the Irish labour force over the past twenty years suggests that Ireland is most definitely not a country of scroungers.
Since 1990 the Irish labour force has doubled, with net immigration and the increase in double income households. Despite many people offering a lazily pointing to the similarities between the recent recession and Ireland's 1980s recession; they were very different.
Hand-in-hand with the move towards individualised rather than family labour market structures is a rise in in-work benefits that arise from seasonal, part-time, precarious and low paid work. This means that the state effectively subsidises employers who engage part-time temporary staff.
Fine-grained statistics and analysis that would provide a richer picture of the ever-changing labour market in Ireland is not available, and so decisions are made on the thin data of this totemic number.
Worse still is the lazy duplication of failed international strategies to get the labour market moving. Worse again is that this is done by people who should know better, but cynically know that it is important to be seen to be doing things and it plays well with the voters.
Add to this the actual impact of these activisation process on individuals and the full awfulness of the road we are on becomes apparent. In 2015 we have choices, and time to reflect on them with proper evidence based consideration of the policy choices; and, ultimately, choices about what kind of society Ireland wishes to be.
Tom Boland and Ray Griffin are lecturers at Waterford Institute of Technology. The Sociology of Unemployment, written by Tom Boland and Ray Griffin, was published by Manchester University Press last month.