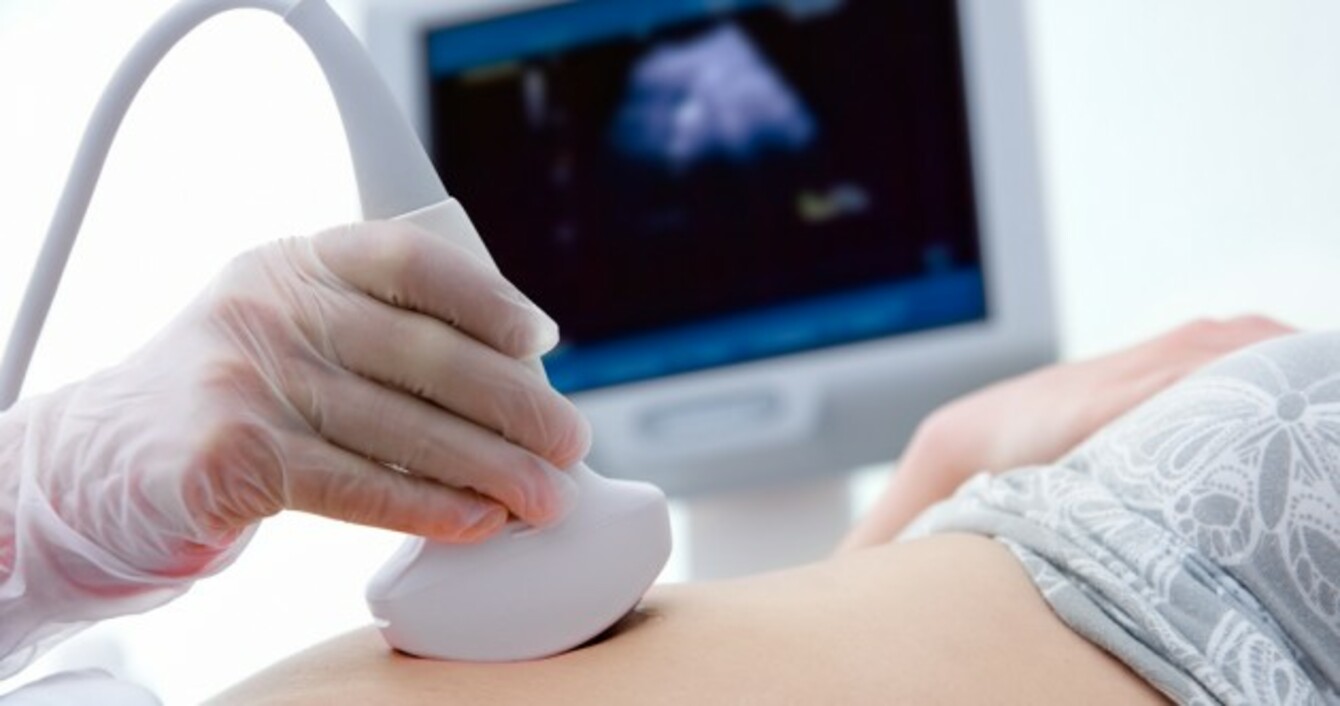 Image: Shutterstock/Alexander Raths
Image: Shutterstock/Alexander Raths
I HAD A blood test, was sent home and told to have a follow-up scan a week later. The hospital rang a couple of hours later to say that my hormone levels were abnormal and they were a bit concerned that it might be an ectopic pregnancy.
They wanted to repeat my bloods in two days to check the progression of the hormones.
By later that evening the pains were very bad and I was admitted to hospital. Another blood test showed the hormone levels were rising but not at the rate they should have been and following another internal scan, I was being treated for an ectopic pregnancy.
'The pregnancy was viable'
I had a laparoscopy the next day, which thankfully confirmed it wasn't an ectopic pregnancy. I would have to wait ten days for a repeat scan to see if – in the doctor's words 'the pregnancy was viable'.
Those ten days of waiting were like slow torture.
The repeat scan (at almost 9 weeks) now showed a pregnancy sac and a tiny baby in the womb, but no sign of life. The doctor confirmed it as 'a missed miscarriage' and said that the baby 'never really developed'.
I cried, but not as much as I expected myself to, I suppose I was all cried out by that stage to some extent. I opted for a D&C because I just wanted it be over with, physically at least.
Unfortunately, there was a complication during the D&C which meant it couldn't be completed. I left the hospital feeling absolutely battered and so fragile. As my miscarriage was now classified as 'incomplete' I was given tablets to help my body pass everything with follow-up scans and blood tests to be done until 'everything' was gone.
I can't remember anyone saying to me that they were sorry for my loss.
Our much-wanted baby
I had been 'through the wars' and for that reason the emotional side of things took a bit of a back seat. I was really sad that our much-wanted baby hadn't made it but somehow I didn't feel I had the right to grieve for a baby that never really developed.
In my mind if I could be pregnant again,then I would feel better. In ways, it was like I was trying to replace that baby with another one. It was my way of coping, I suppose.
In September 2010, I found out I was pregnant again. We were happy, but obviously cautious. I was so sick I could barely function and I got past seven, eight, nine weeks with no bleeding. I thought I was home and dry!
We went to the hospital for a scan at ten weeks. The midwife seemed to take ages to speak and then just said 'I'm very sorry, your baby is only measuring eight weeks and there is no heartbeat'.
I looked at the screen and there was this tiny little life as still and quiet as anything. My mind was racing, I just couldn't think straight. A junior doctor came to see us. She told us she was very sorry, that I'd had another 'missed miscarriage' and we would need to decide what to do next. Another D&C wasn't an option so I opted to take medication to bring on the miscarriage.
When we were told our baby was no longer alive 
When you are told that your baby is no longer alive, one half of you wants the baby out of you and the other doesn't ever want to let go. They told me to go home, expect cramping and heavy bleeding. I was booked in for a follow-up scan in four days' time.
I felt desolate, I couldn't stop crying. My husband was so gutted but he put a brave face on and focused on looking after me and our little one. I took the tablets as instructed. The cramps were manageable at first, but little did I know that later on that evening I would be on my hands and knees with terrible contractions.
I was in agony for over three hours until the pain eased off and then the bleeding started, which was like nothing I had experienced before. I felt frightened and vulnerable, with only my poor husband to help me.
The next morning I had a scan at the hospital. Even after all of the pain and bleeding the night before, the scan confirmed that the miscarriage was 'incomplete'. I left the hospital not really knowing what to expect next other than more pain and bleeding.
Graphic and terrifying ordeal 
In reality, what actually happened was far more graphic and terrifying and so undignified for everybody; me, my husband, our tiny, little baby. I was traumatised and felt sad that I had been sent home for this to happen. I was so wrung out, but after a few more weeks I felt physically much stronger.
Emotionally, it was a totally different story. I was completely devastated. I felt like my body had failed me, that it was my fault that we had lost our babies and that I was never going to carry a baby to term again. I blamed all of the stress of my job and I wished I had looked after myself better and rested more.
No matter what my husband said it was the wrong thing, and yet he stood there right by my side all of the way. I got through the days as best I could, but inside I was screaming. Some people felt it best to stay away or avoid the subject altogether, but that just upset me more.
Feeling like a fraud 
All I wanted was for people to acknowledge our loss, just to say 'I am sorry '. Losing a baby through miscarriage, especially in your first trimester, is a very peculiar and isolated kind of grief. Sometimes I felt like a 'fraud' because I was so sad. After all, I was only nine weeks or 10 weeks along when we lost our babies.
Only people who have experienced the loss of a baby through miscarriage truly understand what you are feeling. Slowly I started to feel stronger emotionally and more like myself again, not the same as before, because losing a baby through miscarriage changes you.
A year to the day we had lost our second baby I found out I was pregnant again. It was a very tough pregnancy in so many ways, but we now have a healthy and crazy three-year-old son and we are so thankful for him and his big sister.
In time I have come to realise that even though we lost both of our babies in early pregnancy, it doesn't mean that our loss isn't as significant. It's okay to talk about them and acknowledge their existence. I'm so glad I got to be their mammy. They are as much a part of our life story as our two other children, just in a different way.
International Pregnancy and Infant Loss Awareness Day and this year Ectopic Pregnancy Ireland, the Miscarriage Association of Ireland and Feileacain are hosting the first Baby Loss Awareness and Remembrance Evening in Ireland. It takes place this evening from 6.30pm to 9.30pm in the Davenport Hotel, Merrion Street, Dublin.