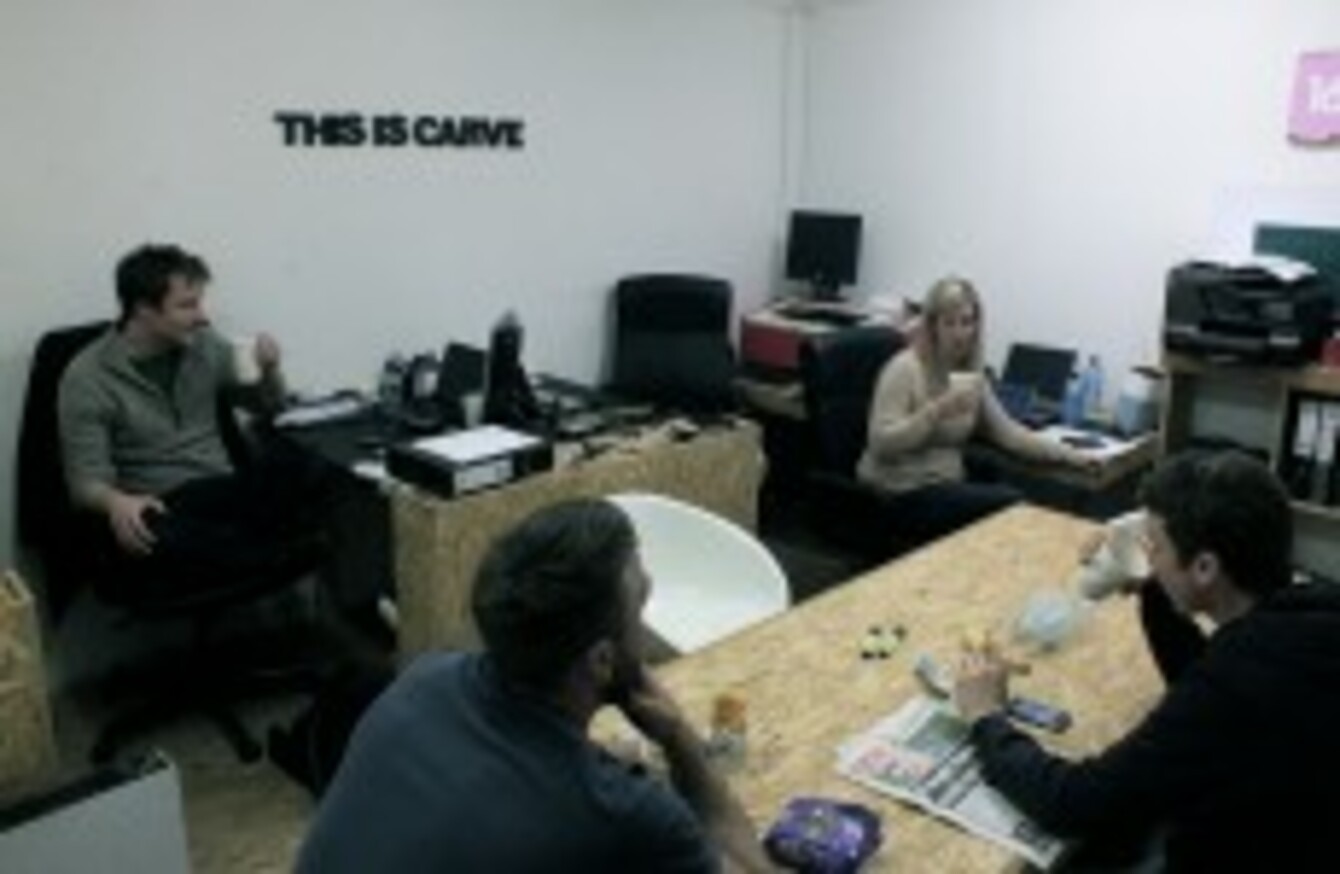 Kildare carpenter Dónal Moloney had the idea to set up a business making and selling wooden iPhone cases in 2012, saying it "seemed crazy to shell out €500 on a beautifully designed piece of technology and then wrap it in some cheap plastic or rubber". CarveCases has experienced rapid growth since its launch; hereDónal reflects on the ups and downs of past two years of nurturing a start-up…
IT SEEMS SUCH a long time ago that I started Carve in a shed out the back of my house. The company now, is unrecognisable from then. It was just me and a CNC machine. That shed was freezing cold, small, dusty and loud. I'd say the neighbours hated me. The CNC would be milling most nights late into the night.
This Instagram from 106 weeks ago shows the shed where I started…
It was a challenge to do everything myself. Design, prototyping, manufacturing, web design, marketing, order fulfilment, admin, accounts, sales and everything else associated with a business. I literally worked more than an 80-hour week every week for months (I hate when people use the word "literally" incorrectly- trust me, it's correct in this case).
Yet nothing was happening as fast as I wanted it to, or needed it to. My then girlfriend Joni, now my wife, gave me unbelievable support. She covered everything I couldn't, while I ploughed every cent I had back into my business. How she managed to pay the mortgage and all the bills and feed us both on her own is beyond me.
Our first really large-scale order
I'd love to tell you that there was a turning point that changed everything and really set the business up for success. But there wasn't. Don't get me wrong, there were huge highlights along the way that helped. Getting investment from Niall (Harbison) and Paul (Kenny) was massive for Carve. We wouldn't be where we are without them.
Our first really large-scale order was also great. But even that nearly crippled me and the business. I worked 24 days straight to fulfil it. No weekends off. A minimum of 10 hours per day, most days 16 hours. For no pay. While I paid everyone else just to keep cash-flow going. This is not good for your body or mind.
After we got paid from that first huge order I tried to scale the company too quickly. I bought machinery and hired staff. The money was gone in no time. I nearly bankrupted the company, while my spirit took a decent hit too. There were days when I thought "that's it, I'm done. I don't need this." But things always seem better the next day for some reason.
Learning and persistence
I'm a believer that to be successful in business, two things are critical. Learning and persistence. They go hand in hand. I made a lot of mistakes. A lot. But I didn't quit after making so many. Once I learned not to repeat them and kept plugging away, I found a path that suited me and my business.
In the early days I had to do everything myself. There was no-one else. Just me. Recently I have been guilty of still trying to do everything myself. Even though I already had great people in the company willing and able to take stuff off my plate. Letting go and empowering other brilliant people to take control of certain aspects of the business was one of the best lessons I learned.
I may not be painting the brightest picture of the company, but it's important to me that this blog post is completely honest. Getting a company off the ground is tough. But it's also extremely exciting. It's one of the best things I have ever done. I have worked on the most exhilarating projects. I have got to design products for amazing companies and amazing people. Right now, I'm working on a project for someone I idolised as a teenager. (I can't wait to tell you about it when we launch later this year.) I get emails every day from customers delighted with their products. We have started to print the emails out and put them up around the workshop. It shows everyone how appreciated their work is.
Growing right before my eyes
I have started and am part of something that I can see growing into something amazing right before my eyes. Who knows where it will lead us? That's the exciting part. I'm confident it will lead us somewhere great. Or maybe it's being led on this journey is what's really great.
Right now Carve is a company of six brilliant people working their socks off to make a difference to the way people view the products they use every day. We have a quirky, cool workshop and office in the centre of one of the best cities in Europe and we're growing month by month. Like I said, unrecognisable from the early days.
Dónal Moloney is the founder of Carve.
A longer version of this article first appeared on carvecases.com