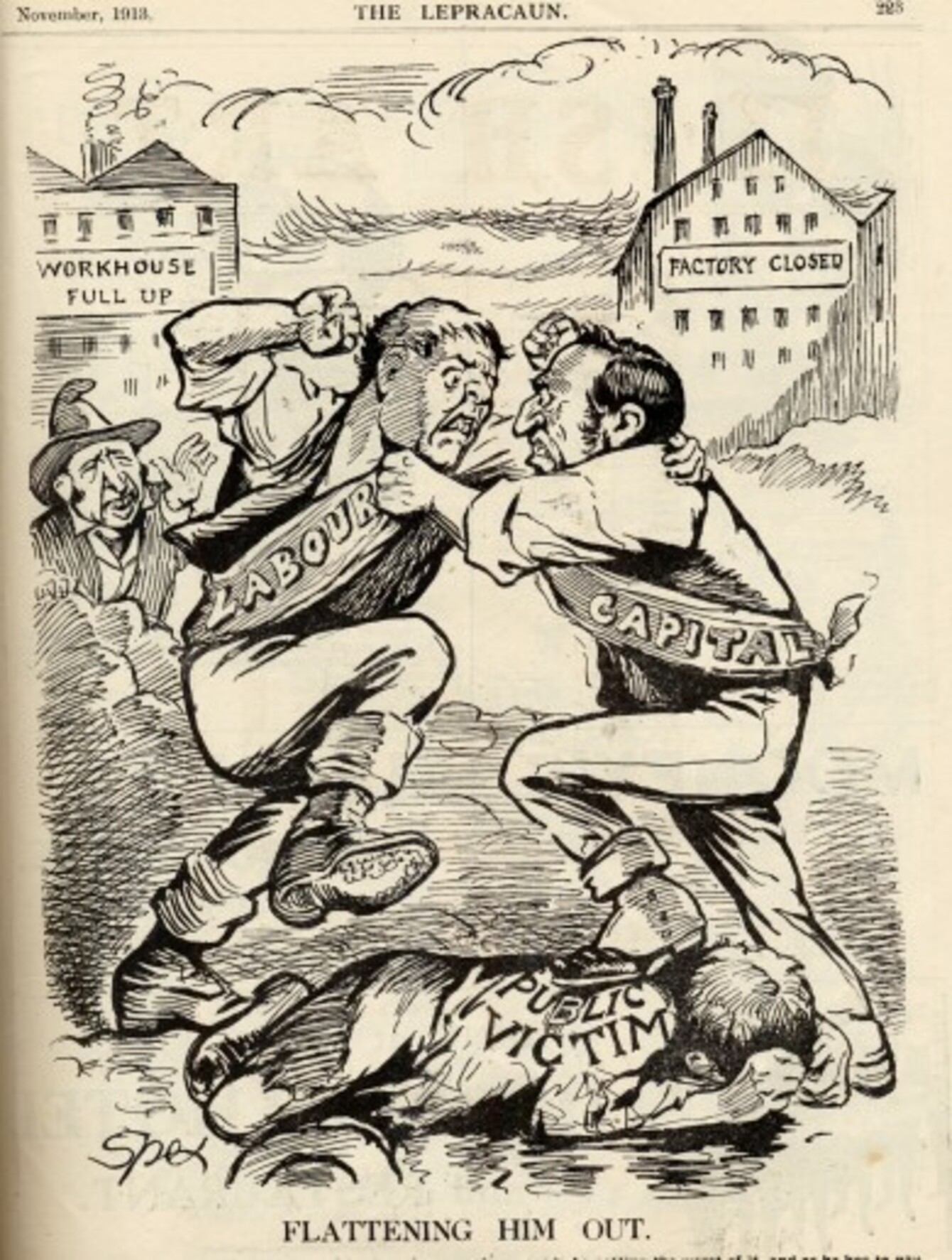 IN 1905, WHEN Thomas Fitzpatrick founded his satirical magazine The Lepracaun Cartoon Monthly, the political landscape at home and abroad was changing.
In Dublin City Hall new councillors represented the workers and the 'Irish-Ireland' movement. At Westminster John Redmond had convinced the leader of the Liberal opposition to support Irish Home Rule. Internationally, Britain and France were forging their entente cordiale while Japan had won an unexpected victory over Russia. There was plenty for a good cartoonist to satirise and Fitzpatrick, or 'Fitz' as he was known, was just the man to do it.
Over the next seven years he produced an impressive amount of work, drawing the bulk of the cartoons in his monthly publication. Following his death in 1912 The Lepracaun continued for a further three years, under the management of his daughter Mary; satirising politicians, officialdom, the social elite, the man (and frequently woman) in the street. In contrast to its much shorter-lived predecessors on the Irish market, the magazine's successful ten year run proved its popularity with readers and advertisers, and confirmed Fitz's skills as a cartoonist and businessman.
The Road-Hog. May 1906, p. 259
Cartoons in The Lepracaun commented on the arrival of the motor car, air ships, aeroplanes and Dublin's public electricity supply – indeed modernity itself. With a pointed and witty pen Fitz, and his fellow cartoonists, highlighted the public's unwise acceptance of the noisy and dangerous horseless-carriage. (He proposed shooting inconsiderate motorists on sight.) The magazine showed a public afraid of the 'scareships', huge gas-filled craft hovering threateningly overhead, but it also comically suggested how they could be used to frighten men opposed to women's suffrage, or unionists opposed to Home Rule.
The Lepracaun's attitude to women seems patronising and conservative to the modern reader, but Fitz had a fairly good grasp of the public mood, so cartoons depicting women as terrifying fire-bombers or ridiculous busybodies must have struck a chord with many of his readers.
When she gets it, what will she do with it? May 1906, p. 259
Cartoons dealing with labour disputes and the 1913 Lockout show that it was not as simple as 'bosses versus workers' for people at the time. Fitz and his team were always on the side of the underdog so an unjust employer or slum landlord would always receive harsh treatment. However trade union leaders were shown feasting and drinking while striking workers sat dejectedly around an empty table and bare grate – a case of the innocent being misled by the corrupt in The Lepracaun's opinion. But when the Dublin Metropolitan Police attacked a crowd of strikers and curious by-standers, killing two people and injuring many more, The Lepracaun's response was scathing. A deranged brute of a policeman is depicted trampling on his victims – a lifeless infant clutched in one hand and a raised truncheon in the other. An excellent example of the cartoonist's pen reflecting the public's response.
Fitz and his cartoonists loathed abuses of power, corrupt politicians and inept officials, these failings inspired their most stinging satire – as they still do for cartoonists today. The purpose of satire is not to amuse or entertain, although these are important methods of achieving its main aim – which is to point out bad behaviour and correct it.
Flattening him out. November 1913, p. 223
But does satire make any difference? Do cartoons change anything? An earlier Irish (or perhaps English) satirist used words rather than images to tackle the ills of his day. Jonathan Swift pilloried social conventions, gender stereotypes and political chicanery.
#Open journalism No news is bad news Support The Journal

Your contributions will help us continue to deliver the stories that are important to you

Support us now
His defence of the helpless in 'A Modest Proposal' is still shocking today. The blunt logic that, if society and the state continue to allow the children of the poor to die of disease and malnutrition they may as well harvest them as food, is a call for radical change. There is no statistical evidence that anything was improved in eighteenth-century Ireland as a result of Swift's satire, but the 'Modest Proposal' is still read and taught in schools two centuries later. Swift featured, ironically, on the old Irish ten pound note.
More appropriately, his stern gaze still looks down from the above the door to the Chapel Royal in Dublin Castle, observing the comings and goings to whatever tribunal of enquiry happens to be in session. This satirist has continued to play a role – upholding an ideal of good government and fair dealing and reminding us that corruption, idleness and inefficiency are not good enough.
A desire to see the 'mighty brought low'
Fitz and his Lepracaun Cartoon Monthly made the same point in the early twentieth century. The survival of a satirical magazine for ten years was remarkable enough, but the success of the magazine also pointed out the public appetite for satire – a desire to see the 'mighty brought low', and maybe even a willingness to be made uncomfortable when our own failings are presented to us in comic form.
Swift's epitaph describes the 'savage indignation' that he felt throughout his life, the same feeling motivated Fitz to tackle a huge range of subjects in his publication, and continued to inspire it after his death. Readers a century ago paid their penny for each monthly edition and smiled at the gentle humour, or laughed at the gossipy articles, but they also wanted to see their own savage indignation reflected in the pages of The Lepracaun Cartoon Monthly.
Thomas Fitzpatrick and the Lepracaun Cartoon Monthly: 1905-1915 by James Curry and Ciarán Wallace is produced by Dublin City Public Libraries, and is available at all good bookshops or directly from Four Courts Press (r.r.p €19.95). The book contains over 80 pages of cartoons with commentaries, along with illustrated essays on Thomas Fitzpatrick and the social and political context of the day. The artist Jim Fitzpatrick, creator of the iconic 'Viva Che' poster and many Celtic art works, and grandson of Thomas, has contributed a foreword.