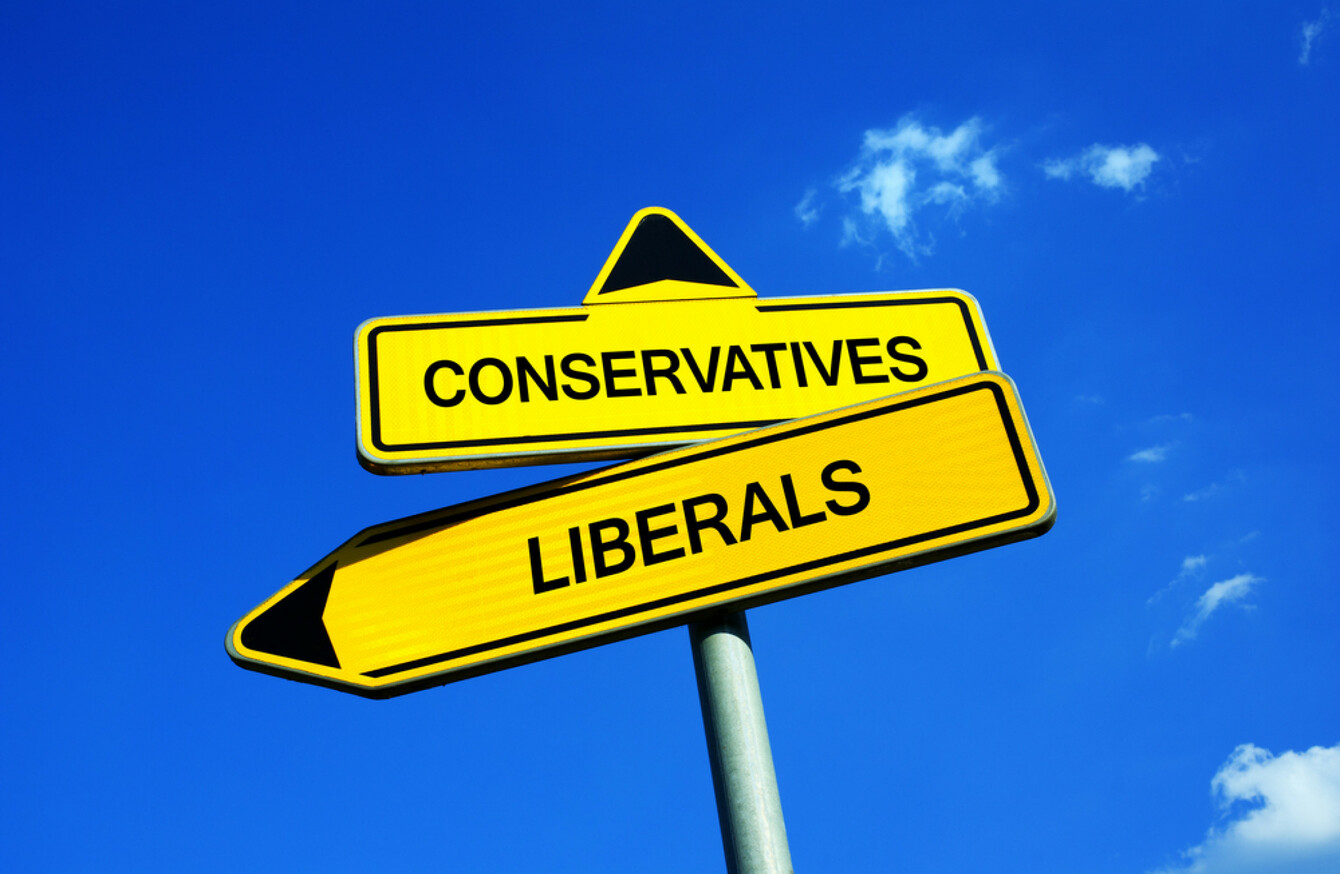 Image: Shutterstock
Image: Shutterstock
If you're not a liberal when you're 25, you have no heart. If you're not a conservative at 35, you have no brain.
APPARENTLY, IF YOU you don't fit into this binary system at any point in your life, you will somehow still be just as maligned by those on either far end of the spectrum. This is because you appease the radicals , be it left wing "communists", or the right wing "fascists", depending on the side from which the vituperative outburst comes.
Identifying as a 'centrist'
I recently saw a number of disparaging tweets aimed at self-identifying "centrists". Many came in the form of a set of cartoon images.
One comic book style picture had two sides of different mobs, the side on the left holding signs for "civil rights" and equality, the other side being hooded clansmen holding a sign saying "we want to kill black people".
Between these two crowds stood a dim-witted man holding up a sign saying "compromise?". This fatuous cartoon was accompanied by the tagline: "Beware the idiot centrist".
Another cartoon depicted a chilled out guy standing next to Adolf Hitler, telling the fascist leader: "I don't agree with what you say but I will defend to the death your right to say it." The famous Voltaire quote does get tossed around a little too often and at times comes with a whiff of political casuistry.
Another illustration seemed to portray a rally populated by idiotic moderates holding up signs with slogans such as "reasonable amount of wars", "it's complicated", and "peace is just not realistic".
This deep division is evident in Ireland too
The ideological gaps between various Irish political parties such as the People Before Profit on the left and the more establishment parties are massive, and social issues such as the #REPEAL campaign further highlight vitriolic schisms in Irish society.
Do people really believe in being a centre-anything in Ireland? The move of Stephen Donnelly from the Social Democrats to Fianna Fáil seemed to perfectly instantiate the type of political cynicism that is all too common in Ireland, whereby rather than challenging the establishment, you simply join them in the hope of turning things around from within.
The Irish Democratic Party, formed just a few years ago, has thus far failed to make an impact in mainstream politics, and while Fine Gáel claim to represent a centrist position, many don't see them as such, not least the people who aren't fortunate enough to be "people who get up early in the morning" due to a lack of prospects and success finding employment.
#Open journalism No news is bad news Support The Journal

Your contributions will help us continue to deliver the stories that are important to you

Support us now
A new centre?
Ideologically speaking, what a viable Irish centrist would embody is hard to summarise, which is part of the point of a new centre. It would not represent an ideologically or philosophically pure viewpoint, but rather simply cherry pick the good and bad ideas from both left and right.
Balancing fiscal responsibility with a respect for human dignity, this hybrid for example could include a strong social safety net with tax incentives in specific areas where productivity and success is rewarded rather than penalised.
Socially, the new centre would be rather liberal, but conscious of valid concerns regarding immigration and security threats to civil liberties. It could support religious freedom but vigorously oppose theocracy. It seems that both at home and abroad, the challenge is both getting moderate politics to a point where people take it seriously , and then cultivating the best political atmosphere so it can be represented well enough to attract popularity.
Because let's face it, the current dichotomy is not pleasing anyone. Is there a need for a new party to offer a palatable option C? The question with regard to government involvement often seems to be a quantitative one, as in to what degree the government should be involved. However perhaps it's more appropriate to have the qualitative discussion, about how effective the state addresses the salient issues that we face.
Ethan Shattock is a Masters of International Business Law graduate from Maynooth University. He regularly blogs about politics, social issues and religion at Straight Down The Centre.