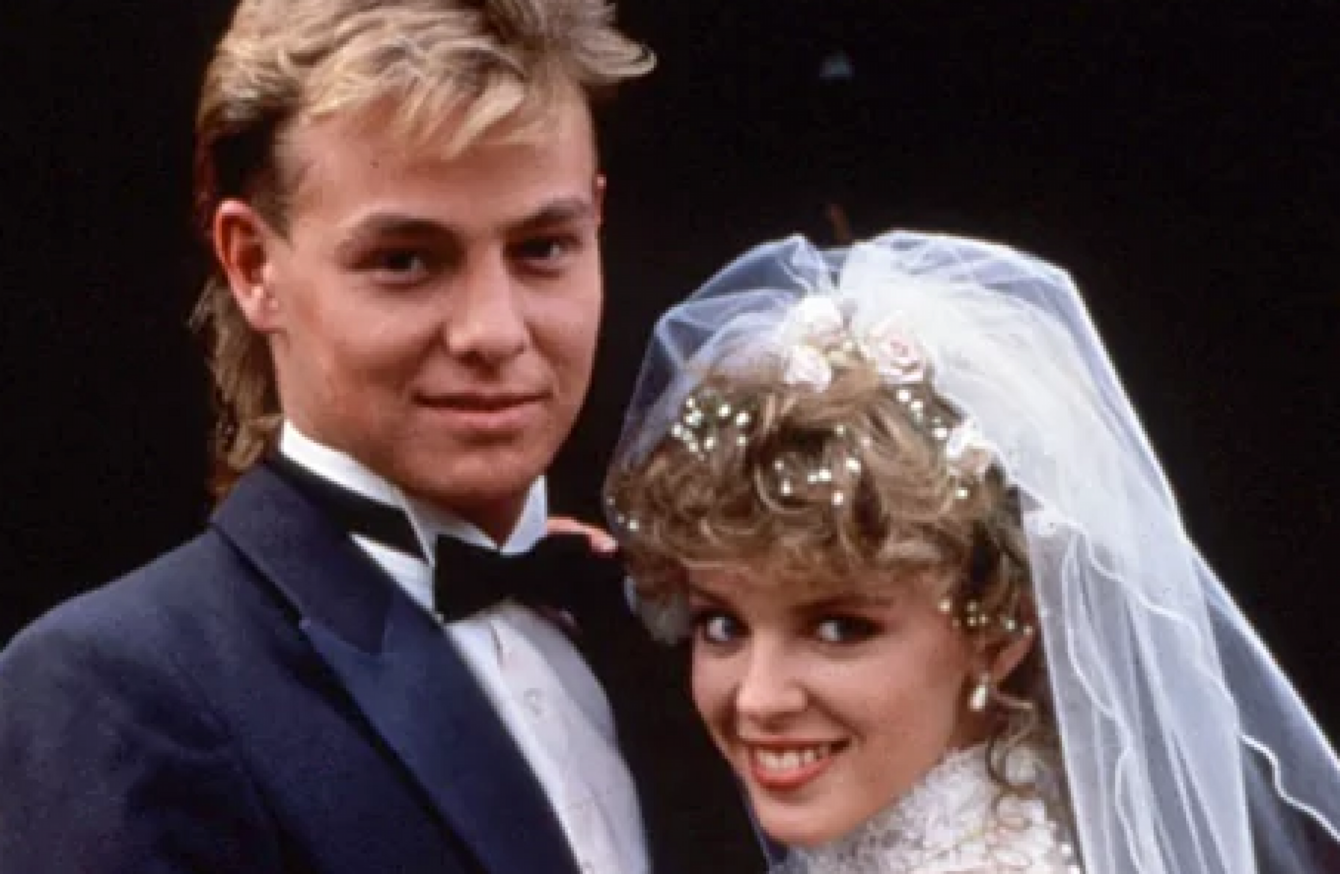 Feeling the pressure to do a Scott and Charlene because you are in a long-term relationship?
Image: Seven Network
Feeling the pressure to do a Scott and Charlene because you are in a long-term relationship?
Image: Seven Network
This article is part of our Change Generation project, supported by KBC. To read more click here.
PEOPLE ARE NOW WAITING longer to marry and many others are choosing not to go down the traditional route at all. Two couples on either side of the fence have shared their stories with TheJournal.ie,  on why they will, or will not, be having the big day out.
Derek and Winnie – set to marry summer 2017 
"I think we've always known we would at some stage, but I proposed in 2015," says Derek about his upcoming marriage to Winnie.
They met during college over a decade ago, when they both had part-time jobs at a computer store. The couple initially dated for two years before going their separate ways, only to reunite six years ago – this time for keeps. Winnie says they talked about marriage before Derek popped the question. The proposal, nevertheless, was perfect.
"Stunning! We were on a beautiful beach on Ko Lanta watching the sun go down. I couldn't stop laughing, then couldn't stop crying (with happiness!) It was just beautiful," she says.
For Derek, he can't wait to see Winnie walk up the aisle to him and to have the chance to celebrate their love with all their friends and family. Winnie feels the same and says she is dying to give Derek an upgrade from boyfriend status.
"I want to be able to call Derek my husband. I never call him my 'partner' or 'himself' because it gives me the icks and 'boyfriend' just doesn't seem to cut it anymore. I want to stand up in front of our closest friends and family and say that I will love and be devoted to him forever. I also think as a married couple you become a family unit officially and I really want that," she says.
Derek and Winnie see marriage as a serious legal commitment and that is something that is important to them as a couple. They say there are practical benefits to being husband and wife too.
"From a legal perspective, you're considered partners in the eyes of law. So in worst-case scenarios you can speak on your husband's or wife's behalf. You also receive tax relief and are considered more favourably for mortgages, loans, that kind of thing," says Winnie.
So, how do they feel about other people's decisions not to follow the same path? Derek says, different people celebrate their love in different ways.
"I have friends who are in long-term relationships with no intention of getting married and I wouldn't consider our relationship any different to theirs," he says.
Winnie says she has a friend who never wants to marry and while she didn't understand it at first, she does now.
"When my friend told me that she never wanted to get married I was baffled! How could she not? Why not? I quizzed her for a whole drunken night and by the end I realised that for some people it's just not in their plans and for others it is. I don't think anyone should aspire to get married, but if it feels right and you've found someone who it's feels right for too, then do it! If not, don't."
Louise and Michael – together 7 years and counting
"I never wanted to get married really, since I was a teenager. But I was totally sure by my early 30s that it wasn't for me," says Louise. She has never daydreamed about the white gúna either.
"People have asked me would I not like the white dress, big day idea, but for me I would hate the dress, photos, head table traditions. It's just something I have never wanted for myself," she says.
Funnily enough, Louise met Michael at the wedding of a mutual friend and the couple has been together for over 7 years now. They have both always agreed that a 'day out' for them would never be on the cards though.
"Neither of us have ever been interested in getting married at any stage of our lives," says Michael. Marriage can, he says, add more pressure to a relationship and it's often wrongly presented as the only logical 'next step' for a couple.
"Sometimes getting married is like a next step default – a dated way of what is perceived as the progression of a relationship.  Go out for a period of time, get engaged, get married, have kids and so on. It can create and promote a situation that may be difficult to get away from," he says. Have they ever felt under pressure to take that 'step'?
"Not pressure as such, but people do like to ask about it a lot, especially as we have been together a long time. But our friends and family know that it's not something we have any interest in doing," says Louise.
Michael says choosing not to marry has become much more normal.
"I think society is moving on from the traditional and dated way, and accepting that a couple does not have to get married to be involved in a long-term, committed and loving relationship."
People do still challenge them on their decision however, but it is usually someone who doesn't know them well.
"It can be hard for some people to get their heads around sometimes," says Louise. So, can they appreciate why others choose to take the plunge?
"I can understand completely why some people want to get married," says Louise. "The commitment, security, especially when children are involved. I have never wanted children either which probably had an effect on my thoughts on marriage," she says.
For Michael, there's one simple explanation. "Tax benefits."
What do you think? Is marriage the only ending for a long-term relationship?