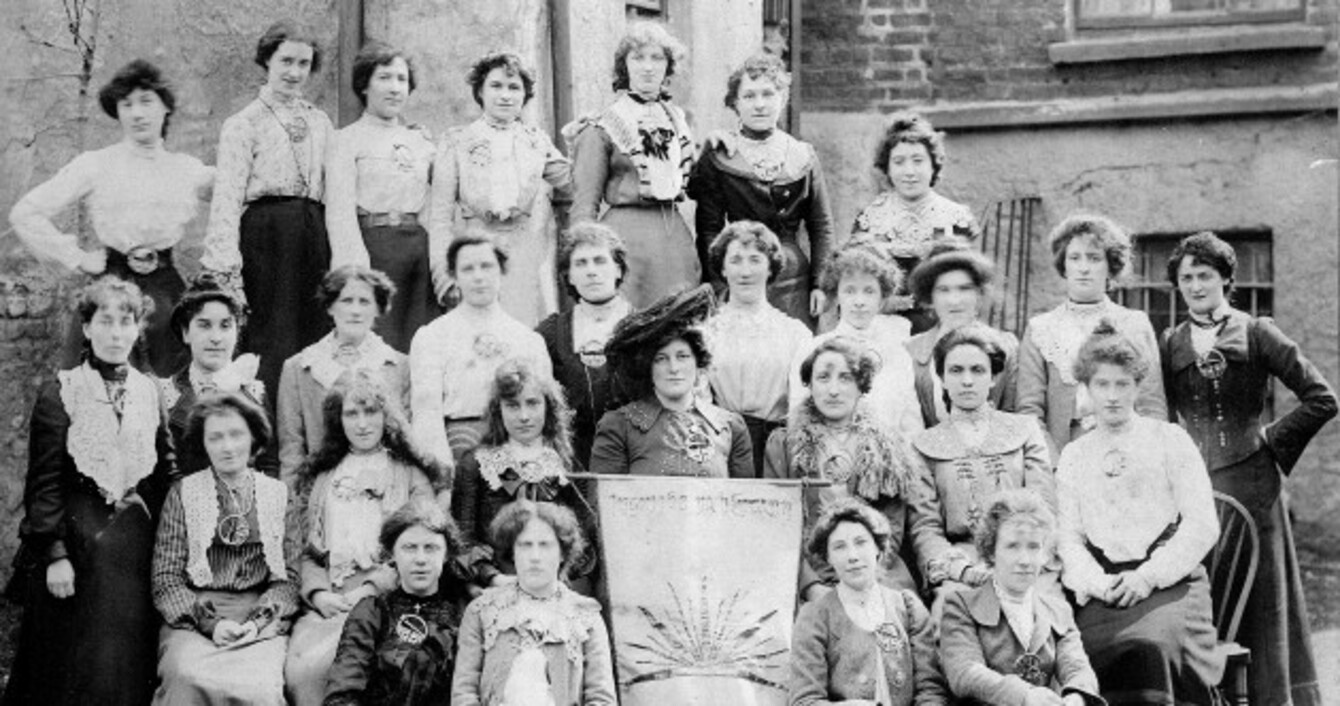 "IRELAND AT THE end of the nineteenth and in the early twentieth centuries was going through great change, especially where women were concerned. Women were becoming more political. Education, particularly a college degree, was becoming more accessible to both men and women, and not just those from a wealthy background. And it was through education that so many women realised they had a role to play in the future of their country. With organisations such as the Ladies' Land League, the Suffragettes and the Suffragists, women with similar attitudes and political opinions came together."
– Elizabeth Gillis
Below is a small selection of the women featured in Women of the Irish Revolution.
Constance Markievicz
Constance Markievicz. Born Constance Gore-Booth in Sligo in 1868. She came from a wealthy Anglo-Irish family and was presented to the court of Queen Victoria in 1887. She studied art at Slade in London and in 1900 she married Count Casimir Markievicz. They had one daughter Maeve, born in 1901. The couple influenced each other in their political outlook, and although the marriage was not to last they remained close. For Countess Markievicz her role in life was to devote everything to the cause of Irish freedom. She joined Inghinidhe na hÉireann in 1907 arriving at her first meeting wearing an evening gown. She also wrote for their newspaper Bean na hÉireann.
Countess Markievicz with Na Fianna Éireann at their Árd Fheis, Mansion House Dublin, 13 July 1913. Countess Markievicz helped set up Na Fianna Éireann with Bulmer Hobson in 1909. Their aim was to establish an Irish equivalent to Baden Powell's Boy Scouts and their focus was to promote the Irish language, and to train its members in the use of signaling and drill. Many if not all went on to participate in the Irish revolution in the coming years.
Initially Na Fianna did not have premises that they could use to train and practice. Countess Markievicz owned Surrey House in Ranelagh, a large enough property which she made available to Na Fianna as their unofficial headquarters. There was even a miniature rifle range where the boys could practice shooting. They used Surrey House until they got a permanent headquarters in D'Olier Street. (Courtesy of the Mercier Archive)
Maud Gonne
Maud Gonne was born in Aldershot, England in 1865. Her mother died when she was young and she was raised by a governess, spending some time in France. Her father, Thomas, was an officer in the British Army and when he was posted to the Curragh Camp in the early 1880s Maud accompanied him to Ireland.
Although she came from a privileged background, Maud dedicated her life to Ireland. She did things on her own terms and tHis can be seen in both her public and personal life – wherever she saw injustice she tried to change things. She joined the Land League and campaigned for tenant farmers being evicted from their homes, as well as highlighting the terrible conditions the 'Fenian Dynamitards' were enduring in prison for their part in the Fenian dynamite campaign in which a number of high profile buildings were targeted in a
bombing campaign in England in the 1880s. Her efforts on their behalf helped secure their early release from prison. She was also involved in the Gaelic literary revival.
Maud divided her time between Ireland and France. She had two children with French journalist Lucien Millevoye: George in 1891, who died in infancy, and Iseult in 1895. The fact that she was not married did not prevent her from continuing her public work, going on lecture tours and also editing the Parisian newspaper L'Irlande Libre, a radical separatist paper which included Irish affairs.
In 1903 Maud married Major John MacBride, who fought with the Boers in the Irish Brigade against the British. They shared the same political views but the marriage did not last. They had one son, Seán, who, like his parents, devoted his life to the cause of Irish independence and also to those suffering human rights abuses, helping to set up Amnesty International. (Courtesy of Mercier Archive)
Jennie Wyse Power
Jennie Wyse Power (nee O'Toole). Born in Baltinglass County Wicklow in 1858. In the 1880s she joined the Ladies Land League and found herself immersed in their activities during the Land War. She would compile lists of those evicted from their homes and also she organised the Land League in Wicklow and Carlow. In 1883 she married John Wyse Power, a journalist who shared her political beliefs; he was a member of the IRB. They had four children together, a fact that did not interfere with her political work.
She helped set up the Irish Women's Franchise League and was also a founding member of Inghinidhe na hÉireann and Sinn Féin becoming Vice-President of both organisations. She was later on the Provisional Committee that set up Cumann na mBan. She was a successful business woman owning four branches of her Irish Farm Produce Company. The 1916 Proclamation was written in her home and during the Rising she supplied food to the Volunteers. She and her daughter Nancy were involved in the Prisoners Dependants Fund after the Rising. She was later a member of the Executive of Cumann na mBan and was also elected to Dublin Corporation.
She supported the Treaty and helped set up Cumann na Saoirse, the pro-Treaty women's organisation and became its Vice-President. She was a Free State Senator from 1922 until 1936 and was also a member of Cumann na nGaedhal. She died in 1941, she was 78 years old. (Courtesy of Kilmainham Gaol Archives, 08PC-1B52-16.)
Inghinidhe na hÉireann
Inghinidhe na hÉireann. Realising that there was no outlet for women to be politically active, Maud Gonne formed Inghinidhe na hÉireann (Daughters of Ireland) in 1900. This organisation was to have a profound effect on the Irish national question. Inghinidhe was way ahead of its time looking at not just how Irish Independence could be achieved but what that independence would mean when it was achieved. What difference would it make to the ordinary people, the poorer people in Irish society? Their objective was to promote all things Irish and they were not afraid to put themselves in harm's way to prove their point. In 1903 they were successful in canvassing the Councillors of Dublin not to provide a loyal address when King Edward V came to visit Ireland. (Courtesy of Kilmainham Gaol Archives 13PO-1B54-14.)
Sinéad de Valera
Sinéad de Valera. Born Jane Flanagan in Balbriggan on 1 June 1878. She was the ninth of eleven children born to Laurence and Margaret Flanagan. The family moved to Dublin when she was seven and she studied to become a teacher. Her interest in Irish affairs began
during the centenary celebrations of the 1798 Rebellion after which she joined the Gaelic League. She changed her name to Sinéad Ní Fhlannagáin and began teaching in Francis Xavier's school in Dublin. She was also a member of Inghinidhe na hÉireann and also helped
found the Abbey Theatre. It was as a teacher for the Gaelic League in Parnell Square that she met Éamon de Valera. Although he was her pupil they married in January 1910 at St Paul's Church, Arran Quay. (Courtesy of Kilmainham Gaol Archives 12PC 1A25-02.)
Rosie Hackett
Rosie Hackett was born in Dublin in 1893. An ardent trade unionist, in 1911 she co-founded the IWWU with Delia Larkin. She worked in Jacob's Biscuit Factory and on 1 September 1913, when two of the female workers in Jacob's were dismissed from their jobs for refusing to remove their union badges, Rosie, along with over 300 female workers in Jacob's, refused to remove their badges in sympathy with their colleagues. They were also fired.
In all 310 women were 'Locked Out' of Jacob's. During the Lockout Rosie helped run the soup kitchen in Liberty Hall. Failing to get her job back after the Lockout ended, she found work as a clerk in the IWWU shop set up by Delia Larkin to help those women who could not regain employment. Rosie also sold items in the shop and trained as a printer on the printing press used by Liberty Hall. This work brought her into close contact with James Connolly and as a result she became involved with the ICA, taking part in route marches with the other women at night and helping to make first aid kits and knapsacks for the men. She also assisted Dr Kathleen Lynn in her surgery in Liberty Hall. During the Rising she fought in St Stephen's Green and the College of Surgeons. After the surrender she was arrested and taken to Kilmainham Gaol and when she was released she returned to the ruined Liberty Hall and helped reorganise the ICA. She joined the Fairview Branch of Cumann na mBan in 1919, helping to train the women in first aid, but left the organisation in 1920. Committed to the rights of the working classes, she helped to re-organise the IWWU. She died in 1976, aged eighty-four and is buried in Glasnevin Cemetery. (Courtesy of Éamon Murphy)
This is an extract from Women of the Irish Revolution by Elizabeth Gillis, due to be released in November 2014. Preorder now through Mercier Press.