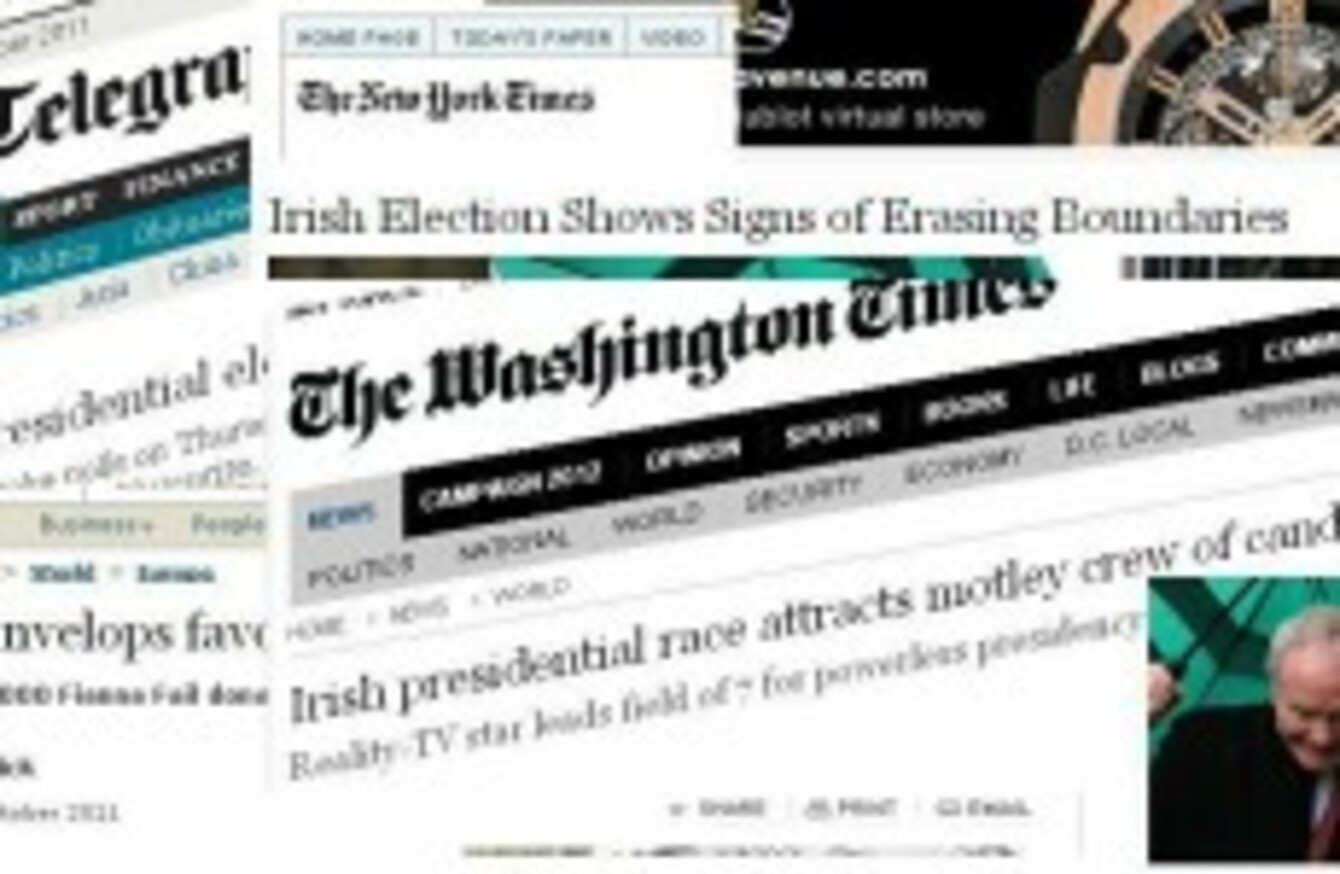 DESPITE IT BEING for a merely symbolic and ambassadorial role, the Irish presidential election has garnered much attention from the international media.
This interest comes not because of the perceived importance of the post on the world stage but because of the "motley crew" of candidates, as it is described by the Washington Times.
Across the globe Martin McGuinness is grabbing the headlines for his IRA past, while Seán Gallagher is getting attention for his reality-TV background.
Reuters reports the election as a contest pitting a "former guerrilla commander" against a television star and politician-turned-poet (Michael D. Higgins).
The news agency claims that McGuinness's candidacy shook up the "dull race" but adds that although he is unlikely to win,  running gave a "fillip to his party…and its campaign for a united Ireland".
Al Jazeera also leads with McGuinness – with a headline reading "IRA commander eyes presidency". The Middle East news agency says that he is still suffering a "hostile media" and a public unwilling to forgive.
The Washington Post describes the Sinn Féin candidate as a "former Irish Republican Army warlord". It also depicts David Norris as Ireland's "top gay-rights crusader".
Seán Gallagher is called a "bagman – a collector of undisclosed and potentially corrupt donations – for Fianna Fáil" in the same article.
However, the New York Times lends a different angle, stating that the Sinn Féin candidate's estimated 15 per cent support is a sign of the "winds of reconciliation" blowing across the island.
In England, The Independent writes that the result of the election could hinge on one world – "envelope". It says that Gallagher has experienced a "meteoric plunge" in the past few days since envelope-gate.
Bloomberg also focuses on how Gallagher handled the questions about his Fianna Fáil links on the Frontline debate on Monday.
The race is tight. Gallagher opened a lead over Higgins by focusing on the post's potential to reduce unemployment. The entrepreneur's prospects then dimmed after he came under attack in a televised debate on Oct. 24 over his links with Fianna Fail, the party that presided over the collapse of the economy and loss of financial sovereignty.
Quite poetically, TIME describes the Irish president as the representation of the "Soul of Ireland". Genevieve Carbery's article places more significance on the role because Ireland's reputation has recently taken a beating on the international stage.
The next President will have to fix a reputation left in tatters by a financial meltdown and the low morale from a humiliating EU-IMF bailout and 14 per cent unemployment," she writes.
An op-ed in the The Australian dismisses the candidates altogether, with foreign editor Greg Sheridan suggesting that electing a non-political figure is a contradiction in terms.
This Irish presidential campaign has amply demonstrated that. It has been bitter, scandal plagued, personal, vituperative. The candidates are generally second rate, some achieving fame in part by regular appearance on television shows. The squalid quality of this campaign will discourage the best of Ireland from running for the office in future."