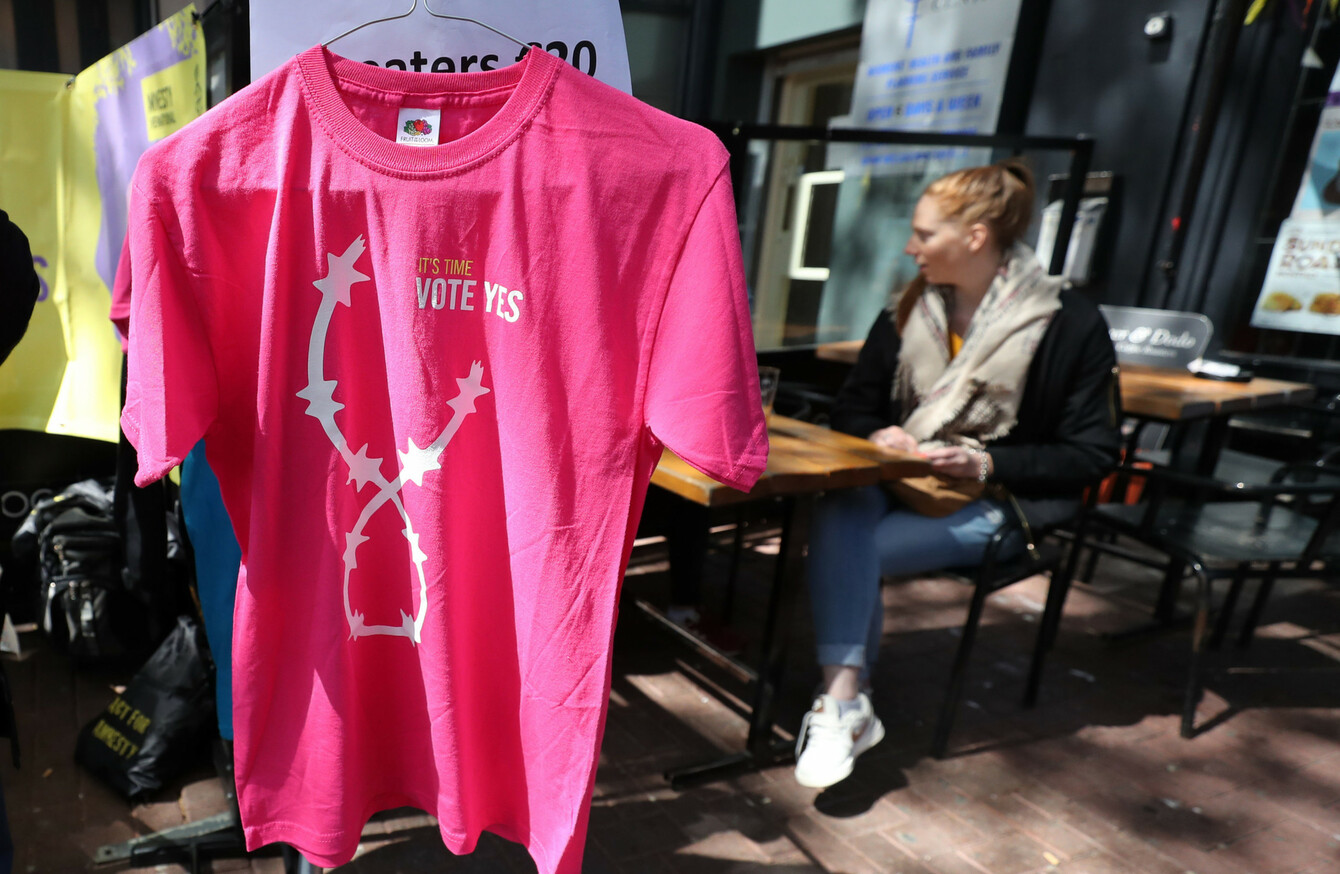 Campaign t-shirts calling for a repeal of the Eighth Amendment.
Image: Niall Carson/PA Wire
Campaign t-shirts calling for a repeal of the Eighth Amendment.
Image: Niall Carson/PA Wire
OVER TWO WEEKS since the future of the Eighth Amendment was decided, there is continuing interest in acquiring material from the campaigns.
Official campaign group for the Yes position, Together for Yes, are in the process of planning a final blitz sale of any leftover material from the campaign, such as badges, t-shirts and jumpers.
This is likely to be held in Temple Bar, Dublin where previous pop-up shops during the campaign in the run-up to the referendum were held.
Spokesperson for the Together for Yes campaign Sarah Monaghan said a significant number of people have been getting in contact with the campaign group since the referendum took place.
Monaghan said that people want a "memento" of a successful campaign, and that these are "an important thing to have" after the majority of Irish voters voted yes in the referendum and "changed history for ever".
There is also currently a brisk trade on online retail sites such as adverts.ie where there are a number of "project repeal" jumpers currently on sale.
Some of these are priced at a higher retail price than the original cost of €25, for example this one at €45. However, on this particular ad, the seller says that they will be donating some of the proceeds to the ongoing work of Together for Yes.
A Yes campaign poster labelled as "a piece of Irish history" was up for bidding on ebay.ie for an asking price of €20.
There is some indication from the official pro-life campaigns that No vote supporters are also to a certain extent holding on to material from their efforts.
Cora Sherlock of LoveBoth said that those who campaigned on both sides "will keep mementos".
She said in particular that supporters from the no side will be eager to keep wearing the campaign material for public visibility from now on.
She said, "LoveBoth is a brand that continues and was created to continue".
Spokesperson John McGuirk of the campaign Save the 8th did not indicate any spike in the sale of campaign material, but told TheJournal.ie there is "nothing preventing us from selling the merchandise if people want to buy it".
Alan Kinsella, election memorabilia collector who operates the @electionlit Twitter account, said that during this "very hard and very long campaign" he had never before seen such "use of badges and clothing" from both sides in showing off their supporting position.
Kinsella recalls seeing members of every campaign side even going as far as making their own unofficial badges at home and abroad.
He highlighted how these displays of "visibility" were what "identified people", which correlated with the drive for "ordinary non-political people" to get involved and take part in the campaigns leading up to the referendum.
Kinsella said there is still "an enthusiasm" as both sides continue to actively wear campaign material relating to last month's referendum.