Liveblog
COUNTING GOT UNDERWAY in the two referendums and by-election with the country eagerly awaiting the outcome of the same-sex marriage vote this morning.
The ballots from the presidential age referendum were also being counted with the people of Carlow-Kilkenny watching for the result in the race to fill Phil Hogan's old Dáil seat.
Here's what we know so far: 
A final result in Carlow-Kilkenny is not expected until tonight.
TheJournal.ie liveblogged all day as the tallies and reaction came rolling in. 
Good morning! It's Hugh O'Connell here and welcome to our referendums liveblog which will be running all day as the result of the same-sex marriage comes in. We're also keeping an eye on the presidential age referendum and the Carlow-Kilkenny by-election. You can email me or tweet me if you want to get in touch.
The big news from yesterday was the turnout appears to have been pretty strong by the standards of previous referendums. In some urban areas it was high as 60 per cent which, on the face of it, would appear to benefit the Yes side. A big turnout in Dublin is seen as crucial to the chances of the referendum passing. Here's a very handy round-up from Nicky Ryan.
Dublin Castle is being opened up for the referendum results this morning. The upper yard will be opened up from around 9.45am this morning with space for around 2,000 people. Read more here.
Okay it's not the Olympics, but we're all feeling a bit like this right now, aren't we?
Source: broomstickss/YouTube
Hugh has abandoned the liveblog, handing it over to myself Sinéad O'Carroll as he makes his way around an for-now empty Dublin Castle.
It's a beautiful summer's morning in the capital.
But there is a lot of talk of nerves and anticipation out there as we wait for the ballot boxes to be opened.
We're intrigued to know how close our totally unscientific poll from yesterday could be to the actual result. Here's what you said.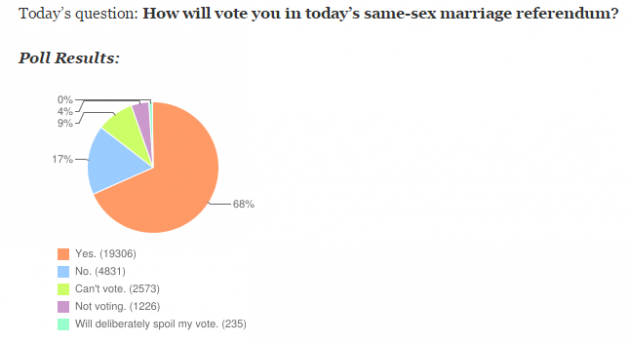 Hugh O'Connell here at a very quiet media centre in Dublin Castle. In fact, I'm the only one here at the moment.
Anyway there is no exit poll from this referendum so we'll be relying on the tallies to give us an indication of which way it's going to go. The ballot boxes open at 9am – less than five minutes time – and then the two referendum ballot papers are separated out. The marriage referendum ones will be counted first and then the presidential age ones. Early tallies will give us a good indication of which way it's going.
And ballot boxes are opening across the country…
Counting has just started but we're all waiting for this moment…
Politicians reporting early tallies indicating a strong Yes vote all over Dublin. Two government ministers based in the capital have already called it on Twitter including Kevin Humphreys (who was the first to call the Seanad referendum around this time).
Equality Minister Áodhán Ó Riordáin is pretty certain:
Political commentator and experienced tallyman Noel Whelan has just tweeted this from the count centre in the RDS where lots of Dublin constituencies are being counted. It's look VERY good for Yes in the capital:
Junior social protection minister Kevin Humphreys is on Morning Ireland predicting a "landslide" in his Dublin South-East constituency. On the national picture, he says: "I would happy to be predict, at this stage, that it's going to be an overwhelming Yes vote."
As for the picture elsewhere in the country. Here's what's happening in Galway city:
While in Leitrim, it's not all going the Yes side's way, according to local Fine Gael TD Frank Feighan:
No campaigner Dr John Murray, from the Iona Institute, tellings RTÉ Radio: "Everyone is saying it's a Yes and I'm not going to argue with that."
This seems to be a common sight in count centres across the country.
But there are tallies that are looking a bit tighter. This is from Artane in Dublin.
Enda is up and about in Mayo.
Early tallies in Donegal Northeast indicate a YES.
Hugh O'Connell here at Dublin Castle. So it's clear now that the referendum on same-sex marriage is going to pass. Not only that, but it's going to pass by a very clear margin. We're not saying landslide, yet, but early indications are that it could go that way.
What won the referendum? It's too early for an in-depth analysis but, briefly, the high turnout, the energising of the youth vote and the failure for any of the No arguments to take hold of enough of the population were wot won it.
Politicians will now be asking themselves how they can translate this significant turnout of younger voters into votes for them at the next election.
Even Donegal is voting Yes, it would seem…
And over in Galway West, with 19 boxes tallies, there is a 59.5% Yes vote. Some analysis from journalist Darragh McDonagh:
So it looks like a Yes across large parts of the country but in Roscommon, the local Fine Gael TD Frank Feighan has sent a few tally tweets which indicate the No side shading it in some parts of the county:
Prominent No campaigner and Iona Institute director David Quinn has conceded:
The confidence of the Yes side is growing, prompting Health Minister Leo Varadkar to ask this question:
What's happening in Carlow-Kilkenny? Here's an early tally from a journalist at the count centre:
But it's VERY early days and transfers could change everything as those lower down are eliminated. We're not looking at a result there until later tonight.
Dr James Reilly says on RTÉ that "it is really a good morning and a good day".
"Ireland has moved one and sent a loud message as a nation," he added.
Getting a little emotional, the Children's Minister said "seeing all the young people coming home was fantastic".
He also shares an anecdote from the count centre in Lusk where a man told him how his 32-year-old son registered to vote for the first time because he cared about marriage equality.
Cork Northwest is described as a 'traditional' constituency on RTÉ – but they are also on course for a YES vote by a 53%-47% margin.
Minister Reilly has some more stories about the older people he has met over the past few weeks. One older man in Lusk yesterday was voting No, he said, but was happy enough that the Yes side were going to win.
And, then, because "he promised to say it", he revealed how his 84-year-old aunt-in-law from Belmullet voted yes.
Rónán Mullen says he is "very disappointed" with the result but has plenty of positive things to say about the Yes side while conceding on RTÉ television.
He says that the No campaign was "operating at a particular time and place" in Irish culture and society, adding that they were up against a 'talented, well-resourced, skilled' campaign that was "backed by the entire political establishment".
He also wished everyone on the Yes side well.
There is a lot of goodness in Irish people – and why people were voting Yes and voting No.
However, he also said Ireland has a lot to learn about how to conduct debates in a non-emotive manner.
A very happy Leo Varadkar says today is a special and wonderful one for Ireland.
"If there are any going to be any constituencies that vote no, it'll only be a handful," he tells Bryan Dobson.
"It makes it a really historic day for Ireland. We are the first country in the world to enshrine marriage equality in the Constitution by a popular mandate.
That makes us a beacon, a light for the rest of the world for liberty and equality.
"It's a very proud day to be Irish," he added.
Varadkar also believes that this wasn't just a referendum, but more like a "social revolution".
"Something has been awakened in the Irish people in this referendum and it will be very good for Ireland," he continued.
"I think this referendum for so many people was personal – not just gay men and lesbians but their friends, family and coworkers.
"People in the LGBT community are a minority but with their friends we're a majority"
"[It] became a catalyst for a national conversation about this issue. It's been really important."
More indications that Roscommon might buck the national trend and say No to same-sex marriage. If not, it'll be a close one, according to these tallies from local Fine Gael TD Frank Feighan:
Fianna Fáil's director of elections Barry Cowen, who has been focussed on the by-election, is reluctant to give any indication to RTÉ Radio of how the tallies are going down in Carlow-Kilkenny, but admits it's "very important" that his party's candidate, Bobby Aylward, takes the seat.
One of the most moving moments from yesterday was one of Ireland's openly gay TDs, John Lyons, voting with his mammy in Ballymun.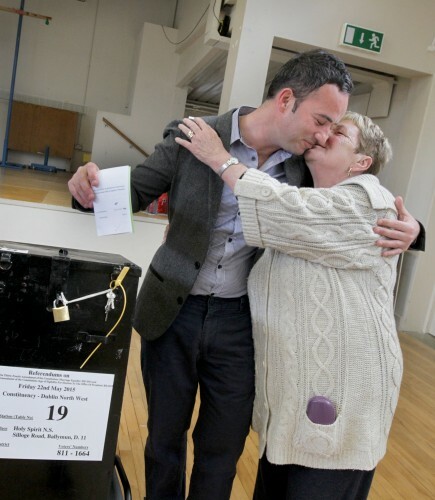 Source: Mark Stedman
Today, he is bursting with happiness on Twitter.
Here's a sample tally from Ballymun – 76% YES.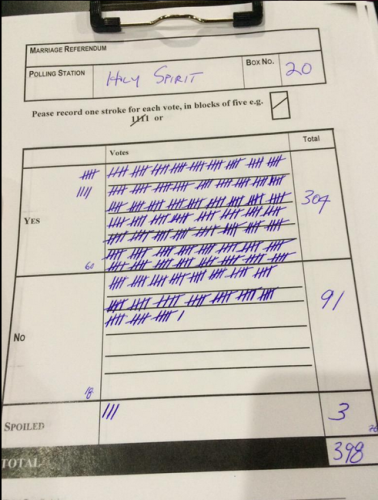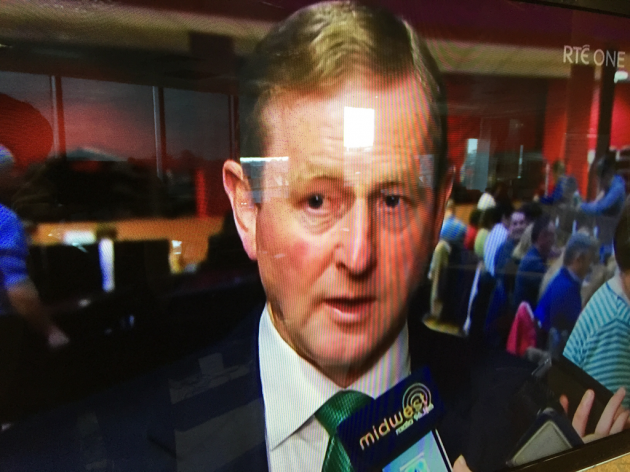 Enda Kenny is wearing a green tie today, for the day that's in it.
Speaking in Castlebar, he said he expects the referendum to pass but that it is still too early to be definitive.
He also spoke about the importance of politics and how young people getting out and voting showed the "value of this issue".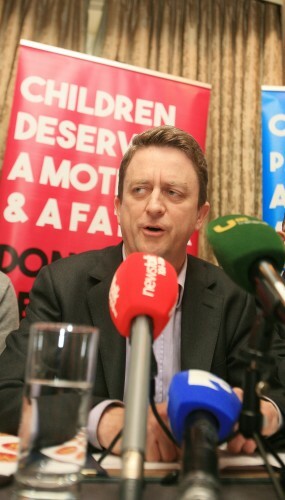 Source: Leah Farell/Photocall Ireland
Campaign group Mothers and Fathers Matter has issued a statement, conceding the referendum because of "early but convincing indications that the country will return a Yes vote".
The statement, in full, reads:
We offer our warm congratulations to the Yes campaign on their victory. There are thousands of people who worked hard for them to achieve this result, and they can be justifiably happy with their efforts today.
"Though at times this campaign was unpleasant for people on all sides, nobody who involves themselves in a campaign does so with anything but the good of their country at heart. There is no better way to resolve difference than the way we are using today.
From our point of view, we have represented a proportion of the population greater than those who support any political party. One in three Irish people in this campaign was not represented by the political establishment, the media, or the institutions of the state.
"We are proud to have found on behalf of those voices when nobody else would.
Today's result was achieved by the Government after they issued certain promises about surrogacy, adoption, and a range of other issues. A lot of voters believed those assurances and they must now be kept.
"Once again, we offer our congratulations to the YES side on a hard won victory. This is their day, and they should enjoy it."
This is the scene just outside the media centre in the courtyard at Dublin Castle where people are beginning to arrive for the result declaration later this afternoon. Around 2,000 people will be here by the time that happens and it's fair to say excitement is building among those who campaigned for a Yes vote.
https://vine.co/v/eq1LXum90Pb
When will 'landslide' start trending?
Boylesports trying to get in ahead of the competition and is paying out on those who betted on a Yes vote.
We don't think this was counted but this is making people emotional.
Journalist Gordon Deegan is following the tallies in Clare, where there is a bit of a tighter vote.
We love a bit of competition, eh?
The Washington Post has sent a news alert to its readers about Ireland's referendum on marriage equality.
A former Tánaiste is happy today.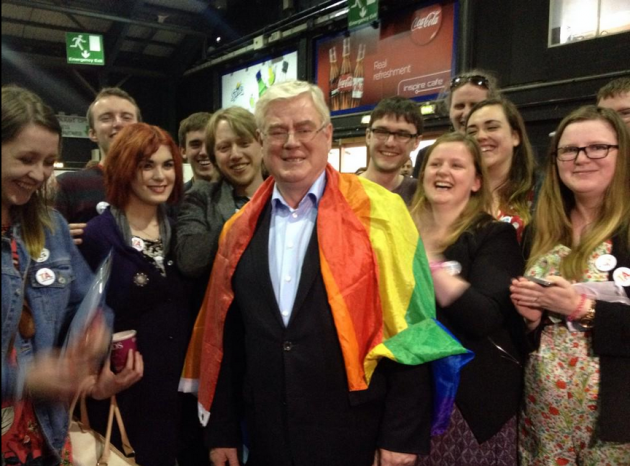 Source: The Labour Party/Twitter
Snapped at the count centre in RDS is a jubilant Senator David Norris.
Source: Leon Farrell/Photocall Ireland
Labour TD John Lyons, who was a prominent campaigner for the referendum, is very emotional at Dublin Castle this morning. He told us a short time ago:
I am delighted. I'm a little bit all over the place as to where my feelings are, but my mind is telling me that I'm over the moon at the moment, but I am little bit upside down inside, if that makes sense.
He said he was always quietly confident that there would be a strong turnout and a strong Yes vote but that he was constantly reminding others not to get complacent.
From my point of view, we knew the polls were always quite strong, but we also knew that we needed every single vote.
And his plans for tonight?
I've actually a few more of these things to do but I hope to get a pint in between!
Some more from John Lyons, one of the key campaigners for the Yes side:
I am delighted. I'm a little bit all over the place as to where my feelings are but my mind is telling me that I'm over the moon at the moment, but I am little bit upside down inside, if that makes sense.
We imagine it won't be this quiet at Dublin Castle in a few hours time.
https://vine.co/v/eqn5ODuF1tp
A quick note from one of Ireland's young people on what this means for her:
I am a 16 year old teenager, so I had no say in this referendum. But recently I have discovered that I am bisexual. I didn't tell anyone, for how could I expect them to treat me equally if the law didn't? I didn't want to acknowledge that I might never get married to someone I love. Today, however, when I woke up and heard the news, I started crying. I have already come out to a few of my close friends this morning, knowing that today I am living in a more equal Ireland than the one I went to sleep in yesterday. To everyone out there who voted yes: thank you for giving me a future where I can be happy. Thank you for changing my life forever. Not bad for just putting an X in a box, right?
An interesting legal point from Irish Times journalist Ruadhán Mac Cormaic.
Ireland is still creating headlines today, and is being carried as the top news on both The Guardian and Buzzfeed UK's websites.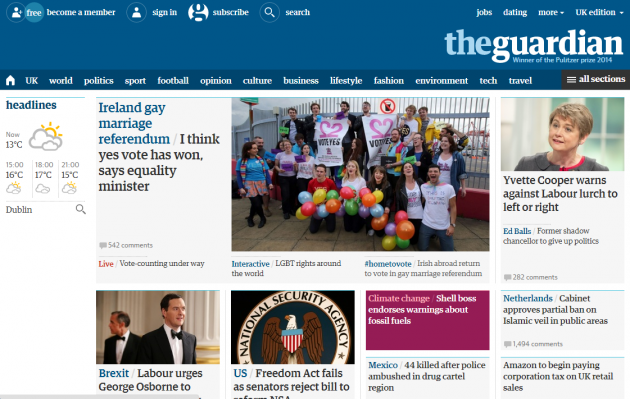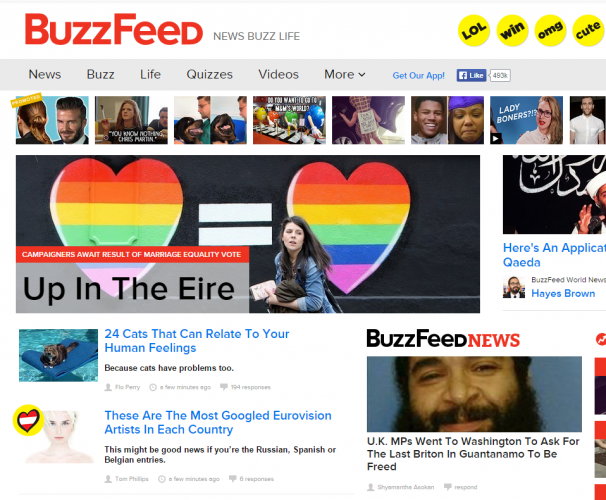 Do you know anyone? Send them our way.
One of the closest 'Yes' votes from early tallies is Kerry South.
North Kerry/West Limerick with all Tralee boxes opened is running at a wider martin of 57% Yes.
We're pretty sure this isn't the Equality Minister's official statement…
Amid the excitement about the marriage referendum, you may have forgotten that there's a by-election count happening in Carlow-Kilkenny today and the early indications are good for Fianna Fáil, which desperately needs a win after six losses in a row. Here's the latest from Hugh O'Connell.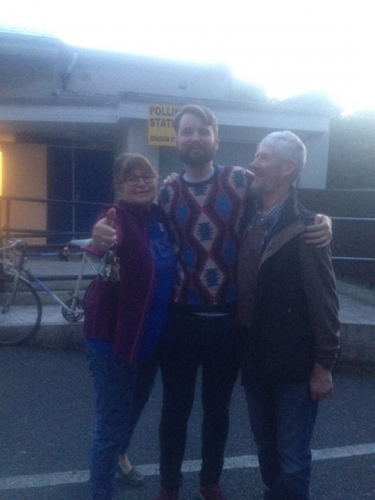 A lovely #hometovote story from a reader:
Rory Draper, pictured here, only landed at Dublin Airport at 9pm yesterday after his flight was delayed.
I literally ran to the passport desk in my Team Panti t-shirt which the attendant read and said, 'Fair enough', while the other attendant said, 'If you're going to vote you better run and good luck'. I sprinted to arrivals where I met my dad. He shouted, 'The eagle has landed' and we dashed to my mum and sister waiting in the car.

Mam drove me straight to the door of the polling office.
He made it – just in time.
America has woken up and the New York Times is on the ball with an early story about the early indications that the referendum will pass.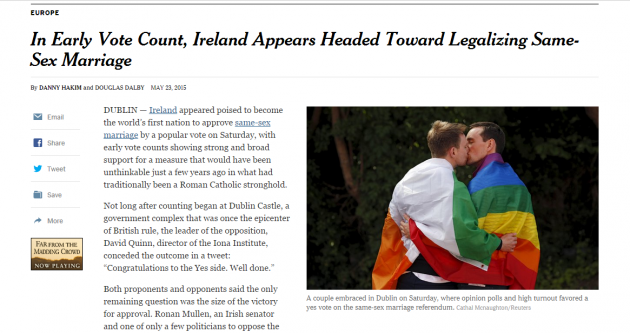 These numbers are incredible.
Media monitoring company Olytico tracks 250,000 publications and in the past two days, more than 4,500 articles have been posted about the same-sex marriage vote.
Wow.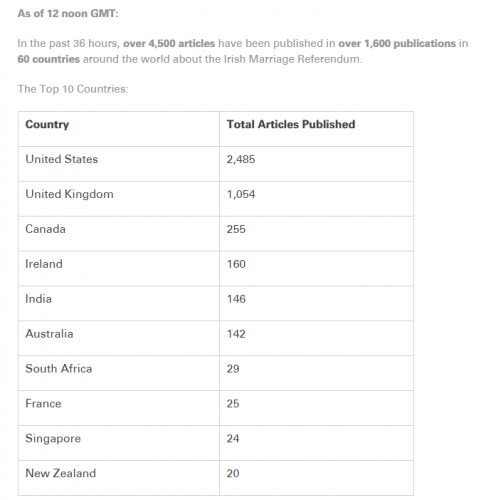 The Iona Institute has issued a statement to congratulate the Yes side on winning "such a handsome victory in the marriage referendum.
"They fought a very professional campaign that in truth began long before the official campaign started," the group said.
For our part, The Iona Institute is proud to have helped represent the many hundreds of thousands of Irish people who would otherwise have had no voice in this referendum because all of the political parties backed a Yes vote.
The Iona Institute would like to thank the thousands of volunteers up and down the country who worked day and night to try and secure a No vote.
David Quinn of the Iona Institute also had some words.
"We believe a fought a good campaign," he said. "It was always going to be an uphill battle. However, we helped to provide a voice to the hundreds of thousands of Irish people who did vote No. The fact that no political party supported them must be a concern from a democratic point of view.
"Going forward, we will continue to affirm the importance of the biological ties and of motherhood and fatherhood. We hope the Government will address the concerns voters on the No side have about the implications for freedom of religion and freedom of conscience."
The entire country is interested in Donegal's voting patterns today. They are usually seen as both contrarian and conservative so there is some surprise at the early Yes tallies.
However, local reporter Barry Whyte has noted there are some close calls.
Read more about Donegal here:
As the realisation sets in that this referendum will pass, emotions are running high among Yes campaigners.
Here, the director of communications for the Yes campaign Andrew Hyland hugs Linda Cullen at the RDS.
Source: Leah Farrell/Photocall Ireland
Visit CNN's homepage today and this is what you'll see.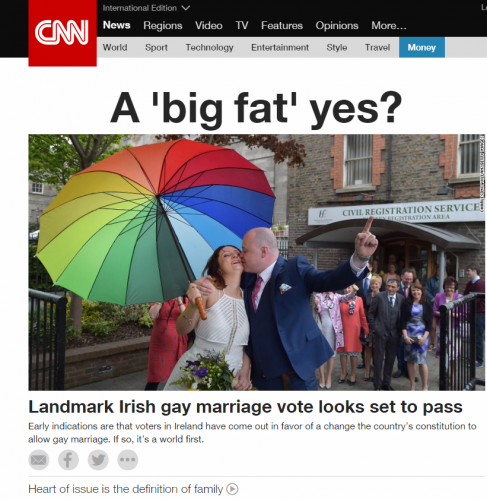 The US news channel also sent a news alert to its home audience this morning, just before 7am (local time).
Our favourite wizard creator, JK Rowling, is among the first celebrity to tweet about the prospect of a Yes declaration.
We'll need to update this map shortly…
Here's where gay people can get married across the world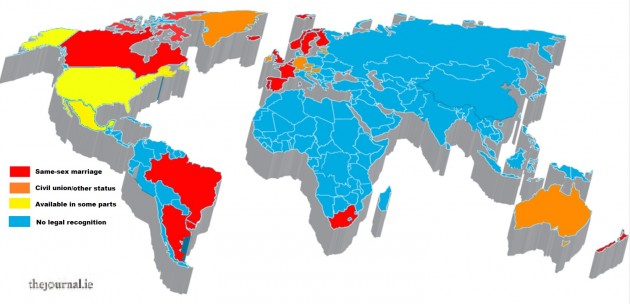 Dublin North West is the first constituency with an official result.
Yes: 70.36%
No: 29.64%
Speaking on RTÉ radio about the imminent Yes victory, Breda O'Brien says she had a "very rough year" and was fearful of getting involved in the No campaign.
Back to the tallies in rural Ireland… In North Kerry/West Limerick, five areas have voted No by small margins.
There is still an overall Yes vote of 56.6% to 43.4% No. Listowel and Ballybunion Yes votes were almost two to one.
A handy rundown of Dublin tallies from MEP Brian Hayes. Lowest Yes vote is in Dublin North Central at 68%
Hello friends, and welcome to The42′s liveblog of Munster v Ospreys.
Last night's semi-final between Glasgow and Ulster was a bit of a screamer, and today's is going to be even better.
Here is how the two teams will line out.
Munster: 15 Felix Jones, 14 Keith Earls, 13 Andrew Smith, 12 Denis Hurley (c), 11 Simon Zebo, 10 Ian Keatley, 9 Conor Murray, 8 CJ Stander, 7 Paddy Butler, 6 Peter O'Mahony (c), 5 Paul O'Connell, 4 Donnacha Ryan, 3 Stephen Archer, 2 Eusebio Guinazu, 1 David Kilcoyne.
Replacements: 16 Duncan Casey, 17 John Ryan, 18 BJ Botha, 19 Billy Holland, 20 Jack O'Donoghue, 21 Duncan Williams, 22 JJ Hanrahan, 23 Ronan O'Mahony.
Ospreys: 15 Dan Evans, 14 Jeff Hassler, 13 Ben John, 12 Josh Matavesi, 11 Eli Walker, 10 Dan Biggar, 9 Rhys Webb, 8 Dan Baker, 7 Justin Tipuric, 6 Dan Lydiate, 5 Alun Wyn Jones (c), 4 Tyler Ardron, 3 Dmitri Arhip, 2 Scott Baldwin, 1 Nicky Smith.
Replacements: 16 Sam Parry, 17 Marc Thomas, 18 Aaron Jarvis, 19 Rory Thornton, 20 James King, 21 Tom Habberfield, 22 Sam Davies, 23 Jonathan Spratt.
We've made the homepage of Australia's national broadcaster too.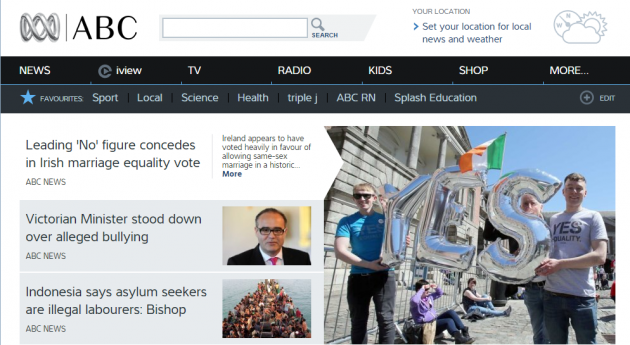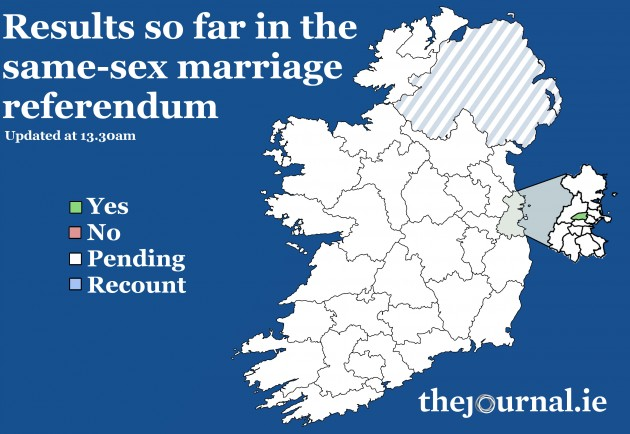 Wondering how you're constituency voted? We'll be bringing you each result as soon as we get them.
More fascinating insights from Clare journalist Gordon Deegan.
Fintan O'Toole has written a number of pieces on the referendum in recent weeks.
With just one official result in, there is still a lot of reporting to do today. We'll be starting a fresh liveblog with those results, your reaction, analysis from our political editor Hugh O'Connell in Dublin Castle, news from the Carlow/Kilkenny by-election and craic from the George with Vincent Browne, Bosco and our news editor Sinéad O'Carroll.
Ahead of that flurry of fun, we're going to sign off this morning's liveblog with this image of sunny Dublin today.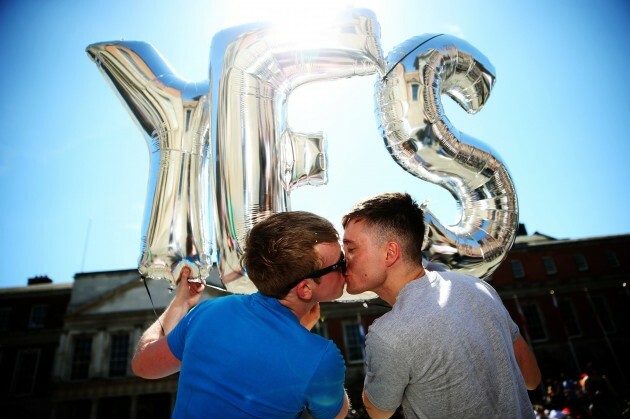 Source: PA WIRE
Contribute to this story: