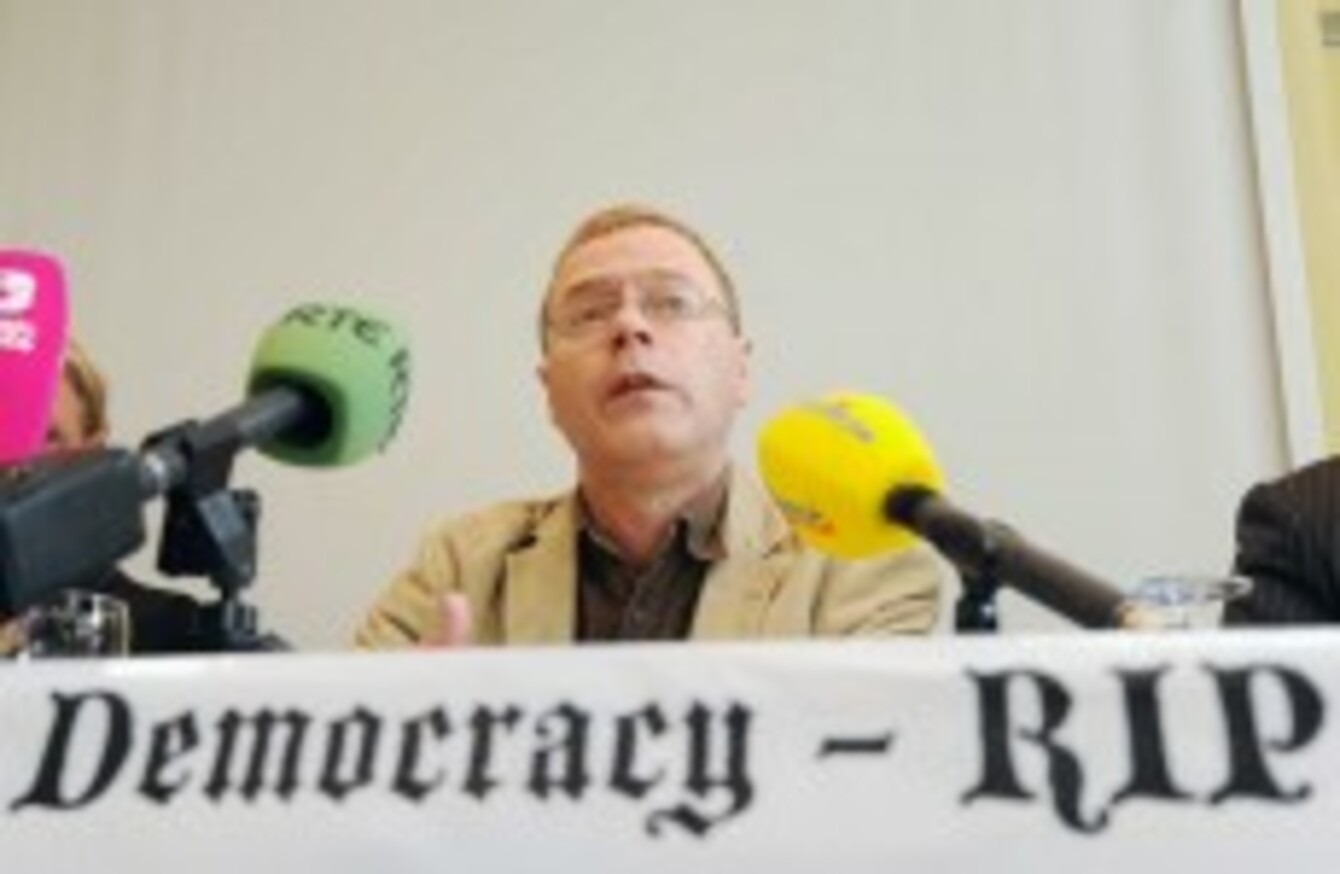 Economist Dr Andy Storey (UCD) pictured at a press conference in the Mont Clare Hotel in Dublin organised by the Campaign Against Austerity Treaty
Image: Laura Hutton/Photocall Ireland
Economist Dr Andy Storey (UCD) pictured at a press conference in the Mont Clare Hotel in Dublin organised by the Campaign Against Austerity Treaty
Image: Laura Hutton/Photocall Ireland
EVERY EVENING, THEJOURNAL.IE brings you the latest news and campaign moves, squabbles and – hopefully – useful tidbits of information as we face into the 31 May Fiscal Compact referendum.
(If you just want to make up your mind by yourself, you can read TheJournal.ie's layman's guide to the treaty).
WHAT'S NEW?
There was a bit of confusion this morning, after Cabinet Minister Ruairi Quinn said the government would consider holding off on formally ratifying the Fiscal Compact even if the electorate vote Yes on 31 May. However, a spokesperson for the Minister later clarified the Government's position to TheJournal.ie, saying: "If the people of Ireland pass the referendum on May, it will be implemented by the government without delay."
The Minister for Finance Michael Noonan told the Bloomberg Economic Summit in Dublin, that rejecting the Treaty would be dangerous for Ireland – but that voting Yes would limit fiscal recklessness, attract Foreign Direct Investment, guarantee access to the ESM, and bring certainty to the country.
Tanáiste Eamon Gilmore echoed Noonan's sentiments, discussing the benefits of a Yes vote while speaking to the American Chamber of Commerce. He said the acceptance of the Treaty would bring stability to Ireland and send a positive signal to US investors and employers that they could have confidence in the country. He added that, through the investment of 600 US businesses in Ireland, they had a "real stake" in the country's future.
The European Movement Ireland is due to hold a public information forum on the Fiscal Treaty tomorrow, and will feature speakers from academic, business, economic and trade union sectors speaking about their perspectives of the Treaty.
DIG OF THE DAY:
MaryLou took a pop at Enda earlier, tweeting: "Looking forward to tomorrow's Treaty debate @nwci. Shame Enda Kenny still scared to debate…"
TODAY'S "MOMENT OF CLARITY"
Fine Gael Dublin Central TD Paschal Donohoe has praised Deputy Mick Wallace for his "rare moment of openness and clarity", after Wallace said the No side of the Treaty debate was divided. Donohoe also turned his sights on Deputy Shane Ross, saying that time had come for him to state where he stood on the Treaty – adding: "He must be giving himself splinters he has been sitting on the fence for so long."
Fighting words.
ANTICIPATED DEBATES OF THE DAY
Sinn Fein deputy leader Mary Lou McDonald, UKIP Leader and MEP Nigel Farage, and trade union leader John Douglas of Mandate will argue against the treaty on Today FM's The Last Word tomorrow. Meanwhile, Fianna Fail leader Michael Martin, businesswoman Nicola Byrne, and a Labour Minister are to argue in favour. Sparks will surely fly.
UNEXPECTED CHUCKLE OF THE DAY
They may be calling for a No vote, but that doesn't mean that economists Michael Taft (UNITE the Union), Prof Terence McDonagh (NUI Galway) and Dr Andy Storey (UCD) can't share a joke. (Image:  Laura Hutton)