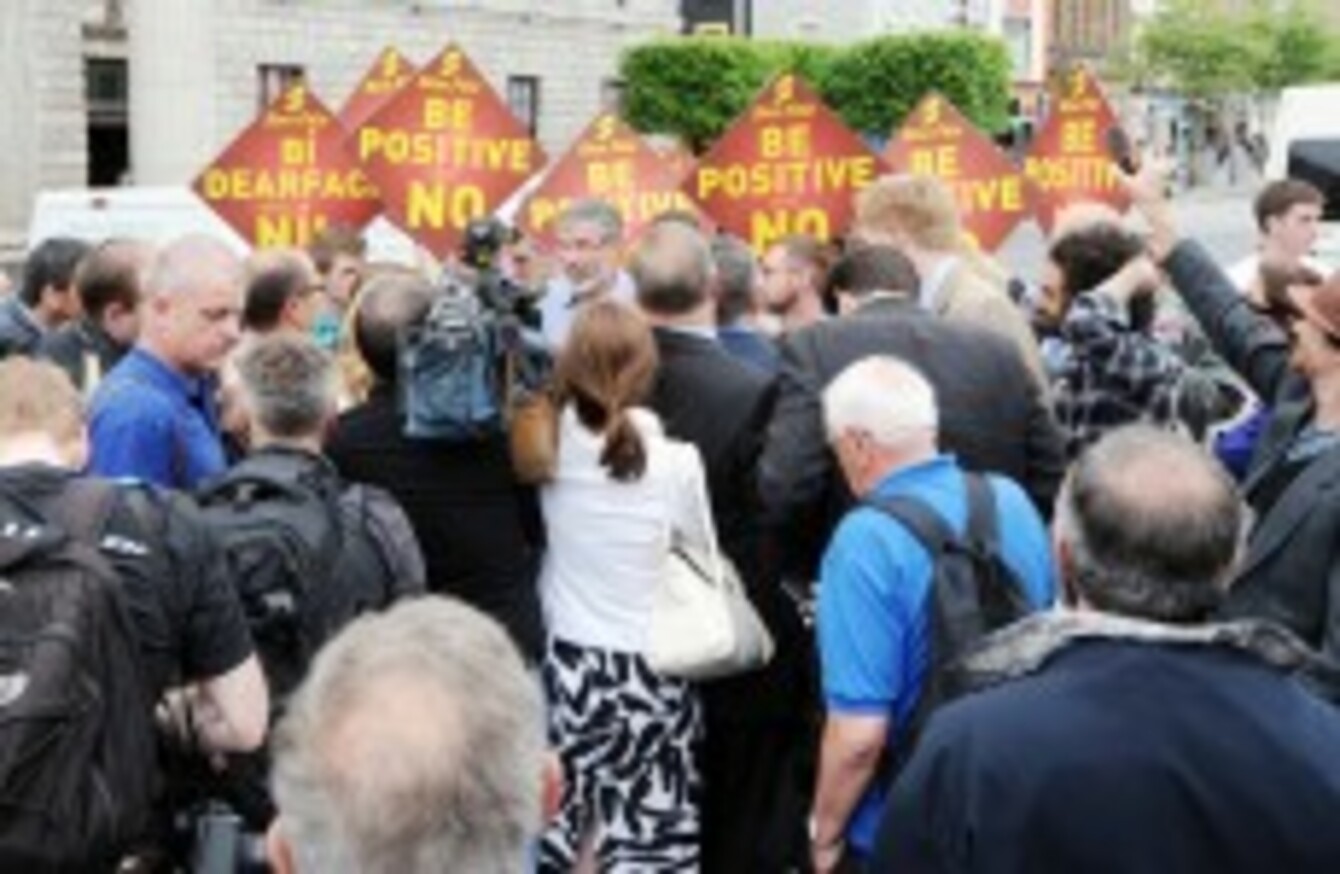 Scrum: Gerry Adams and other Sinn Féin party members speak to the media on O'Connell Street in Dublin this evening.
Image: Laura Hutton/Photocall Ireland
Scrum: Gerry Adams and other Sinn Féin party members speak to the media on O'Connell Street in Dublin this evening.
Image: Laura Hutton/Photocall Ireland
EVERY EVENING,TheJournal.ie brings you the latest news and campaign moves, squabbles and – hopefully – useful tidbits of information as we face into the 31 May Fiscal Compact referendum.
(If you just want to make up your mind by yourself, you can read TheJournal.ie's layman's guide to the treaty).
WHAT'S NEW?
At the High Court in Dublin, a judge is currently hearing Sinn Féin's legal challenge over statements made by the Referendum Commission in relation European Stability Mechanism bailout fund. The party has claimed that the Referendum Commission's statements on Ireland's chance of vetoing the ESM have tainted the referendum process. The court has dismissed the first part of Sinn Féin's legal challenge but is hearing other parts of it this evening.
The Football Association of Ireland has waded into the referendum debate or rather is trying to stay out if, insisting it hasn't come out in favour or against the Fiscal Compact treaty despite Sinn Féin posters which could indicate otherwise.
Meanwhile, voting has been taking place on the Mayo islands of Inishturk, Inishbiggle and Clare Island with almost 200 voters eligible to cast their vote on the three islands. Polls closed an hour ago but ballots will not be counted until Friday morning along with all the other ballots. Tomorrow, we can look forward to voting on four Galway islands.
If you're utterly sick of referendum debates that have dominated TV and radio over the past few days then you will be pleased to know that a moratorium comes into effect tomorrow from 2pm. It means that broadcast media cannot utter a word about the referendum other than to say that they cannot utter a word about the referendum.
Speaking of broadcasters, Newstalk radio has found that 47 per cent of people who took part in its iPoll – which was run on the Newstalk app for iPad and iPhones – are in favour of a Yes vote in the referendum with 35 per cent opting for No. Eighteen per cent remain undecided, according to the poll.
AWKWARD THEY'RE BEHIND YOU OF THE DAY
As Labour TD Aodhán Ó Ríordáin campaigned for a Yes vote in Clontarf today, S.P.A.R.K. (Single Parents Acting for the Rights of our Kids) campaigners Grace Costigan, left, from Stepaside and Laura Caffrey, second from left, from Ballyfermot attempted to get his attention today. Photocall Ireland photographer Mark Stedman says that Tánaiste Eamon Gilmore was scheduled to be in attendance from 2pm onwards, but left early after being confronted by the protesters.
DOWN WITH THE KIDS CANVASSING OF THE DAY
Fine Gael's Eoghan Murphy was in Rathmines campaigning for Yes vote with a few young friends but as he lamented on Twitter: "Forgot my tshirt…"
ENDORSEMENT OF THE DAY
The Irish Daily Star had a great story this morning detailing how some Irish celebrities intend to vote on Thursday but the government and other members of the Yes side will be delighted to hear that model and all round tabloid favourite Georgia Salpa will likely be voting Yes.
"We're stuck between a rock and the hard place with this one and both have pros and cons," Salps told the paper as she said she will likely vote in favour of the Fiscal Compact referendum. All of which leads to…
#Open journalism No news is bad news Support The Journal

Your contributions will help us continue to deliver the stories that are important to you

Support us now
DISTURBING MENTAL IMAGE OF THE DAY
*shudder*
OFFER OF THE DAY
Worth staying up for, surely…