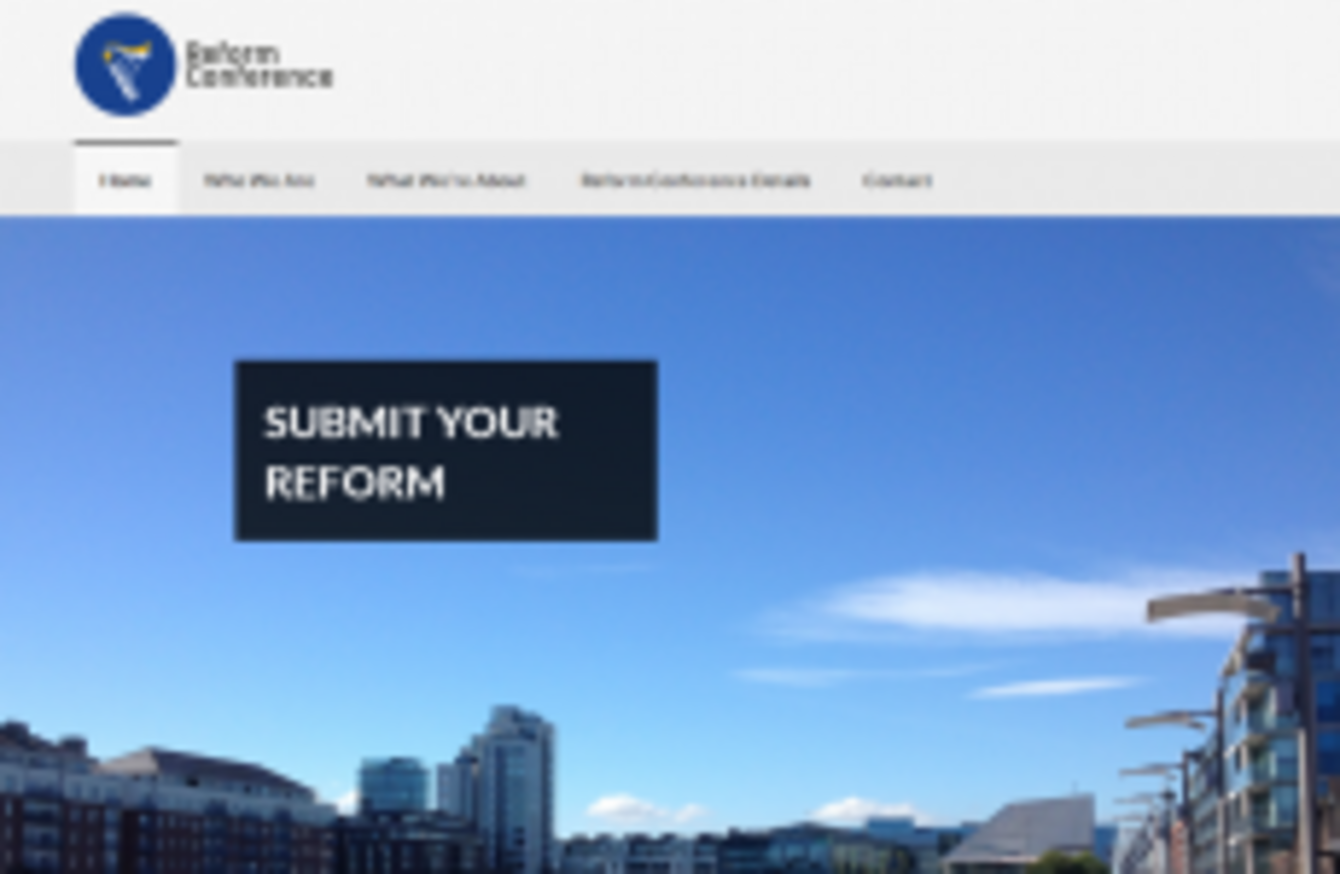 The Reform Alliance website launched this morning
Image: Screengrab via Reform Alliance
The Reform Alliance website launched this morning
Image: Screengrab via Reform Alliance
THE REFORM ALLIANCE is to hold its first national conference at the RDS in Dublin on Saturday, 25 January, it has been confirmed this morning.
The grouping of former Fine Gael TDs and senators has launched its website and registration for the event with one member telling TheJournal.ie: "Everybody will be invited".
The alliance consists of five Fine Gael TDs and two senators, most of whom lost the party whip over their vote against abortion legislation last July.
This latest move, in addition to registering itself as a 'third party' with the Standards in Public Office Commission (SIPO) in order to raise funding, will be widely seen as another step by the Reform Alliance towards forming a new political party.
One RA member, senator Fidelma Healy-Eames, told this website that the event later this month will be the first of many, saying: "Our intention was always to engage the Irish people and you're only going to engage the Irish people by giving them opportunities to do that."
She said the event in the RDS Concert Hall is being funded by her and other members of The RA but declined to say how much it is costing, saying only that it is "a lot".
It is hoped that around 300 people will attend with the likes of independent TDs Stephen Donnelly and Shane Ross set to be invited. Smaller events around the country will hopefully be held later in the year, the Galway-based senator said.
The Sunday Independent, which broke the story today, reports that economist David McWilliams and management consultant Eddie Molloy are also due to address the conference with broadcaster Tom McGurk set to chair one of the discussions.
The event is being organised through the office of TD Lucinda Creighton, the grouping's most high-profile member, who resigned as a junior minister over the abortion issue last July.
The conference will focus on three "key areas of reform" – political reform, the economy and health – and also promises a "live twitter stream" of reform ideas that have been submitted via its website.
"These reforms are necessary in order to rebuild trust, foster enterprise and encourage and inspire participation in the democratic institutions of the State," the RA's website says.
"The Reform Conference will be an open conversation: one which gives concerned citizens an opportunity to contribute to and engage with the debate on Ireland's destiny for this and future generations."
Although she siad that "everybody will be invited" when asked if invitations will be extended to government ministers and the Taoiseach, Healy-Eames said: "We haven't sat down and said: 'Are we inviting Phil Hogan?' We are really looking at the general public."
Three other members of the Reform Alliance contacted this morning did not immediately respond to a request for comment.