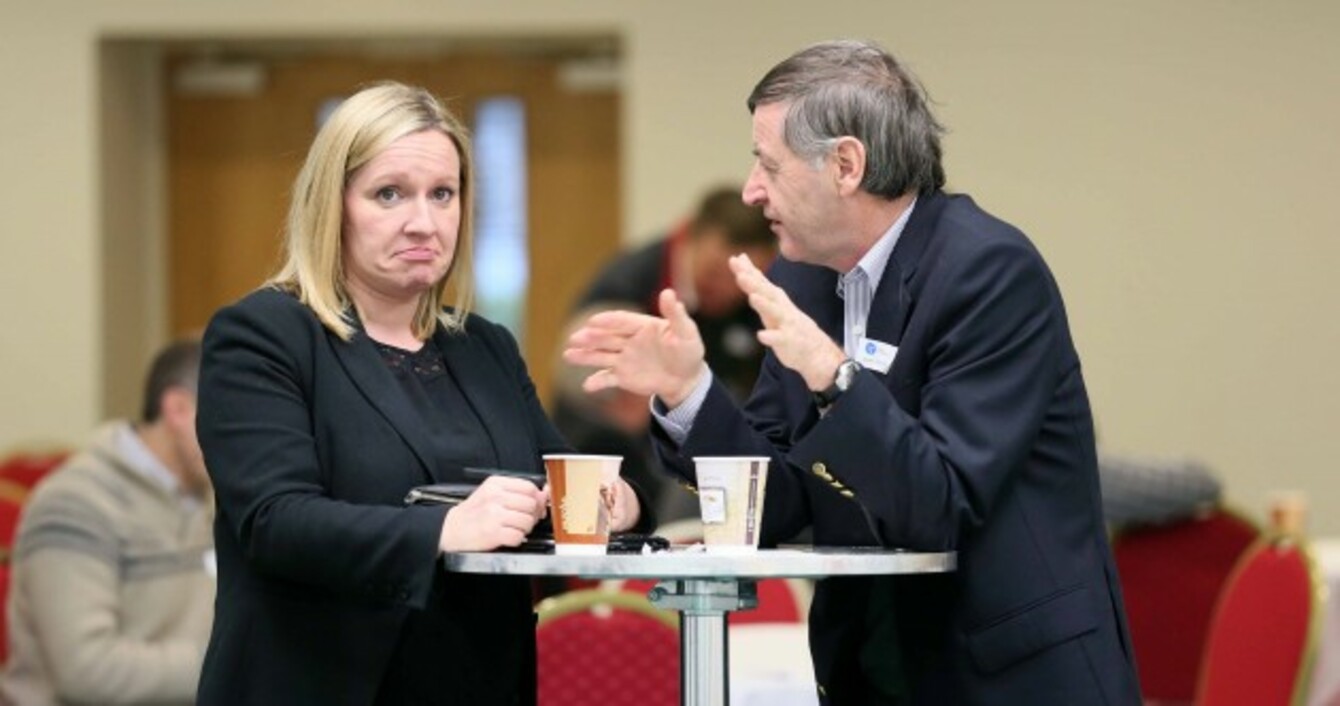 Lucinda Creighton at the conference in the RDS today
Image: Laura Hutton/Photocall Ireland
Lucinda Creighton at the conference in the RDS today
Image: Laura Hutton/Photocall Ireland
Updated 1.56pm
A CROWD OF close to a thousand has descended on the RDS Concert Hall in Dublin for the Reform Conference being hosted by expelled and former Fine Gael TDs.
The conference has heard ideas about reforming the political and health systems with a focus on the economy to come.
The hall at the south Dublin venue is close to full for the conference being organised by TDs Lucinda Creighton, Billy Timmins, Terence Flanagan, Dennis Naughten, Peter Mathews, and senators Paul Bradford and Fidelma Healy-Eames.
The conference has already heard from the broadcaster and columnist Tom McGurk, who has suggested that government ministers should be appointed outside of the political system.
"Whatever about new parties, we need new politics," he said claiming that "political failure has occurred in Ireland on a catastrophic level."
'You're still hot'
Journalist Olivia O'Leary began her speech by asking: "Why am I looking at so few female faces?"
She said that she does not agree with the stance that the Reform Alliance members took on abortion but "will defend till the death" their right to take it.
O'Leary called for the abolition of multi-seat constituencies in favour of single-seats to allow politicians to concentrate on national issues.
The British political theorist and former advisor to David Cameron, Phillip Blond, has suggested that the Seanad be expanded and given greater powers and that Irish citizens should have a right to recall their TDs via referendum.
He also called for Ireland to introduce a 'Social Value Act' to ensure that for all public expenditure those contracts can be awarded to small and medium-sized enterprises instead of large firms.
Contributions from the audience ranged from calls for a new political party, described as a "must" by one member of the public.
DCU political scientist Jane Suiter called for greater transparency and accountability saying that the "executive controls all the power of appointments and they abuse that power". She said there should be greater reform of Freedom of Information.
Among the audience contributions, broadcaster Marc Coleman caused mild controversy when he remarked to O'Leary: "Even if you're old, you're still hot."
Abortion and hospital proposal
Another member of the crowd pointed out that the Reform Alliance exists because Fine Gael performed a "u-turn" on the abortion issue to loud applause in the hall.
#Open journalism No news is bad news Support The Journal

Your contributions will help us continue to deliver the stories that are important to you

Support us now
There were also calls for VAT reform, term limits for TDs, and a new political party.
The first afternoon session heard from Dr Jimmy Sheehan, a co-founder of Blackrock Clinic, who proposed that the National Children's Hospital should be located on a site in Blanchardstown.
He strongly criticised government plans to locate it at St James's Hospital which he described as "the worst possible site in the country". Sheehan claimed it would take him two years and six months to complete the project if he got the go-ahead and it could be funded entirely from private sources.
There were also calls for the "O'Leary-isation" of the health service and for the Health Ministry to be split into two, a proposal which led moderator June Shannon to question whether there would be "two James Reillys".
The health session heard a large number of complaints about the current state of the health system. An elderly man from Clare said he is was "sick to be leaving my land behind me in such a despite state".
But not everyone has been in a reforming mood, with one audience member saying the use of the tricolour at the conference was an insult to people who sacrificed their lives for the country.
"We need a new party like a hole in the head," he said.
First published 11.03am