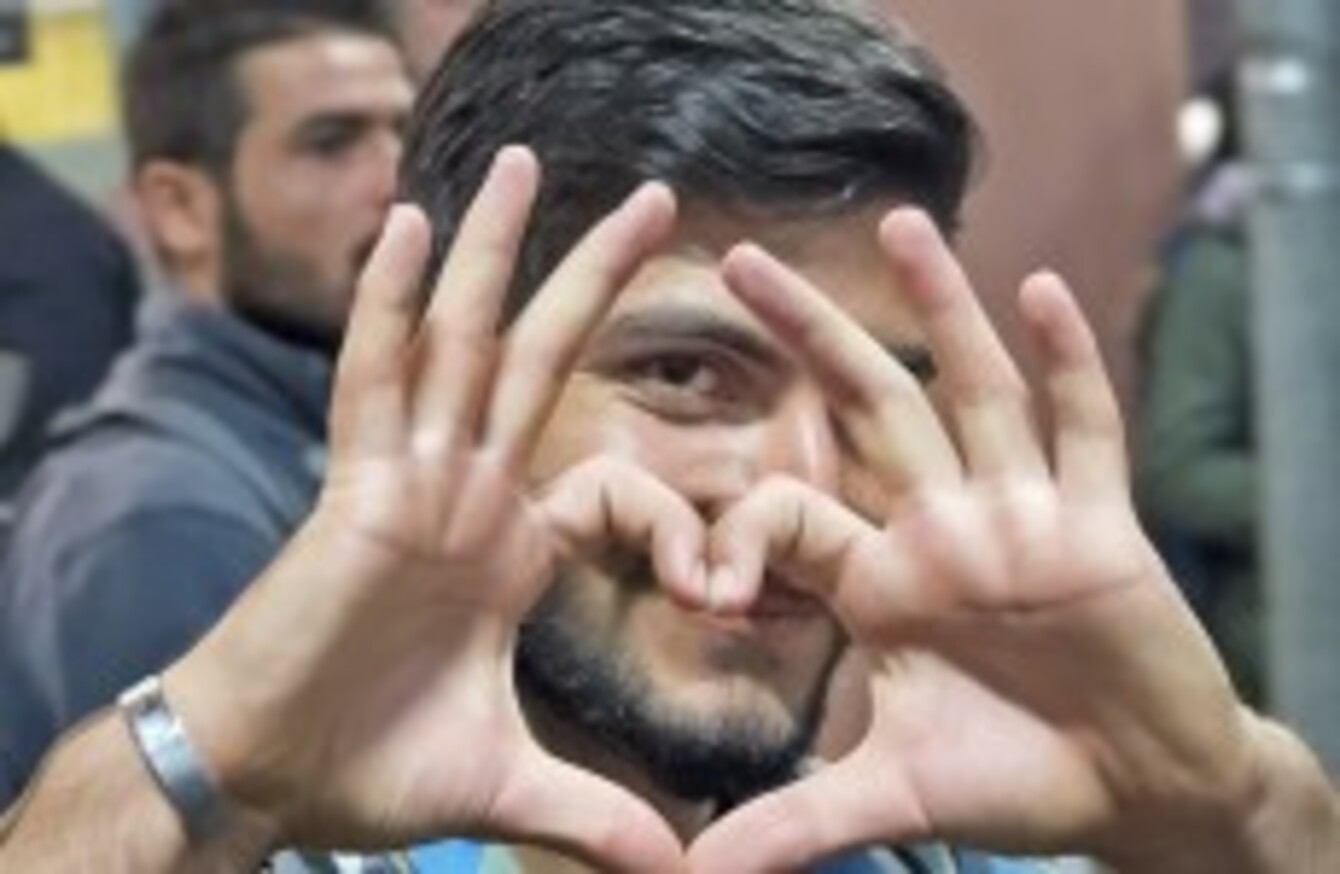 A man forms a heart as he arrives in Germany.
Image: Jens Meyer
A man forms a heart as he arrives in Germany.
Image: Jens Meyer
Updated 3.35 pm
TÁNAISTE JOAN BURTON has said that she wouldn't put an upper limit on the number of refugees Ireland takes from Syria in the coming years.
Speaking on The Colette Fitzpatrick Show on Newstalk, the Tánaiste said that the figure of 1,800 refugees that's been touted by government ministers would be "an initial figure".
"It could be 5,000, it could be more, I wouldn't like to put an upper limit on it," Burton said, explaining that families of refugees settled here could follow later:
"They may have family abroad in camps, they may have family in Syria in the towns under bombardment or under threat from Isis and some of those family members will come to Ireland and we will have a programme of family reunification."
The Labour leader said that a good example is when Ireland settled Bosnian refugees here, "initially we took 500 people, now we have a very large and significant Bosnian community."
Ireland has so far signed up to accept 600 refugees as part of the current crisis but both the Taoiseach and Minister for Justice have indicated that this figure could increase to 1,800. 
The Tánaiste's comments today would suggest that the government now believes that the country will take more refugees over the long-term
Burton said that the people accepted as part of this process would not be taken into the Direct Provision process.
"They will go into accommodation but they won't be the same category as those in Direct Provision," she said, suggesting that they may be housed in unused OPW properties.
Papal intervention
In his Sunday sermon today, Pope Francis called on every Catholic parish in Europe to take in a refugee family.
He stressed that it is Christian to help those in desperate need and urged "every parish, every religious community, every monastery, every sanctuary in Europe" to take in a family.
"Faced with the tragedy of tens of thousands of asylum-seekers fleeing death (as) victims of war and hunger who are hoping to start a new life, the gospel calls on us and asks us to be the neighbour of the smallest and the most abandoned, to give them concrete hope," he said in Saint Peter's Square in Rome.
The Vatican's two parishes would take in two refugee families "in the coming days", he said, leading by example for Europe's more than 50,000 Catholic parishes.
Shaykh Umar Al-Qadri of the the Islamic Centre Ireland has welcomed the call from Pope Francis and is also urging all Muslim centres and Mosques in Ireland to take in a refugee family.
In a statement this afternoon, Al-Qadri says he and and his wife are willing to adopt two orphans and notes that the Islamic celebration of Eid-ul-Adha begins on 23 September.
- With reporting from © – AFP 2015