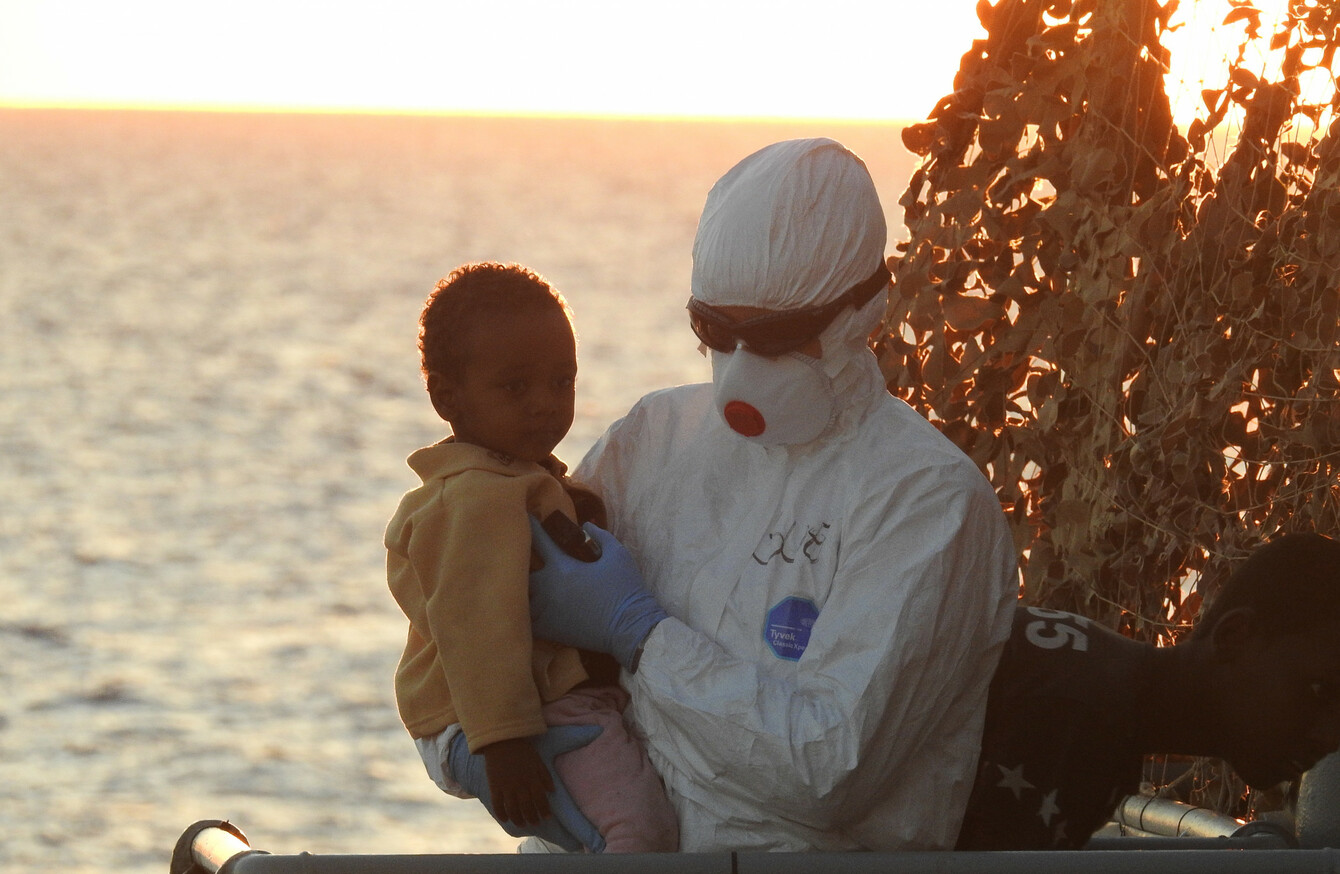 LE Roisin crew member with one of the 125 people it rescued off the coast of Tripoli last year.
Image: RollingNews.ie
LE Roisin crew member with one of the 125 people it rescued off the coast of Tripoli last year.
Image: RollingNews.ie
UP TO 530 family members of refugees already living in Ireland are to be reunited under new government plans.
Minister Charlie Flanagan briefed his Cabinet colleagues earlier today on the new reunification scheme, which applies to refugees from conflict zones such as Syria.
The minister also announced an increase in the number of new refugees to be resettled in Ireland over the next two years.
Last week, despite government opposition, a Private Member's Bill to allow refugees to bring their extended family to Ireland passed to committee stage.
It's understood Flanagan opposed the Bill as work was already underway to allow him to use his discretionary powers to reunite immediate family members not covered under the law.
Speaking after the Cabinet meeting, the Justice Minister Flanagan said he carefully considered the views on TDs and senators following the detailed discussions on family reunification in the Seanad.
Family reunification
"Family reunification is an important part of the process of integration for refugees in Ireland. I will operate this humanitarian admission programme under my Ministerial discretionary powers and it will be in addition to the family reunification provisions provided for in the International Protection Act 2015," he said, adding:
We have increased our resettlement commitment for 2018 to 600 refugees and we have made a new pledge to resettle an additional 600 refugees in 2019. These are the largest pledges that the State has made for resettlement in a calendar year since our national resettlement programme began in 2000.
It signifies our ongoing commitment to supporting the most vulnerable refugees by providing a safe haven and a welcoming environment to rebuild their lives here in Ireland. I am proud of the compassionate and welcome response of the Irish people to those fleeing harrowing conflicts, particularly in Syria.
The details as to when the family members and additional refugees will be arriving will be announced in the coming weeks.
To minimise  the  impact  on  an  already strained housing  supply,  priority  may  be  given  to families who can meet the accommodation requirements of eligible family members.
The promise to take in the highest number of refugees to date is part of European Commission/UNHCR resettlement programme, which aims to provide 50,000 resettlement places across the European Union over the two-year period.
Ireland's pledge
As part of the programme, the Irish Refugee Protection Programme (IRPP) has agreed to accept up to 4,000 asylum seekers and refugees.
By early 2018, Ireland will have admitted its entire designated cohort from Greece, approximately 1,089 people, and it will have admitted double the original commitment of 520 refugees under the European Commission's July 2015 resettlement scheme, taking in 1,040 people.
A statement from the Department of Justice states that relocation of asylum seekers from Italy has not proven possible within the two-year timeframe of the relocation programme, due to a refusal by the Italian authorities to allow security assessments of candidates on its soil.
Minister of State, David Stanton said increasing our resettlement commitments "allows us to continue our tradition of supporting the most vulnerable refugees, as identified by UNHCR".
The number of family members a person granted status in Ireland will be limited, said the minister, pointing out that it will include immediate family members only.
"This is a humane approach, which is in keeping with the family values at the heart of Irish society. I am sure that they will receive the same warm and generous welcome that the people of Ireland have provided to refugees and asylum seekers under the IRPP".
Oxfam Ireland have welcomed today's announcement, but said a system for family reunification which puts the rights of refugee families must be put on a statutory footing.
Nasc, a group that represents asylum seekers, said today's announcement is welcome, but added that it is disappointed that the scheme appears to exclude non-refugee families.
"People living in Ireland who are not refugees but have family members currently in conflict zones are incredibly limited in their options to bring their families to safety.  In our experience, it is not only refugee families who are impacted by war and conflict," said Fiona Finn of Nasc.