An Afghan family at the pier on the island of Kos. "I've come to Europe to give my children the best."
Image: Alessandro Penso/Médecins Sans Frontières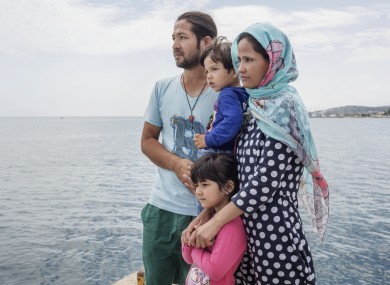 An Afghan family at the pier on the island of Kos. "I've come to Europe to give my children the best."
Image: Alessandro Penso/Médecins Sans Frontières
MORE THAN ONE million migrants and refugees reached Europe this year, including over 970,000 who made the dangerous journey across the Mediterranean.
The new figures, jointly released by the UNHCR and the International Organization for Migration (IOM), listed migrant arrivals in six European countries since 1 January, with the vast majority of people — 821,008 — landing in Greece.
A total of 3,692 migrants died or disappeared crossing the sea, IOM said.
"The number of people displaced by war and conflict is the highest seen in Western and Central Europe since the 1990s," the UNHCR said, referring to the conflicts in the former Yugoslavia that decade.
Half of those who made it to Europe this year were Syrians fleeing their country's brutal civil war, the UNHCR said, underscoring the conflict's dominant role in fuelling Europe's migrant crisis.
Afghans made up 20% of the group, while 7% of arrivals were Iraqis.
After Greece, Italy received the second highest number of migrants, with 150,317 people reaching its territory this year, all by sea.
This marked a slight declined from 2014, when 170,000 people landed in Italy after crossing the Mediterranean from North Africa.
Rounding out the group of European countries that saw migrant arrivals in 2015 was Bulgaria (29,959), Spain (3,845), Cyprus (269) and Malta (106).
"We know migration is inevitable, it's necessary and it's desirable," said IOM chief William Lacy Swing,
"But it's not enough to count the number of those arriving… We must also act," he added, calling for "legal, safe and secure" migration for those forced to leave their home country.