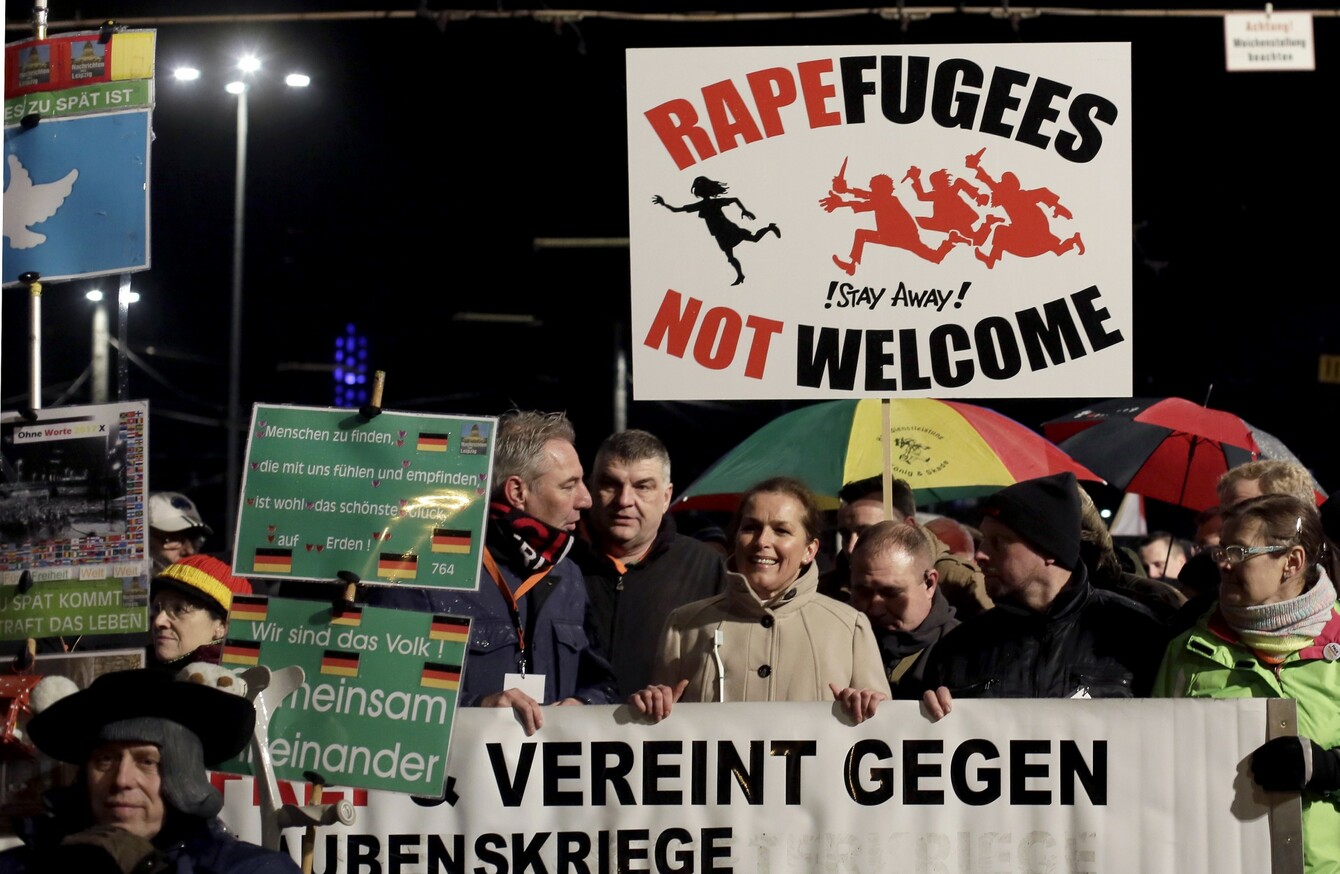 Protesters pictured in Leipzig yesterday
Image: Markus Schreiber/PA Wire
Protesters pictured in Leipzig yesterday
Image: Markus Schreiber/PA Wire
Updated 14.00
MORE THAN 200 protesters have been arrested in Germany following a xenophobic rally in the city of Leipzig.
The incident saw protesters carrying anti-refugee signs, setting cars on fire and smashing windows.
AFP is reporting that many of those involved in the incident are known to be football protesters.
A total of 211 people have been arrested in the Connewitz district of the city.
The BBC has reported that 2,000 supporters of the Legida, an affiliation of right-wing movement Pegida, marched through the city yesterday.
The violent protest has come after women were targeted in sex attacks in the city of Cologne on New Year's Eve.
Those that reported these crimes said that they had largely been committed by individuals from the Middle East or north Africa.
Consolidation
This follows a group of refugees living in a small German town in the east of the country penning an open letter following the sex attacks.
The attacks were the catalyst for fierce outrage in the country with anti-refugee demonstrations turning violent in the past two weeks. 
In response, the group from Köthen has said that it is ashamed about the "disgusting, inhumane acts of violence that happened on New Year's Eve in Cologne".
The letter has been written in German, with it translated into Arabic, and presented to the citizen's group in the town.
It has been posted on a local online news outlet and translated into English by Buzzfeed. 
"Here in Köthen we received the most warm welcome… we are very happy and grateful to have found a sanctuary and peace here. Many of the people who have helped and assisted us are German women," it said.
The letter goes on to say that after the events of just under two weeks ago there is a fear that "Germans, especially women, may fear us", something that they hope will not happen.
The group, which includes individuals from Syria, finished up by saying: "What happened in Cologne is not what the true Syrian people stand for. The attackers of Cologne are criminals. We hope for your understanding and wish you, and especially the victims of Cologne, the very best."
Following the attacks in Cologne police identified 31 suspects, 18 of which were asylum seekers.
- First published 12.34pm