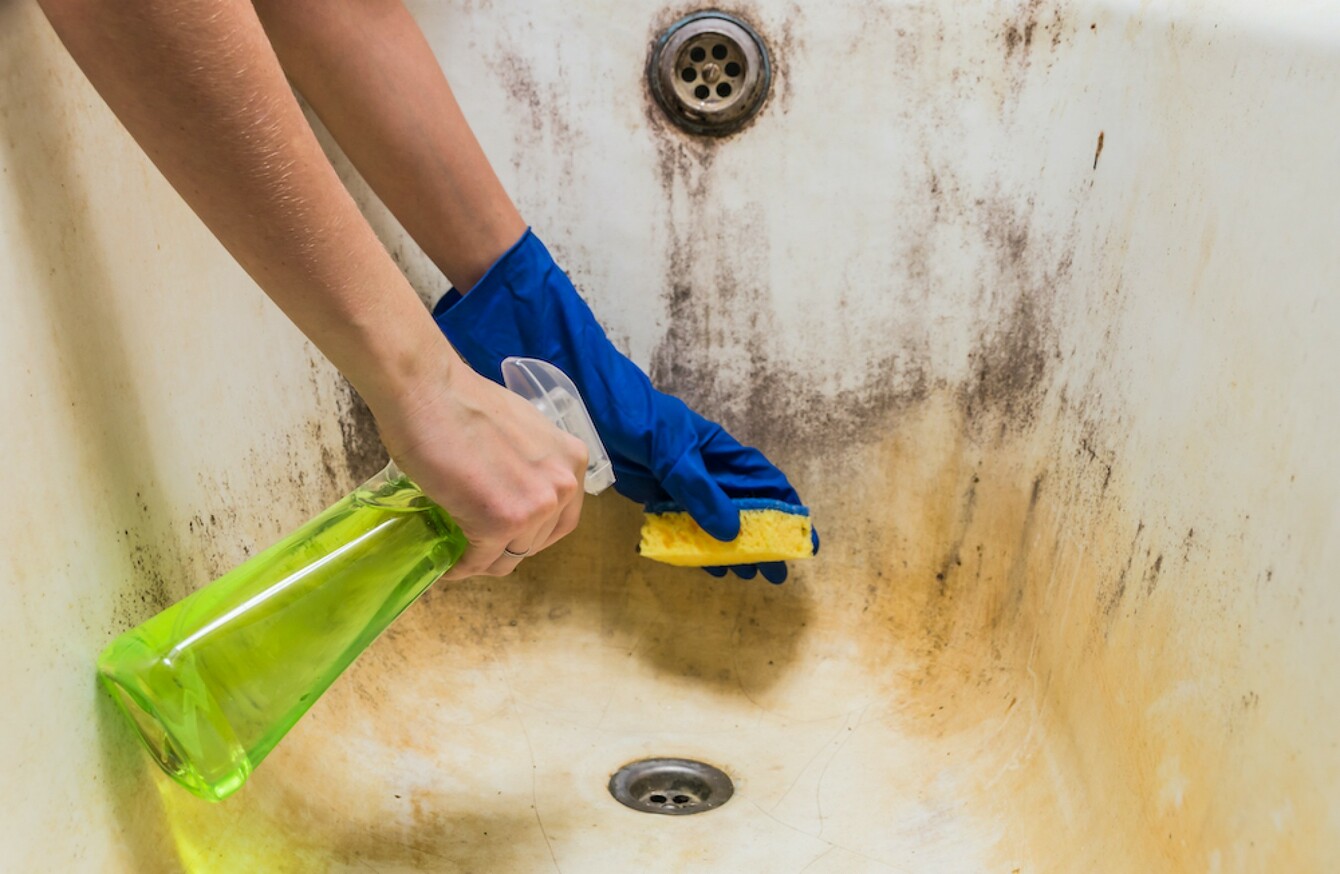 Image: Shutterstock/Aleksey Boyko
Image: Shutterstock/Aleksey Boyko
LAURA DE BARRA regularly brings her lifestyle and home maintenance masterclasses to the Glenveagh Home Magazine on TheJournal.ie. This week: removing stubborn bathtub stains.
BATHTUBS CAN OFTEN become stained or discoloured over time thanks to product residue, soap scum, rust and dripping taps.
Most of these stains can be lessened or removed, but the treatment you use depends on what is causing the stain and what your bath is made of. Always test any cleaner, natural or shop bought before you apply.
Step #1: Figure out what kind of bath you're dealing with
Acrylic or fibreglass: These will look and feel like plastic and usually have a plastic side panel (give it a knock to see). They are prone to fading, discolouring and even warping over time due to the porous nature of fibreglass. You need to be really careful with what you use on these girls. They mark easily so always use a non-scratch sponge or cloth, and avoid abrasive cleaners. If you do want to use a shop bought cleaner, go for one that is designed for using on acrylic or fibreglass baths.
Enamel: If you put a magnet against an enamel bath surface, it will stick. Enamel cannot hack strong cleaners and most won't even be able to take neat vinegar, so always use a watered down natural cleaner. Scourers can also damage them, so again stick to a non-scratch sponge or cloth.
Porcelain: Magnets won't stick to porcelain baths, so that's how you'll know if you have one of these on your hands. Porcelain is harder wearing scratch wise – and you can use stronger cleaners – but the surface can chip if something heavy is dropped on it. If you're dealing with a chip or a crack, I'd advise trying to repair it as soon as possible to avoid further damage. You can buy specialised repair kits in most DIY stores.
Step #2: Identify the stain and get cleaning
Stains from your body's oils and skin cells: Yellow stains are usually the result of a mix of your body's oil, skin cells and soap scum… lovely. To tackle these, use washing up liquid and warm water with a microfibre cloth to cut through the grease and lift it from the surface. Rinse down well. You may need to spray the stain with vinegar and wash down to lift heavier stains.
Stains from hair conditioner and other products: Conditioner and bath oils both have great staying power and can leave behind a film that attracts a build-up of dirt and other products. You'll know if this is the culprit if the stain is rubbery to touch. Again, use warm soapy water and a microfibre cloth to break down the product and remove it.
Reddish or brownish water stains: When a pool of water is left to dry on the surface of your bath, it can leave behind stains. These kinds of stains are usually seen under a dripping tap. Vinegar, lemon juice or lime juice should all help to loosen these deposits. Just be sure to test the area first as neat vinegar can be damaging to some enamels. If you have an enamel bath, use 50/50 vinegar water applied directly to the stain little by little and rinsed frequently.
#Open journalism No news is bad news Support The Journal

Your contributions will help us continue to deliver the stories that are important to you

Support us now
Rust stains: These are usually from plug chains, or from something like a hair clip or a shaving foam can which has been left to sit on the side of the bath for a long time. Moisten the rust stain with some lemon juice, coat it in salt, leave for 30mins then scrub off with a microfibre cloth. If you have a porcelain bath, you can use a pumice stone, but be as gentle as you can and remember to test a small area first.
Hair dye stains: Your best bet here is an oxidising stain removers, purchased in a DIY or hardware store – just make sure the one you buy is suitable to your tub tybe to avoid further discolouration. With an acrylic bath, a magic eraser is a good alternative option as it contains no bleach.
Step #3: Keep your newly clean bath stain-free for longer
Daily: Always make sure your drain is clear and there is no slow moving water as it empties. Slow draining leads to a build-up of oils and minerals on the surface of the bath, resulting in staining. In hard water areas, dry down your bath after use to avoid this build-up.
Weekly: Wash your bath with warm soapy water (washing up liquid will do) to cut through the grease from products and from your body's own oils.
Want more tips and hacks? Laura de Barra's debut book, Gaff Goddess: Simple Tips And Tricks To Help You Run Your Home is on shelves now, published by Transworld Ireland. Buy it here or in all good bookshops, and follow Laura on Instagram for even more cleaning and lifestyle tips.