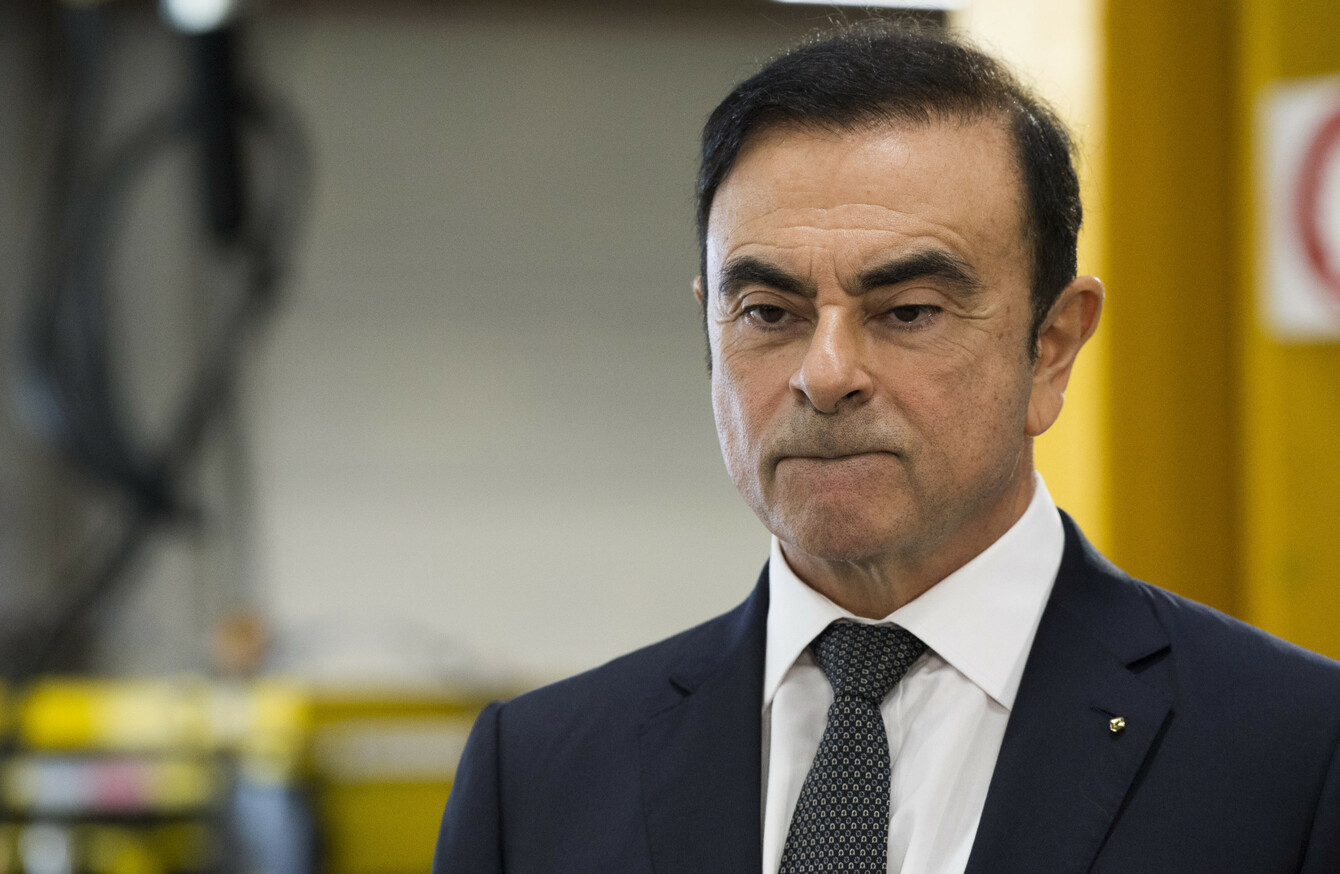 Carlos Ghosn
Image: Blondet Eliot/ABACA via PA Images
Carlos Ghosn
Image: Blondet Eliot/ABACA via PA Images
RENAULT HAS SAID Carlos Ghosn will remain its chief executive despite his arrest on financial misconduct charges in Japan, though a deputy CEO has been named to ensure day-to-day management while he is "temporarily incapacitated".
After an emergency board meeting prompted by Ghosn's arrest yesterday on charges of under-reporting his pay at Nissan, Renault said chief operating officer Thierry Breton would become deputy CEO, with the "same powers" as Ghosn.
Saying it was unable to comment on the "evidence seemingly gathered" against Ghosn, the carmaker asked Nissan to share all information stemming from its internal inquiry against him. 
French and Japanese officials are scrambling to reassure investors on the fate of the Nissan-Renault-Mitsubishi alliance as fresh claims emerged following Ghosn's arrest.
Nissan has already signalled it will move to remove Ghosn as chairman, after alleging that an inquiry prompted by a whistleblower found "significant acts of misconduct", including millions of dollars in undeclared pay.
Ghosn has not been heard from since his arrest, though sources confirmed he was being held by Tokyo prosecutors.
Ghosn is considered one of the world's most powerful auto executives, the architect of a three-way alliance which combined sells more cars worldwide than any other automaker.
In a statement today, French Finance Minister Bruno Le Maire and his Japanese counterpart Hiroshige Seko reaffirmed their "strong support" for "one of the greatest symbols of Franco-Japanese industrial cooperation".
But investors have been unloading shares in the three carmakers since the charges emerged against Ghosn, the alliance's linchpin since 1999.
The companies have deeply integrated their operations to produce huge economies of scale, and Renault owns 43% of Nissan while Nissan has a 15% stake in its French partner.
Nissan has become the alliance's key player, however, posting sales of 12 trillion yen ($106 billion) last year compared with Renault's €59 billion ($67 billion).
A Financial Times report said Ghosn has been working on a merger of the two carmakers that Nissan opposed because it could relegate the Japanese company to a secondary role.
Nissan shares dropped 5.5% in Tokyo on Tuesday and Mitsubishi was off 6.8%, while Renault lost 1.2% in Paris after tumbling 8.4% yesterday.
'Huge sums' for homes?
The arrest of 64-year-old Ghosn, a superstar executive credited with rescuing both Renault and Nissan and then forging a behemoth which sold 10.6 million cars last year, sent shockwaves through the auto industry and beyond.
Japanese prosecutors have said Ghosn is being held on suspicion of under-reporting his income by about five billion yen ($44.5 million) over five years.
Nissan CEO Hiroto Saikawa said a months-long investigation prompted by a whistleblower had uncovered years of financial wrongdoing, including the misuse of company assets.
Public broadcaster NHK reported that Nissan had paid "huge sums" to provide Ghosn with luxury homes in Rio de Janeiro, Beirut, Paris and Amsterdam "without any legitimate business reason".
It was a stark indictment of the Brazilian-born polyglot known as a hard-nosed workaholic willing to shut factories and cut thousands of jobs to get a firm on solid financial footing.
Nissan's representative director Greg Kelly, who was arrested along with Ghosn, reportedly ordered other executives to "hide salaries", the Yomiuri Shimbun said.
It reported that some compensation due to other executives ended up going to Ghosn, without detailing how the process had worked.
'It's all about money'
As Ghosn's once towering legacy unravelled, few voices emerged in support of someone long considered the most dominant force in the auto industry.
Despite his success, he has long attracted criticism for pay packages – an estimated €13 million in total last year – which far exceed those normally given to French or Japanese CEOs.
And Saikawa, his handpicked successor as Nissan CEO, accused him of accruing excessive power in a harshly worded news conference yesterday.
"Too much authority was given to one person in terms of governance," Saikawa told reporters at Nissan's headquarters.
"This is a dark side of the Ghosn era which lasted for a long time."