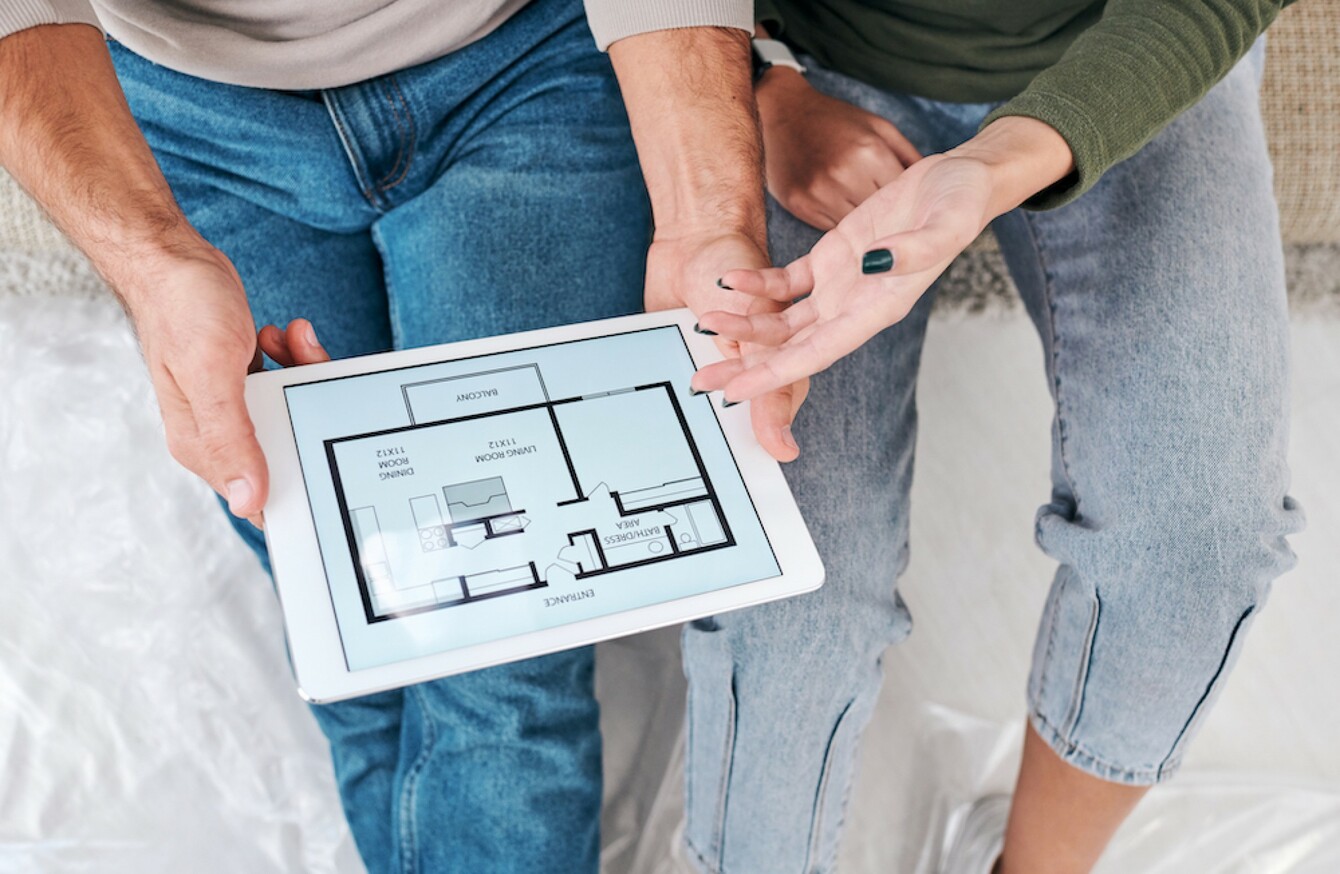 Image: Pressmaster
Image: Pressmaster
PLANNING A HOME update is a complex task, no matter what size of project you have in mind.
There are the logistics like budget and timing to figure out, plus a whole host of smaller decisions, from what materials to use to what brand of appliances to buy for your renovated space.
Making changes to add space, add warmth or lower your energy bills? Planning ahead is vital. See where you're at compared to other readers using our slider tool below.
If you're in the 'not at all far' category, don't panic. There's plenty you can start doing now to get a headstart and turn your vision into a reality, without the hassle.
The more decisions you can make ahead of time – before any of the physical work begins – the more smoothly your project will go. Often the planning stage is the longest part of the job, says Rory Clarke, general manager of House2Home, a retrofit and renovation specialist:
If you rush into a project, you're going to dilute the end result. At the minimum you should try to give yourself three months from the time you start planning to the day your project begins.
"That's enough time to allow for technical assessments like BER reports, design consultations and also amends and changes from your side. It's your home, so you want to be really happy with the work that's going to be done."
So what are the elements you should be nailing down before kicking off the process of making your home more comfortable to live in? Clarke shares the questions he'd love every homeowner to answer before their renovation or retrofit job begins…
1. 'What's my budget, realistically?'
Budget can be an obstacle for a lot of homeowners: either their finance doesn't match their wishlist, or they commit to a project without realising how much it is going to cost. 
If you have a list of wants and a list of needs, start by drafting a budget for the 'needs' first, says Clarke:
If your biggest need is a warmer home, then start by pricing insulation. If your biggest need is more space or a bigger kitchen, then you'd start by pricing that work. You may have neighbours who have had similar work done and might be able to give you a rough price. From there, start contacting professionals to get a more accurate quote.
2. 'If I'm planning a retrofit, am I eligible for any grants?'
If you're considering upgrades to make your home warmer and more energy efficient, it's likely you'll be able to avail of a government grant scheme.
A huge 82% of BER-assessed homes around Ireland have an energy rating of C1 or below, according to April 2021 figures from the Central Statistics Office – and the aim of the grant scheme is to lower that percentage significantly in the coming years. Clarke explains the basics:
There are several grants available at present. Three of the big ones are the Better Energy Homes Scheme, the National Home Retrofit Scheme and the Warmer Homes Scheme. They're each different in who they'll suit and what they cover but the funding available can be very significant.
Certain retrofit specialists will handle the grant application process for you, and can even assist you with applying for finance – House2Home is a partner with both Credit Union and the SEAI, for example.
3. 'Do I know my home's current BER?'
Introduced in 2007, the Building Energy Rating system measures your home's energy efficiency, with A1 being the most efficient on the scale and G being the least. Typically, the older your home is, the lower its BER.
If your home was built pre-2007, you may not know exactly where you stand on the scale – and how much it would cost to raise the BER to a cosy, comfortable A or B. 
You'll need to figure out your current BER in order to get a quote for retrofit work and an independent BER assessor will do that for you. They'll come to your home, assess it and even take photo evidence.
A basic BER assessment should cost around €250, says Clarke, rising to around €550 if you're looking for guidance on the work you'll need to do to hit a higher energy rating.
4. What are my big priorities for this project?
Most people can probably point to something they'd change about their home – they wish the kitchen was bigger, or that the house was warmer in the winter – but now's the time to set out a detailed wishlist that goes beyond a few general statements.
Once you have that ready, you can start to engage the professionals and define your vision, says Clarke:
The ideal customer who comes to us has already engaged with an architect, for example, or a BER assessor, or other professionals. They're already well informed on what they want and what the end result will look like. Those customers tend to have the most successful projects because there are no surprises for them along the way.
5. Would I be happy to spread the work out over a few years?
In an ideal world, every element of your renovation or retrofit job would be completed in one go. But if you're on a strict budget, you may find that spreading the work out over a few years is more realistic. 
If you're planning to work in stages, make sure you plan those stages in the right order, says Clarke. Use the "fabric first" approach as a general rule of thumb, he says:
The 'fabric' of your home is the windows, the walls, the attic. For a retrofit, start there, get your home well insulated and then you can focus on the heating system and solar panelling and other features.
A BER assessor will be able to provide you with a phased approach to improving your home's energy efficiency, he adds:
"Your home might be at an E rating now, but by adding triple glazed windows and cavity wall insulation, you'll know you can get to a C rating. You can get up to an A rating with further work down the line."
6. Am I sure I'm working with the best people for the job?
Falling foul of cowboy contractors can cost you time and money, so it pays to do your research when hiring professionals. 
Hiring a contractor who is regulated through the proper channels, be it the Sustainable Energy Authority of Ireland (SEAI) or the Construction Industry Register Ireland (CIRI), isn't just a savvy move, it's a vital one, says Clarke:
Using an accredited contractor and installer is critical to the success of any project. If you're working with a professional who is regulated through those channels you can be assured you're getting a certain quality of service and aftercare.
For extra peace of mind, don't be afraid to ask for references from past customers, which a trustworthy contractor will be happy to provide.
"A lot of our customers will request to see work that we've done on other homes, and thanks to technology you can find reviews online easily. If a contractor is on the relevant registers and readily has a list of reviews and previous work available, those are all great signs."
Considering some upgrades to make your home more energy efficient? Kickstart your plans with a Green Home Improvement Loan from your Credit Union, ideal for large-scale renovations, smaller projects and everything in between. Find out more today.