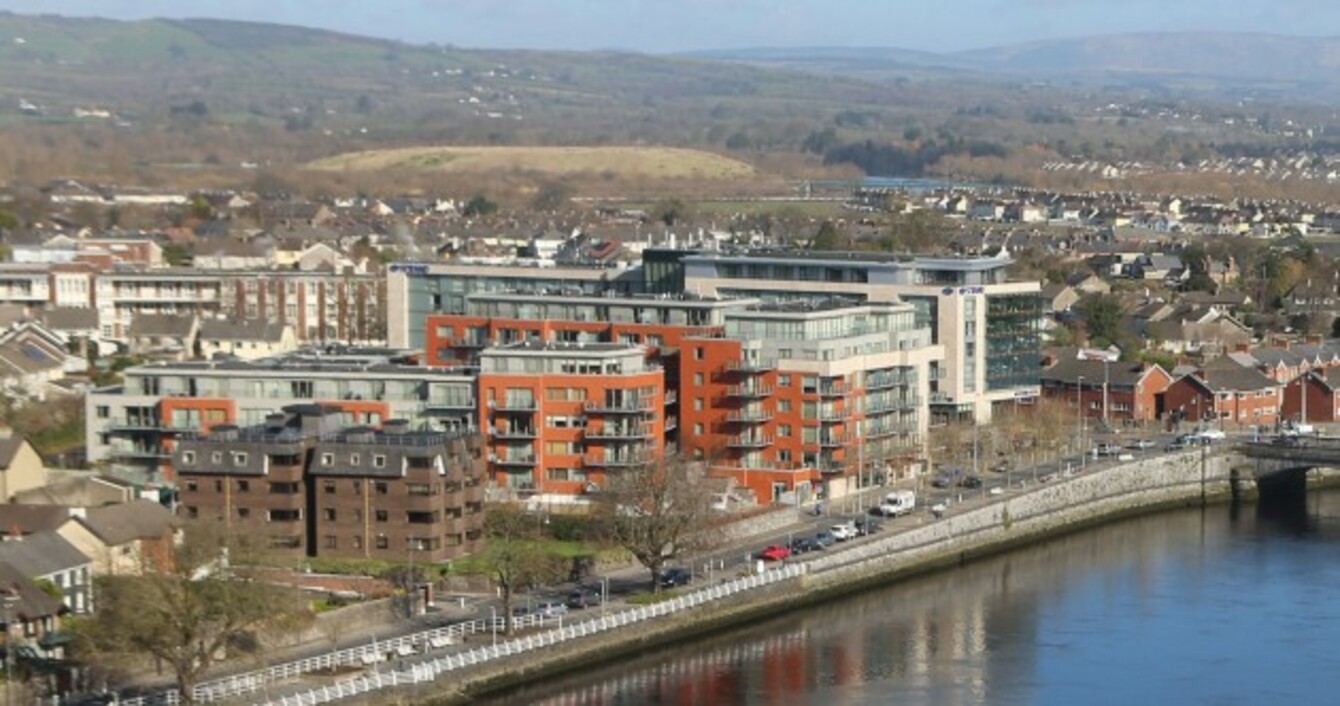 Strand apartments in Limerick city.
Image: Liam Burke/Press 22
Strand apartments in Limerick city.
Image: Liam Burke/Press 22
A NUMBER OF TENANTS in an apartment complex in Limerick have been given eviction notices after the properties were bought by a vulture fund.
The situation at the Strand apartment complex in Limerick City appears to be similar to what happened in Tyrrelstown in 2016.
Last year, the tenants of the west Dublin estate faced eviction after they received letters from a vulture fund telling them they would have to vacate their homes once their leases ran out.
The Limerick Leader reported yesterday that the company formerly in charge of the Limerick apartments, Sova Properties Ltd, had its loans transferred to the National Asset Management Agency (Nama).
In July 2016, Nama sold the loans to Oaktree Capital Management.
Speaking to Brian O'Connell from RTE's Sean O'Rourke programme today, one tenant who has lived in her apartment for over nine years, said she was very upset when she received a letter to vacate her home.
As someone who worked in the market, describing herself as "a capitalist", she said she understood that people are entitled to make investments.
'Everybody wants to make a few bob'
"I understand that everybody wants to make a few bob, but you can't do it at the expense of people's homes."
A statement from Sova Properties said "debt secured against these properties was sold by NAMA to Oak Tree which has directed that Sova sell the properties to repay the debts. Sova remains in ongoing communication with tenants. Unless there are specific circumstances to the contrary, Oak Tree's view is that value is maximised by sale with vacant possession".
Meanwhile, Nama said in a statement:
Nama's policy is that, where possible, debtors and receivers should avoid seeking vacant possession of residential property in advance of loans sales in order to minimise disruption to people living in these homes.
Nama requires that every acquirer of its loans complies with their legal requirements to respect tenant rights in accordance with their lease terms.
Resistance 
Anti-Austerity Alliance councillor, Cian Prenderville organised a meeting last night for tenants who had received eviction notices. Like Tyrelstown, he said these evictions would be resisted.
Prenderville told TheJournal.ie, the evictions will not only have a huge impact on those who have to leave their homes, but they will drive up rent prices in the area.
"There are only a handful of properties in Limerick City. If we suddenly have a large number of tenants looking for somewhere to live, rents are going to skyrocket."
Prenderville claims 30 tenants have already been forced out, with some having to move back in with their parents due to the lack of suitable rental accommodation.
He said the situation "highlights the ridiculousness of the law in Ireland" and called for changes to legislation to be made that would allow for sales of apartment complexes with tenants unaffected.
Housing Minister Simon Coveney told Sean O'Rourke he agreed with such a move, stating:
For me it is totally unacceptable that when one institutional investor sells to another institutional investor or one professional landlord is selling an apartment complex to another professional landlord that people's tenancies shouldn't be protected in those circumstances.
#Open journalism No news is bad news Support The Journal

Your contributions will help us continue to deliver the stories that are important to you

Support us now
Coveney said it is "the norm" in many European countries that sales of this kind do not affect the tenant.
"It is not the same in the UK, but it is the norm in many countries and should be the norm here… We have taken advice from the attorney general to make that happen," said the minister.
Tyrelstown amendment
The resistance to the evictions in Tyrelstown last year resulted in the government introducing the 'Tyrrelstown amendment' into legislation.
The so-called 'Tyrrelstown amendment', which is yet to commence, aims to prevent large number of residents in a development being evicted all at once. However, it does allow for 10 tenants to be evicted at any one time.
The minister said the Tyrelstown amendment kicks in next week and ensures that when a sale "actually happens that people are protected by law to stay in their homes, people who are paying their way".
Coveney said he is not sure if the amendment would apply to the situation in Limerick, stating that he would need more information on the evictions.
We need to check if it does or it doesn't.
He also pointed out that the legislation can't be applied retrospectively.
Prenderville said the Tyrelstown law would only slow down the eviction of tenants, but would not stop vulture funds from issuing eviction notices.