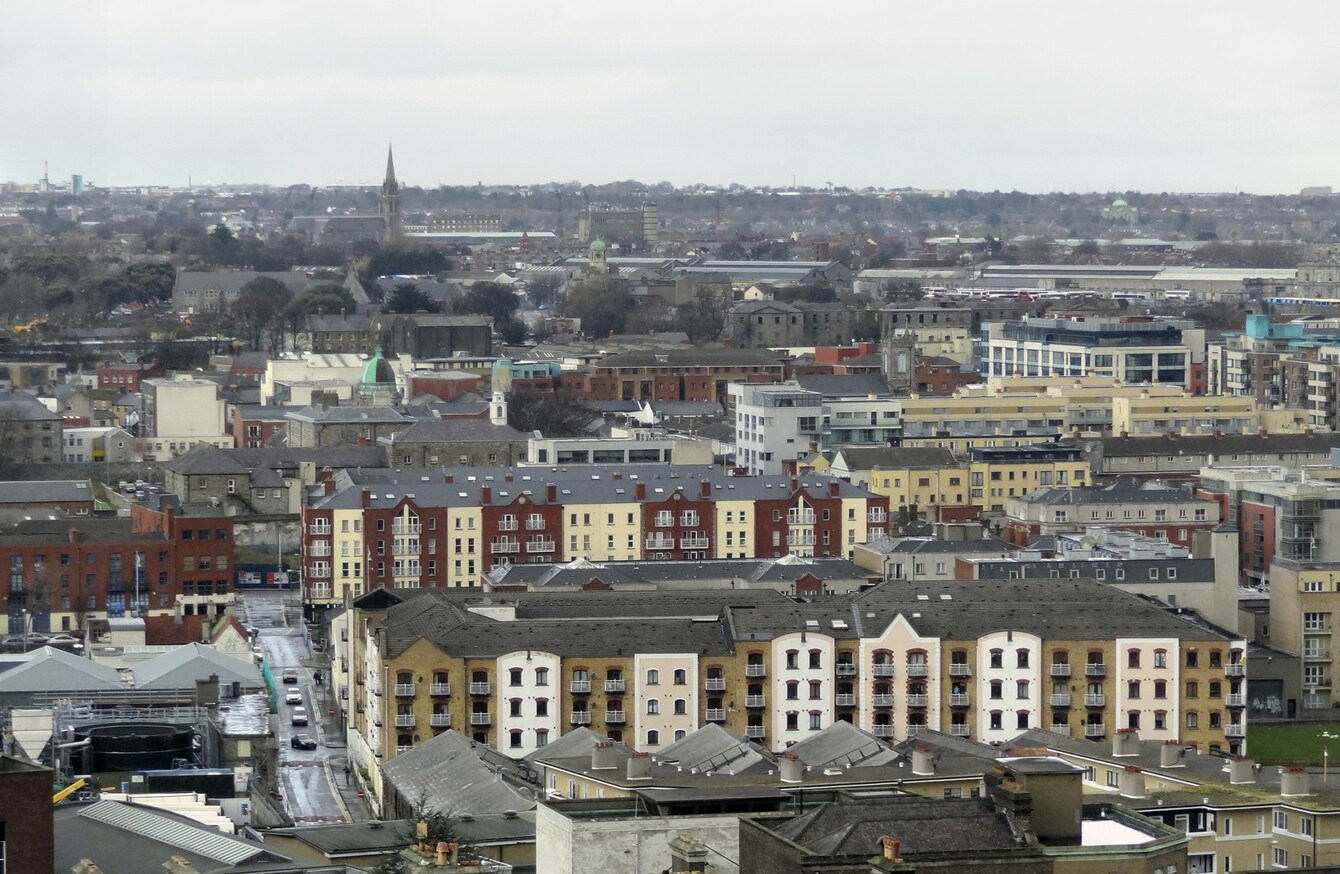 File photo of Dublin city
Image: Shutterstock/PRILL
File photo of Dublin city
Image: Shutterstock/PRILL
RENTS NATIONWIDE HAVE risen by 10% in comparison to the same period last year.
According to the latest Residential Tenancies Board (RTB) rent index, Dublin rents have bypassed Celtic Tiger prices.
Rents in the capital are now 3.9% higher than the 2007 peak.
Increases were not confined to the Dublin region, but also occurred in other parts of the country.
The report shows the market is not slowing down, despite measures by the last Government to put a two-year freeze on rises.
On an annual basis, nationally, rents were 9.9% higher than in the second quarter in 2015 – up from €869 to €956.
Rents for houses across the country were 9.3% higher annually in second quarter – up from €850 to €929, while apartment rents were 11.7% higher than in the same quarter of 2015 – up from €908 to €1,014.
Dublin market 
The Dublin market is up by 9% – from €1,251 to €1,364.
Dublin house rents were up by 7.5% from €1,388 to €1,492 and apartments in the capital were higher by 9.8% – up from €1,246 to €1,368.
The index shows the surge in rents has spread outside of Dublin, with the average rental price jumping from €669 to €740.
Again the performance differed by property type. Monthly rent for houses outside Dublin increased by 9.9% – from €688 to €756, while apartments outside Dublin experienced an increase of 12.7% – €647 up to €729.
When comparing rent prices for the first half and second half of 2016, rents in Dublin grew by 4.5%.
The director of the RTB, Rosalind Carroll, said there was a slowdown in rents in the previous two quarters, but the rate of growth in rents is increasing again, particularly in the Dublin market.
Carroll said there are a number of drivers pushing rents up nationwide.
Adding to the underlying supply and demand imbalance is the return of net inward migration as confirmed by the Central Statistics Office last month (+3,100) for the first time since 2009.
Housing Minister Simon Coveney told TheJournal.ie the department's review and rental market action plan will be released before Christmas.