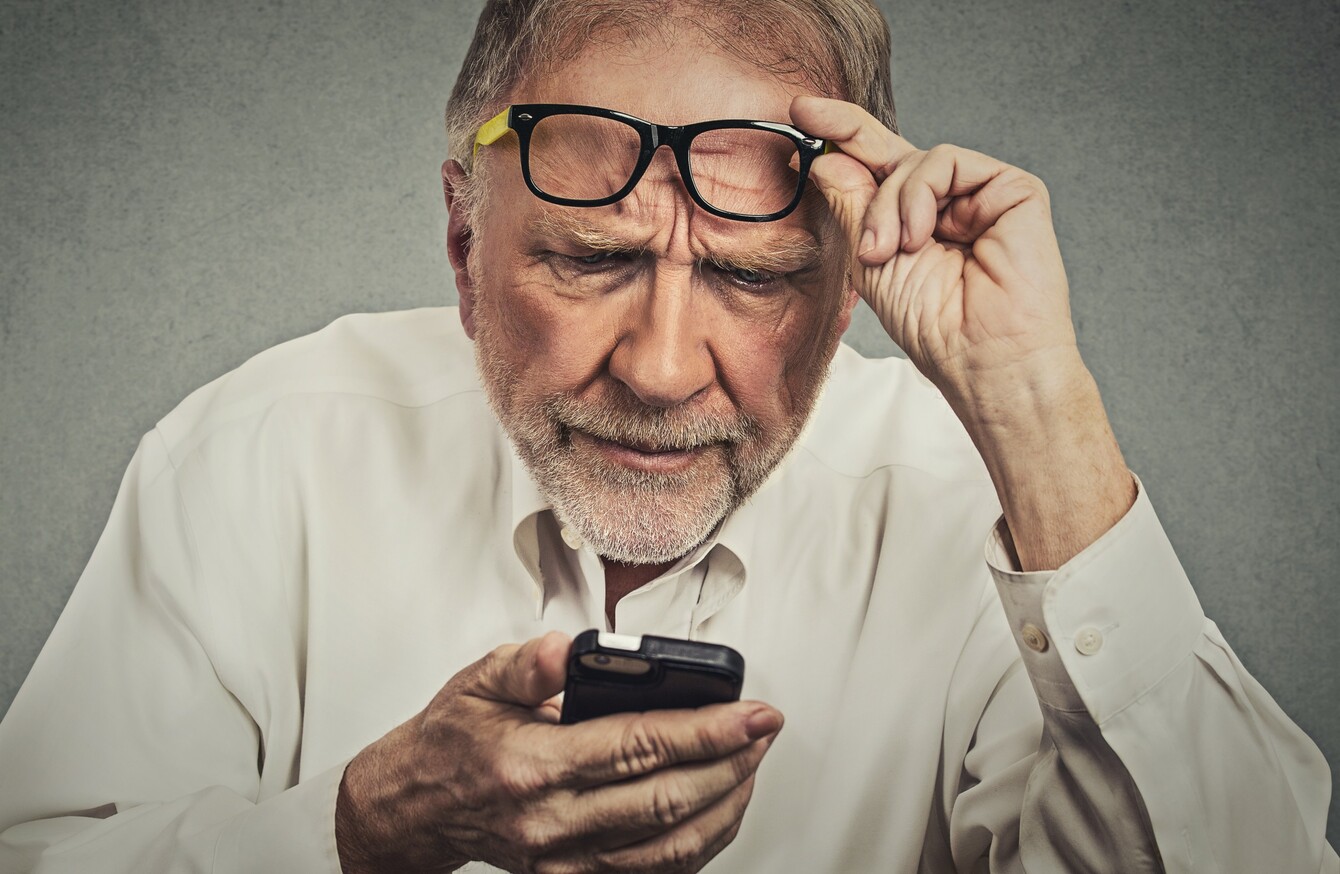 Image: Shutterstock/PathDoc
Image: Shutterstock/PathDoc
RENUA HAS PROPOSED that elderly people should use smartphone apps to stay in touch with each other – but they will be required to purchase the phones themselves.
The party put out a press release yesterday entitled 'An App a Day Helps the Elderly'.
The statement criticised "the state" for ignoring the "inalienable right of our elderly citizens to live in dignity and safety".
It added: "RENUA Ireland intends to prioritize this area of social cohesion. In particular we intend to use technology in this regard.
The elderly are far swifter and far more capable of using technology than convention suggests. RENUA Ireland intends to use methodologies such as apps to enhance the capacity of our elder citizen's to stay in touch with each-other.
The release noted that the current government has "cut down on such devices as personal alarms and phones". This is a reference to the controversial decision to scrap the telephone allowance in 2014 and cut the budget for person alarms used by the elderly the year before that.
Renua said that "extending services such as apps and providing training opportunities for the elderly in the use of Digital technology has serious potential to improve connectivity and socialization amongst our older people".
Elderly expected to meet the cost
We asked Renua for a bit more detail on the policy, particularly how it planned to equip the elderly with smartphones, apps and training in how to use them.
A spokesperson for the party said: "Our main proposal would be that the elderly would be trained and encouraged to use smart-phones and apps via existing services supplied by community centres.
Our main objective is to challenge the stereotyping which suggests new technology such as smart phones and apps cannot be used by the elderly.
We also asked whether elderly people would have to meet the cost of purchasing a smartphone or would Renua roll out a finance scheme to help them.
"Renua will not at this point in time equip the elderly with smart-phones and apps to keep in touch," the spokesperson said.
The party argued that this is a "cost neutral proposal" which means "the elderly will be expected to meet the cost themselves".
Renua added that there may be a case for reintroducing the telephone allowance but applying it to more modern technologies.
#Open journalism No news is bad news Support The Journal

Your contributions will help us continue to deliver the stories that are important to you

Support us now
Broadband
Asked how the party planned to address the lack of broadband coverage in some isolated rural areas where elderly people reside, the spokesperson added: "The party has not at this point in the short time of our existence crafted a policy on how to solve the lack of mobile phone/broadband coverage in isolated parts of rural Ireland.
"In that we are not alone but we do recognise it as representing a priority in terms of redressing the urban rural imbalance."
The idea has been criticised by Active Retirement Ireland, which has over 24,000 members. Its head of communications Peter Kavanagh said the proposal is "a bit mad".
"It's a monumentally shortsighted idea to think that apps and the use of technology that a minority of older people are currently using could end the social isolation that has been caused indirectly by government policy," Kavanagh said.
When you look at the state of broadband policy in Ireland a lot of our members live in rural, isolated areas. If they are in an area without broadband an app is utterly useless. It's like a sugar pill that isn't going to solve anything.
"I'd question how they plan on helping half-a-million people learn how to use the internet and smartphones. For somebody trying to get by on a state pension I would question how they can afford to get a new smartphone."