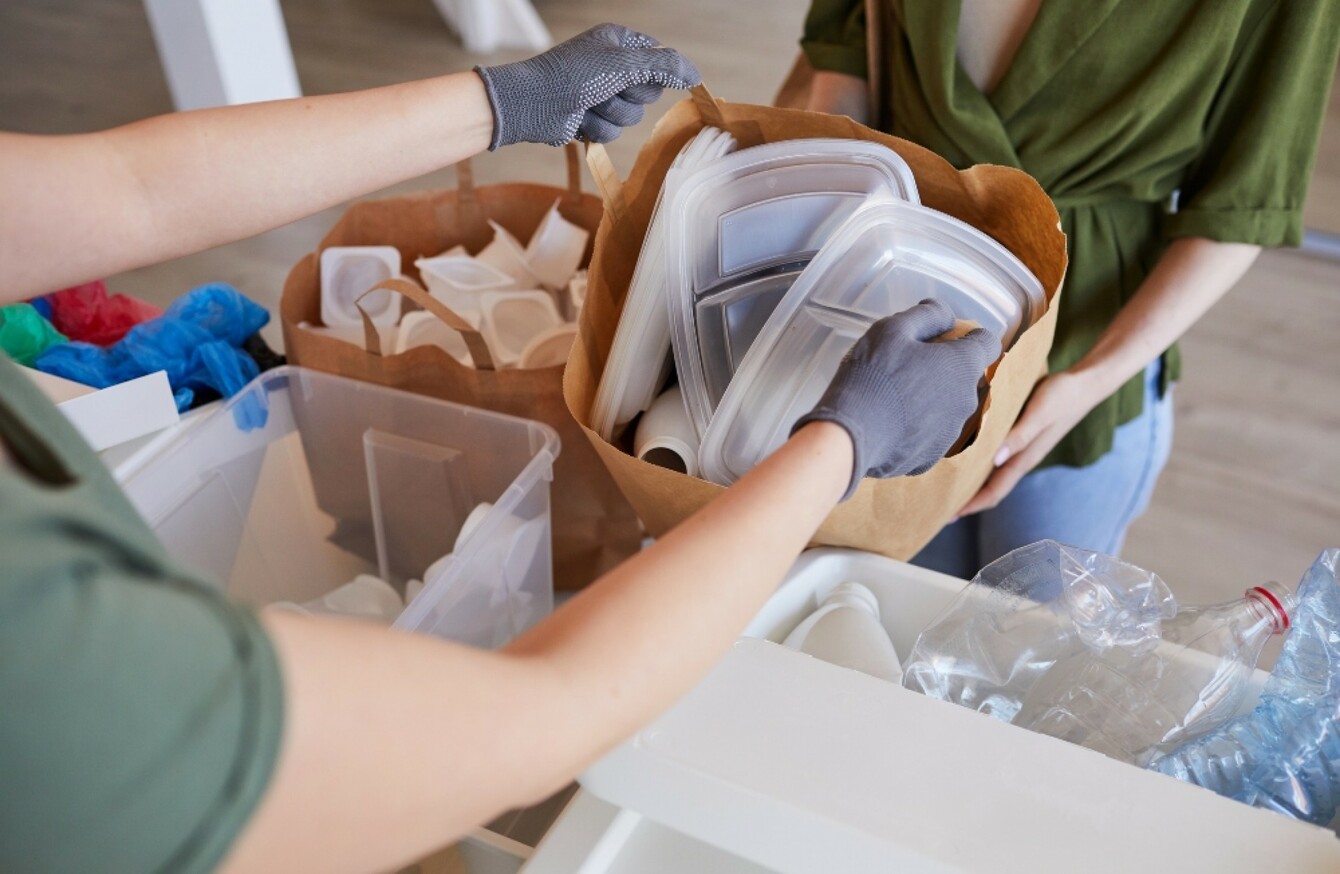 WITH MORE PEOPLE working from home and most people spending more time at home than ever, now is the perfect opportunity to make sure we are recycling and disposing of waste correctly.
"Over the past couple of months when people have been at home, the recycling rates have actually gone up and the contamination rates have gone down," says Laura Sherry, Head of Marketing and Communications at Repak. "We've all come together in so many ways over the last couple of months, so we need to keep it going." 
Most of us know to put milk cartons, cardboard and hard plastic in the recycling bin, but how can we make sure that we're recycling our waste correctly and effectively? Laura shared with us the common mistakes that many people make when it comes to recycling – and what to do instead. 
Mistake #1: Not recycling aluminium packaging
You might be familiar with the silver containers that takeaway food and ready meals sometimes come in, but did you know that they can be recycled? "We should be recycling all of our metal packaging, steel and aluminium food and drinks cans, as well as aluminium food trays and steel biscuit tins," says Laura.
Mistake #2: Not cleaning recyclable food packaging
However, think twice before you throw the remnants of your chicken korma in the recycling bin – the container needs to be cleaned and dried first. "A lot of the time, there is food residue in the containers, so you have to make sure that they're clean by giving them a quick rinse in the sink before you recycle them. Otherwise they're contaminated and won't be recycled." 
Contamination also lowers the value of the recyclables and makes it harder to find outlets that will accept them for recycling.
"Not to forget that food also causes odours and associated nuisances with regard to the pests they attract, namely flies and rats. Food waste should always be removed and placed into food waste bins so it can be recycled into compost or biogas." 
And what about pizza boxes? "We often find that the leftover sauces also cause big problems as they spread onto and contaminate other materials in the bin, truck and facility. A bit of grease on the pizza box is fine and can be recycled, but food and leftover sauces are a no."
Mistake #3: Stuffing materials into other materials for recycling 
You may think that you're doing the right thing by putting bits of paper, cardboard or plastic into a cereal box or paper bag to collect your recycling, but it's actually counterintuitive. 
"How it works is that the material has to be detected by the sensors on the conveyor belt at the recycling facility," explains Laura. "Plastic will be pulled in one direction, aluminium will be pulled in another direction and so on. So it has to be loose for the sensors to actually be able to detect what it is, otherwise it might be identified as a contaminant and it won't be recycled. All materials in your recycling bin should be clean, dry and loose." 
Mistake #4: Thinking 'ah, it'll get put into the right place in the end' 
If you're guilty of putting recyclable materials into the black bin or non-recyclable materials into the recycling bin and thinking that they'll be disposed of correctly down the line, you're wrong. 
"When the rubbish arrives at the recycling facility, it's put onto a picking line. At the picking line, there are people going through all of the rubbish at the start of the line. They have to go through all of the rubbish before it goes onto the next stage in the line."
There are nappies, grass, clothes – these are things that people have to go through.
"A big problem we encounter is the amount of recyclable materials that end up in general waste bins. If materials are not placed in the right bins or collection containers, they cannot be captured or sent for recycling. We all have a responsibility to use waste collection infrastructure appropriately. That means using your recycling bin in the right way, putting glass into bottle banks, batteries into blue battery boxes and so on." 
Mistake #5: Putting your recycling into plastic bags 
Using plastic bags to transport your recycling to the rubbish containers in the basement of your apartment block or shared bins may seem harmless, but make sure you're emptying those bags into the recycling bin so the material is loose, and not dumping them in whole. 
"If you put material in bags, the people who work on the picking line have to go through the bags," says Laura. "So what they do is try to take off as much material as possible that isn't recyclable or is a contaminant before it goes onto the next stage. Try to remember that humans are going through your rubbish."
Mistake #6: Not cleaning containers as needed
You've thrown a pretty much empty body wash bottle into the recycling bin. Job done, right? Not quite.
"Once it is hard or rigid plastic it should be residue free, clean and placed in the recycling bin. In some cases, not emptying the contents of the packaging before placing the recyclables into the recycling bin is a big mistake." 
"It is also very important that we place all hard plastic packaging into our recycling bins. This is everything from milk and drinks bottles to shampoo bottles, fruit and vegetable trays to butter tubs and yogurt pots." For cleaning products and detergents, make sure that the bottle is empty and that the lid is placed on tight before putting it in your recycling bin.
Mistake #7: Throwing wet materials into the recycling bin
You've cleaned your plastic container and washed away any food residue, but your job isn't done just yet. To make sure that you're correctly disposing of any suitable material, make sure it's dry.
"Liquids ruin paper and cardboard in the bin, collection truck and sorting facilities," says Laura. "Also when materials are wet or not emptied before being placed in the recycling bin, it will cost you more as bins are pay by weight and wet materials weigh more."
"Ireland has recycling targets for all of these materials under the EU. We have to meet those targets. It's a collective effort and everyone has to do their bit. If you put a clean aluminium can in the recycling bin, that can be recycled again and again and again. If it's contaminated, that's the end of its life. It's all about keeping things in the loop as much as we can."
By collectively recycling more materials and keeping them clean, dry and loose you will be helping Ireland achieve it's packaging recycling targets. Play your part and join Repak's Team Green here, and find out more about what you can recycle here.