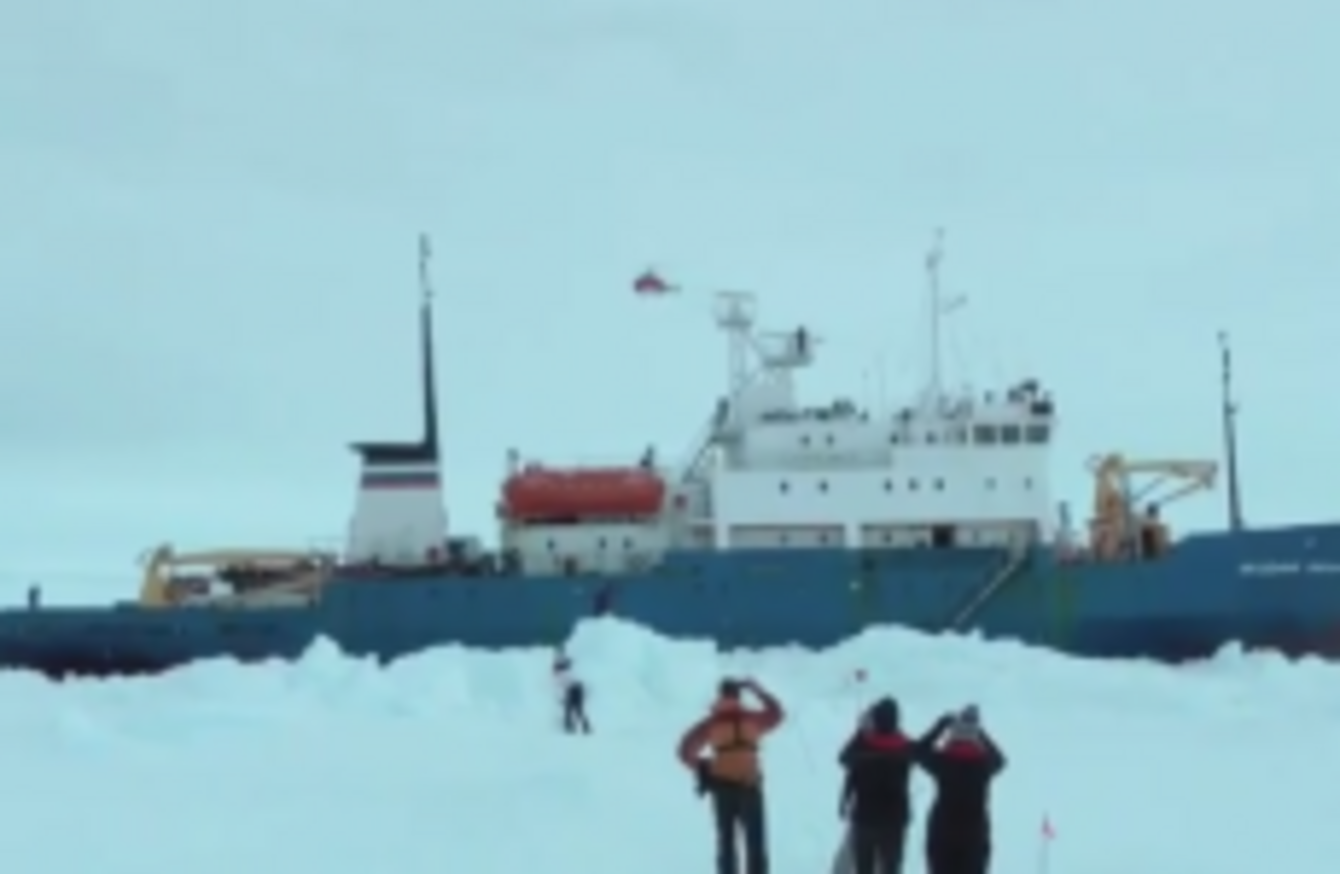 Passengers watch as a helicopter flies over the stranded ship.
Image: Screengrab via YouTube
Passengers watch as a helicopter flies over the stranded ship.
Image: Screengrab via YouTube
SNOW SHOWERS AND poor visibility have hampered efforts by an Australian rescue vessel to reach a scientific expedition ship stranded in Antarctica since Christmas Day.
It was the third attempt to rescue the science ship, which has been trapped in ice estimated to be around 3 metres thick for almost one week.
The ship is stranded about 1,500 nautical miles south of Australia.
The rescue ship Aurora Australia got as close as 10 nautical miles to the trapped ship but had to turn back into open water due to the adverse weather conditions.
There are 74 scientists, tourists and crew on board the ship Akademik Shokalskiy and its team says it is stocked with enough food and supplies to last for several weeks and is in no danger. The passengers have been replicating the scientific expedition led by Arctic explorer Douglas Mawson one hundred years ago and have been continuing with their experiments and research while the ship is trapped.
Passengers have been able to leave the ship to walk on the ice and some have continued to record video messages.

(Video: Intrepid Science/YouTube)
The area around the science vessel is currently experiencing winds of up to 30 knots and snow showers, making it difficult and unsafe to attempt any rescue.
The Australian Maritime Safety Authority, which is coordinating the rescue attempts, says that further attempts may be made to try a rescue again once weather conditions improve. The Aurora Australis is currently about 18 nautical miles east of the Russian science vessel.
A nearby Chinese icebreaker which also was unable to get through the thick ice to reach the beleaguered ship has a helicopter which rescuers say may be used to help get people from the ship when the weather gets better.
TheAkademik Shokalskiy (AP Photo/Australasian Antarctic Expedition/Footloose Fotography, Andrew Peacock)
The search and rescue operation began on Christmas morning when a rescue coordination centre in the UK received a distress message via satellite from the Akademik Shokalskiy.