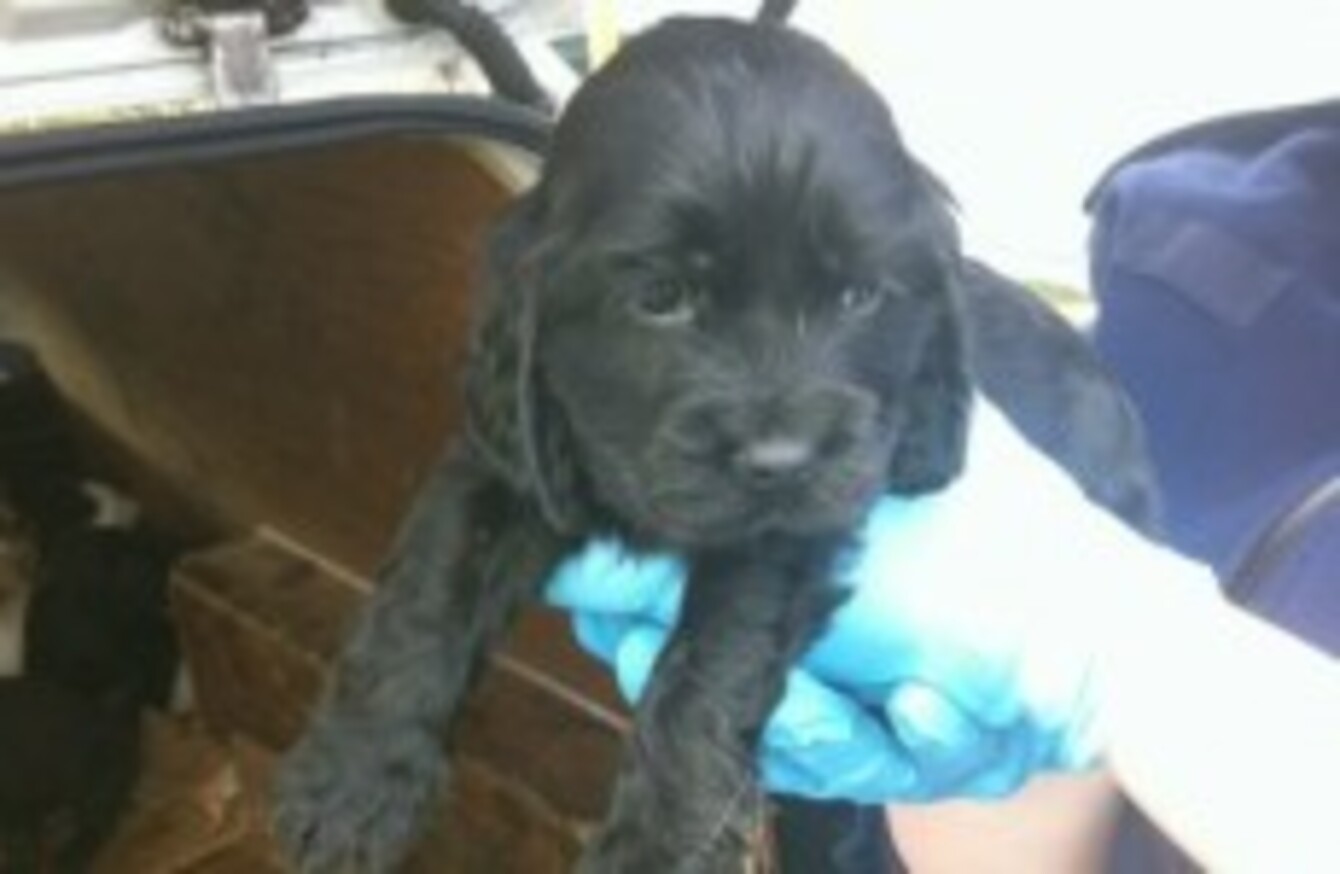 Louie was just four-weeks-old when he was rescued. Awww
Image: Garda Press Office
Louie was just four-weeks-old when he was rescued. Awww
Image: Garda Press Office
THE DSPCA HAS collected more than €7,000 in three days as part of an unexpected fundraising drive.
The extra funding is required as the agency is currently taking care of 92 puppies rescued from suspected animal traffickers last week.
Spokesperson Gillian Bird said the money will be used at the Rathfarnham shelter where the dogs need medical treatments, food and bedding.
"We are looking for 1,000 people to donate €10 each," she said. "And each of the donors will receive a beautiful certificate to acknowledge their sponsorship."
The dogs were seized in two separate searches in Dublin last week and some of the pups were as young as four-weeks. Many had medical issues, including mange, earmites, fleas, eye infections and parasitic infections. A number of the pups have had their tails docked and their dew claws removed.
The DSPCA believes the puppies were bound for the UK market where they could be sold for thousands of pounds each.
None of the puppies were microchipped or had any vaccinations. The absence of any identification or vaccination papers makes tracing their breeders impossible although it is understood they were born on Irish puppy farms.
The association says the seizures underline the importance of the Animal Welfare Bill currently going through the Oireachtas, which aims to clamp down on irresponsible breeding and treatment of all animals.
The association is not currently able to make the puppies available to be taken in to new homes, as both seizures remain under investigation, but interested parties are asked to email adopt@dspca.ie. They will be contacted when the puppies become available for adoption.#
As part of the €10k in 10 Days fundraising efforts, Louie the dog has written this letter:
My name is Louie

I am a 4 week old black cocker spaniel.

To be honest I am far too young to be separated from my mum.

They took me away from her so I could be sold to make money. I was put in a Van with another 36 puppies. It was dark, cold and I was very frightened. We were all crying and barking but I stayed in the corner waiting for my mummy.

I think they wanted to bring me to England on a boat.

Then the DSPCA and Gardai arrived and saved us! They were so kind and took us to their shelter in Rathfarnham, where we got a warm bed, lots of cuddles and some yummy food. We were given medicine to make us feel better as we were all quite sick.

I still miss my mum and I hope she is safe. I love cuddles and cry when I am on my own. I love giving people puppy kisses after they have wrapped me all warm in my blanket and cuddled into them, my favourite thing is snuggling into peoples necks as I feel really safe. All I want now is to be part of a loving family where I will be treated with love and respect.

My friends at the DSPCA need to raise €10,000 in ten days so they can look after me and all my pals, 91 of them. All of the money raised will help pay for my treatment, medical care, food, warm bedding, toys and of course lots of treats!

Thank you everybody,

Woof Louie
Donations can be made here and here.