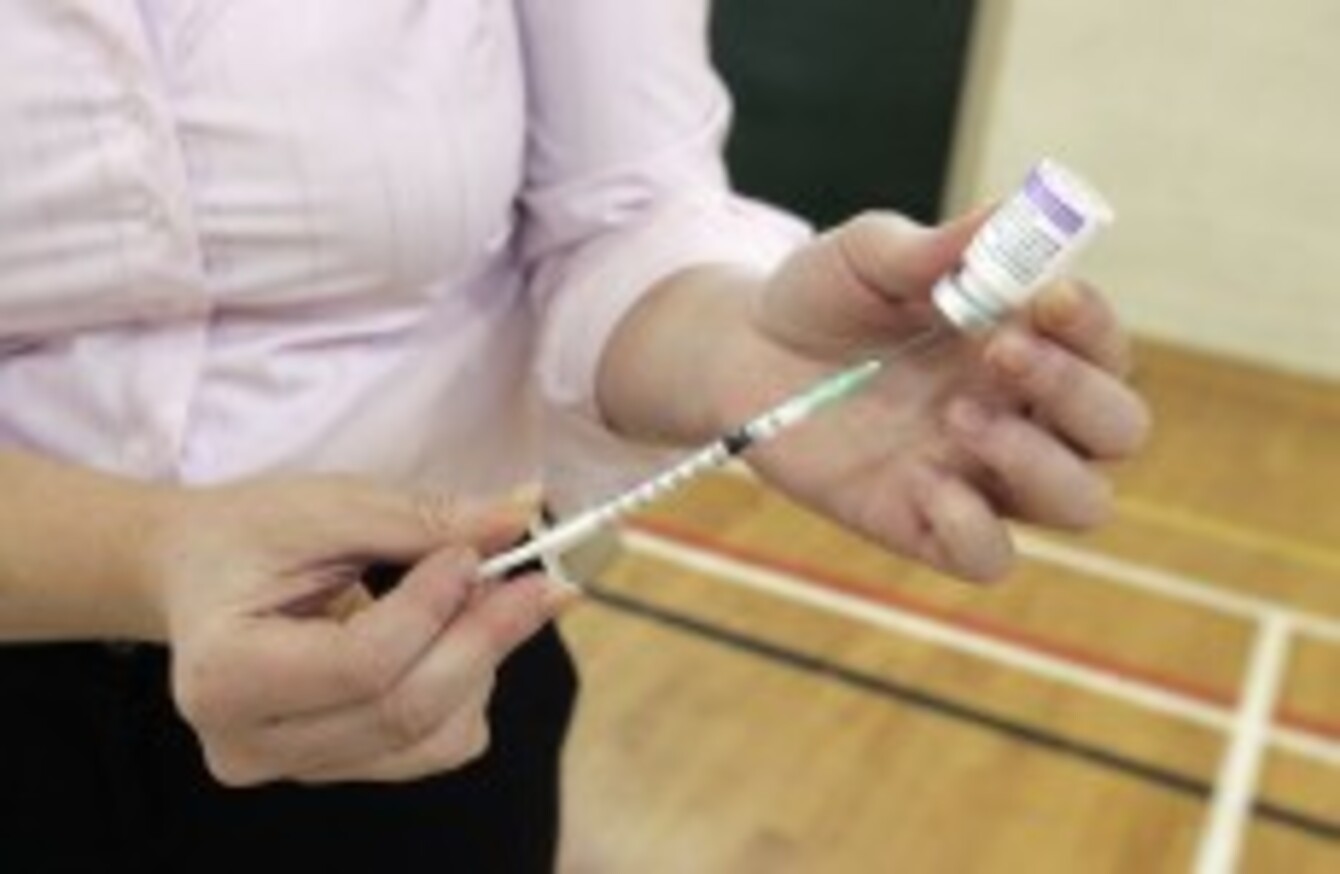 The swine flu jab being given in an Irish school in 2009
Image: Mark Stedman/Photocall Ireland.
The swine flu jab being given in an Irish school in 2009
Image: Mark Stedman/Photocall Ireland.
PEOPLE OVER THE age of 65, healthcare workers and carers are amongst those being urged to avail of the flu vaccine this winter.
The Health Service Executive (HSE) is also recommending that other people avail of the jab such as:
Anyone over 6 months of age with a long term illness requiring regular medical follow-up such as chronic lung disease, chronic heart disease or diabetes
Pregnant women
Those with lower immunity due to disease or treatment
Children or teenagers on long-term aspirin therapy
Residents of nursing homes, old people's homes and other long stay facilities
GPs and participating pharmacists will provide the jab, with pharmacists supplying the vaccine to anyone after 65 and older under the HSE flu vaccination programme.
The flu vaccine includes three strains of flu viruses that the World Health Organisation believes will most likely be circulating this year:
An A/California/7/2009 (H1N1)-like virus (the pandemic swine flu H1N1 2009 virus)
An A/Perth/16/2009 (H3N2)-like virus;
A B/Brisbane/60/2008-like virus
The HSE said that it is "likely" the swine flu strain will be the predominant strain circulating this winter – as it was last year – which is why it has again been included in the jab.
This vaccine does not contain Pandemrix, which was used during the swine flu pandemic in 2009/10.
In July of this year, the European Medicines Agency said that there was a link between the sleeping disorder narcolepsy and the administration of the Pandemrix vaccine to children and young adults.
The Irish Medicines Board has received 16 reports with clinical information that confirms a diagnosis of narcolepsy in individuals who were vaccinated with Pandemrix.
Pandremix is no longer in use in Ireland and the HSE said it "has been seeking to proactively identify any potential cases of narcolepsy in Ireland as part of the ongoing clinical research into a potential link between the Pandemrix vaccine and narcolepsy".
Work is ongoing in several countries across Europe, including Ireland, into this and the results of this examination are expected later this year.
The HSE is conducting a study of all cases of narcolepsy in Ireland over the time period and to date, 30 potential cases of narcolepsy have been identified. Some of these cases involve people who did not receive the vaccine.
Two representatives of SOUND (Sufferers of Unique Narcolepsy Disorder) have joined the HSE management team dealing with this issue.
The HSE says arrangements have also been put in place "to ensure that those affected can access the services they need and diagnostic tests in a timely manner".
HSE clinics and GPs administered over 900,000 doses of Pandemrix during the H1N1 pandemic in 2009/2010.
The use of Pandemrix is no longer recommended and GPs have been advised to return any remaining stocks to the HSE for disposal.