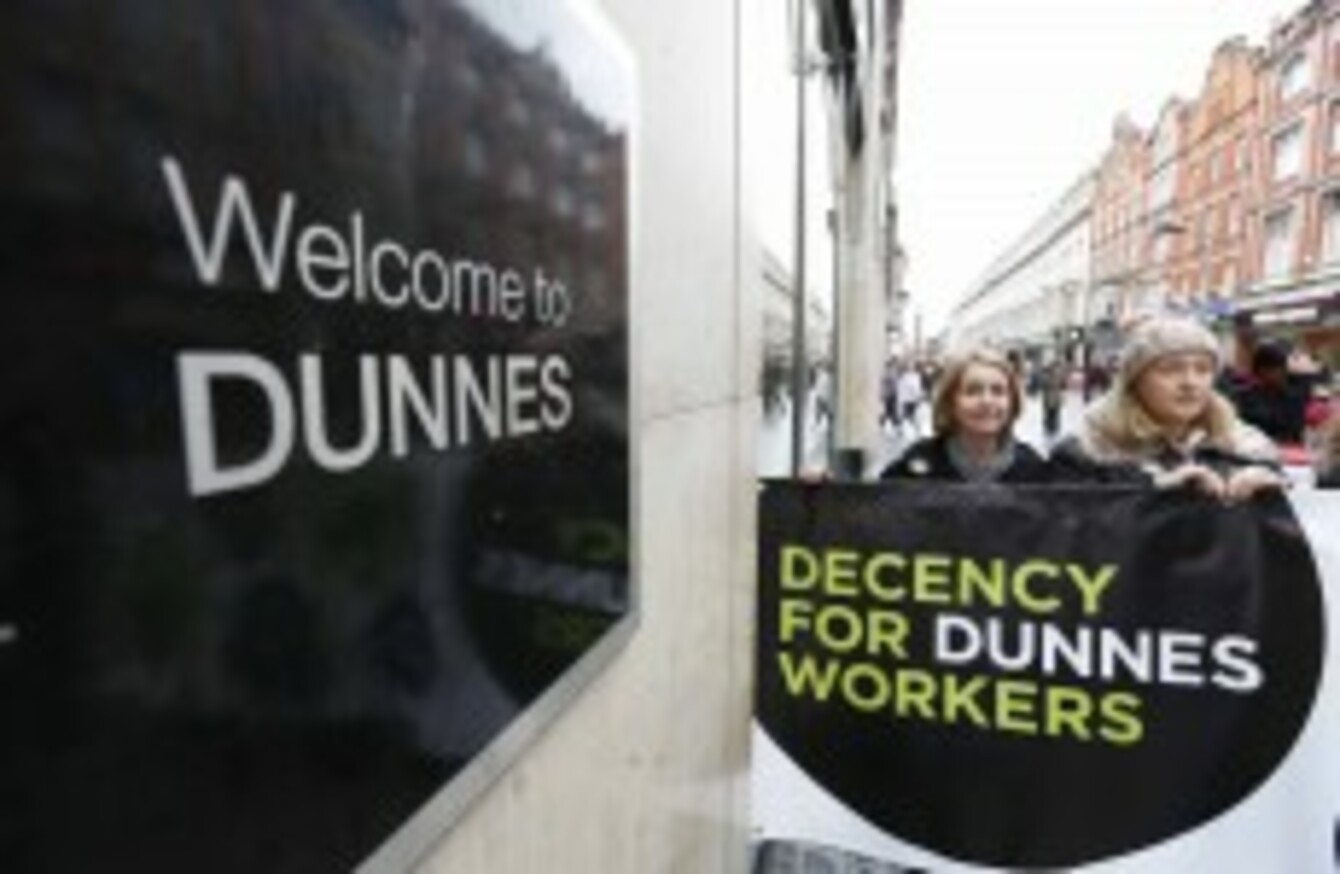 Updated 4. 54 pm
DESPITE RECENT INDUSTRIAL action, Dunnes Stores has grown its sales compared to last year.

The latest figures from retail industry monitor Kantar Worldpanel show that the value of Dunnes's quarterly market share was 3.6% more than the same quarter in 2014.
By comparison, SuperValu grew its grocery market share by 0.8% while Tesco fell by 3.5%.
Dunnes Stores's market share has fallen back compared to its rivals more recently. This echoed a similar dip in sales from last year, when sales actually fell by more.
Dunnes Stores' overall market share was 23.8% back in February of this year but have fallen to 22%.
In 2014, market share fell from 23.6% to 21.5% during the same period.
Kantar point out that Dunnes's comparatively strong showing owes much to its performance in Dublin, where sales are growing.
Figures show that over a quarter of grocery spending in Dublin happens in Dunnes Stores. This contrasts to the nationwide figure which has its market share at 22%.
Workers at Dunnes Stores went on strike last month and picketed 107 stores around the country. The workers are seeking the implementation of banded-hour contracts, fairer pay and a review of temporary contracts.
The Mandate trade union has not ruled out further industrial action.
(Quarterly market share figures, 2014 v 2015)
SuperValu v Tesco 
Last month, SuperValu crept ahead of Tesco in terms of Irish market share but the multinational has clawed back enough sales to draw level again at 25% each.
While Tesco's market share may be falling, the decline has slowed, allowing it to match SuperValu.
Aldi and Lidl have also continued their growth in Ireland and now combine to make up 16.8% of the Irish grocery market.
It means that about €1 out of every €6 spent on groceries in Ireland is spent in either of the two German retailers.
Despite this, their growth may have plateaued somewhat according to Kantar Worldpanel director David Berry:
One of the most interesting trends in the latest data is the slowing growth rate of both Aldi and Lidl.  While the 8.8% growth posted by Aldi and 7.8% for Lidl remains impressive, this is the first time since 2010 that both Aldi and Lidl have grown their sales by less than 10%.