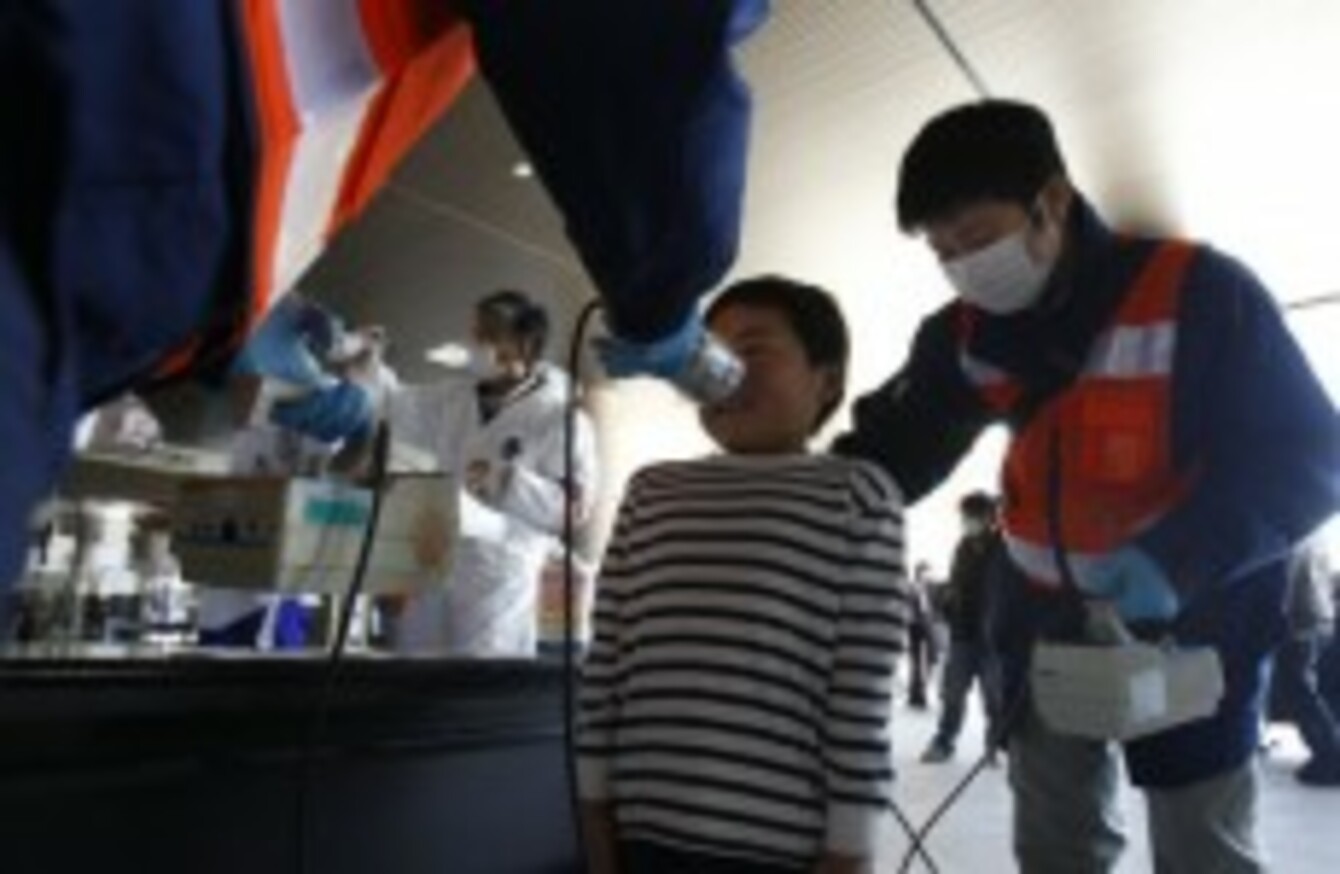 A young boy is screened for radiation contamination before entering an evacuation center in Fukushima, Japan
Image: AP Photo/Wally Santana via PA Images
A young boy is screened for radiation contamination before entering an evacuation center in Fukushima, Japan
Image: AP Photo/Wally Santana via PA Images
JAPAN'S NUCLEAR SAFETY agency has ordered a review of the latest radiation measurements taken in air, seawater and groundwater samples around the country's leaking, tsunami-damaged plant.
The Nuclear and Industrial Safety Agency says measurements released Wednesday and Thursday looked suspicious. Included in these measurements is one that indicated radiation in groundwater was 10,000 times the government's standard.
The plant's operator says there appears to be an error in the computer program used to analyse data and both the agency and the utility stressed Friday that the figures may still be correct despite the glitch.
But the safety agency has held out the possibility that it might order a complete review of all radiation data collected since the March 11 tsunami disabled the plant.
Latest figures show that radiation exceeding government safety limits has seeped into groundwater at the Fukushima Japanese nuclear plant, but experts said Friday that it was unlikely to contaminate drinking supplies.
The leak is, however, a concern and an indicator of how far the Tokyo Electric Power Co is from stabilising dangerously overheating reactors after cooling systems were knocked out in the March 11 tsunami.
TEPCO has increasingly asked for international help in its uphill battle, most recently ordering giant pumps from the U.S. that were to arrive later this month to spray water on the reactors.
The groundwater contamination was found in concentrations 10,000 times higher than the government standard for the plant. The iodine-131, a radioactive substance that decays quickly, was nearly 50 feet (15 meters) below one of the reactors, according to Tokyo Electric Power CO spokesman Naoyuki Matsumo.
There are two nearby filtration plants for drinking water, and both have been shut down because they are just inside the exclusion zone.
Three weeks after the disaster, 260,000 households still do no have running water and 170,000 do not have electricity.
In the latest report of food becoming tainted, the government said Friday that a cow slaughtered for beef had slightly elevated levels of cesium, another radioactive particle. Officials stressed that the meat was never put on the market.
Radioactive cesium can build up in the body and high levels are thought to be a risk for various cancers.
Contamination has also affected work at the plant itself, where radioactive water has been pooling, often thwarting the vital work of powering up the complex's cooling systems.
- AP