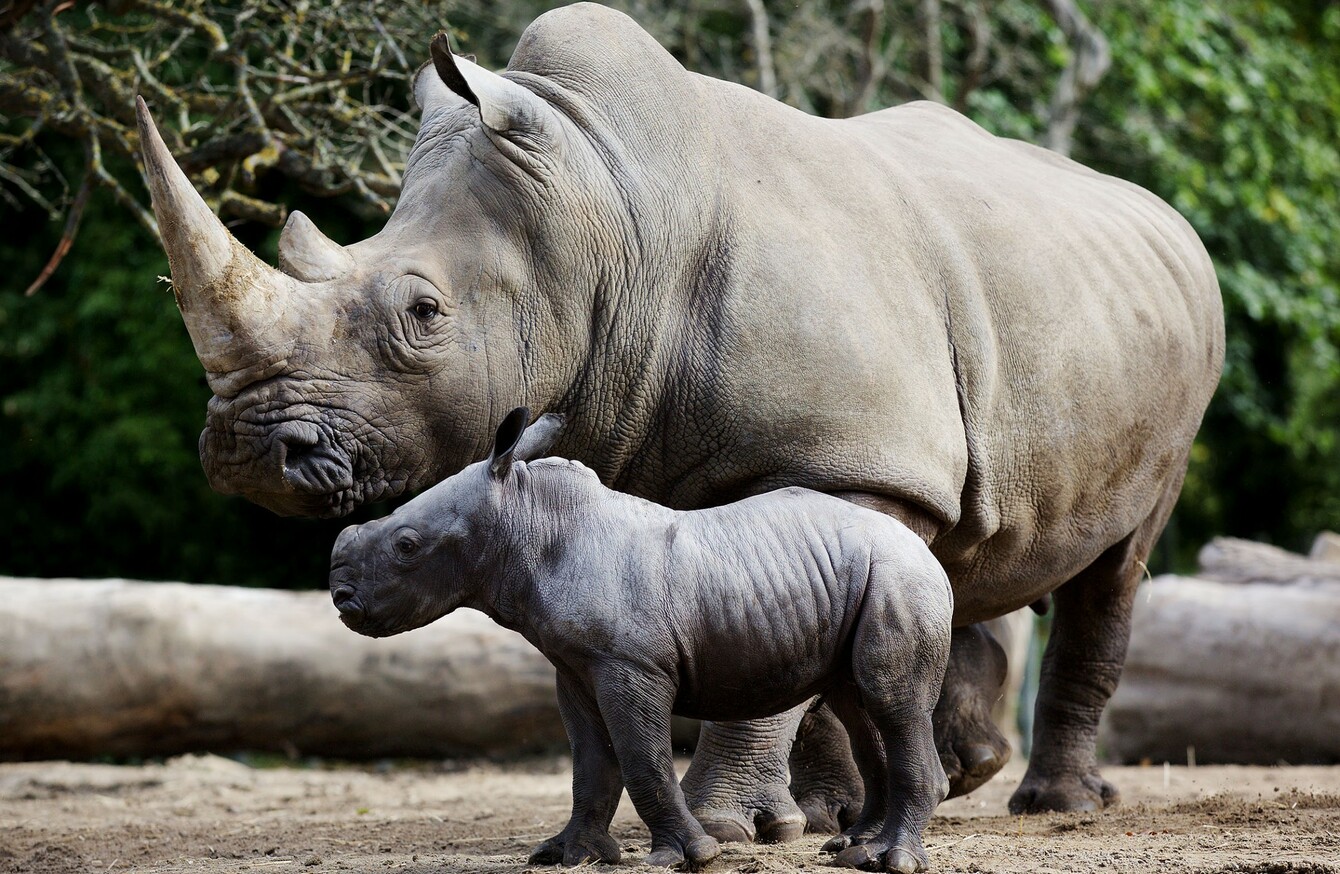 Mother Ashanti and her calf Zuko reside in Dublin zoo
Image: Patrick Bolger
Mother Ashanti and her calf Zuko reside in Dublin zoo
Image: Patrick Bolger
EARLIER THIS MONTH, intruders at a Paris zoo shot dead a white rhino and hacked off its horns in a grisly poaching incident.
This week, a Czech zoo said it had begun to saw off the horns from its herd of rare rhinos after the brutal French attack.
"The risk that the rhinos currently face not only in the wild but even in zoos is too high and the safety of the animals is our first concern," said Premysl Rabas from the zoo in the central Czech town of Dvur Kralove nad Labem.
"The dehorned rhino is definitely a better option than the dead rhino," he added.
Veterinarians on Monday used a chainsaw to cut off the horn of Pamir, a rare southern white male rhino who was anaesthetised during the procedure.
"The intervention took less than one hour and it was performed without any complications," said Jiri Hruby, the zoo's rhino expert.
When approached by TheJournal.ie for comment, a spokesperson for Dublin zoo declined to say whether or not they were considering adopting a similar approach to the Czechs, but said that the facility was confident it could keep its rhinos safe.
They said: "Dublin Zoo is confident in its top class security facilities."
Hefty price tag
Despite a dearth of scientific evidence that it has any curative powers, rhino horn commands astronomical prices of about €57,000 per kilo – more than gold or cocaine.
Wild rhino numbers are plummeting. About 1,400 are killed every year, out of an estimated population of 25,000 – mainly in South Africa but also in Asia and India.
In the last eight years alone, roughly a quarter of the world population has been massacred in South Africa, home to 80% of surviving rhinos.
Today, it may be easier to poach in a European zoo than an African game park, where just about every rhino has its own guard.
There are about 160 rhinos in European zoos – a potential goldmine for horn smugglers.
Earlier this month, a statue of rhinos in Kenya "went green" as part of the global St Patrick's Day greening initiative to raise awareness of the problem of poaching and draw attention to conservation efforts in the region.
With reporting from AFP - © – AFP, 2017