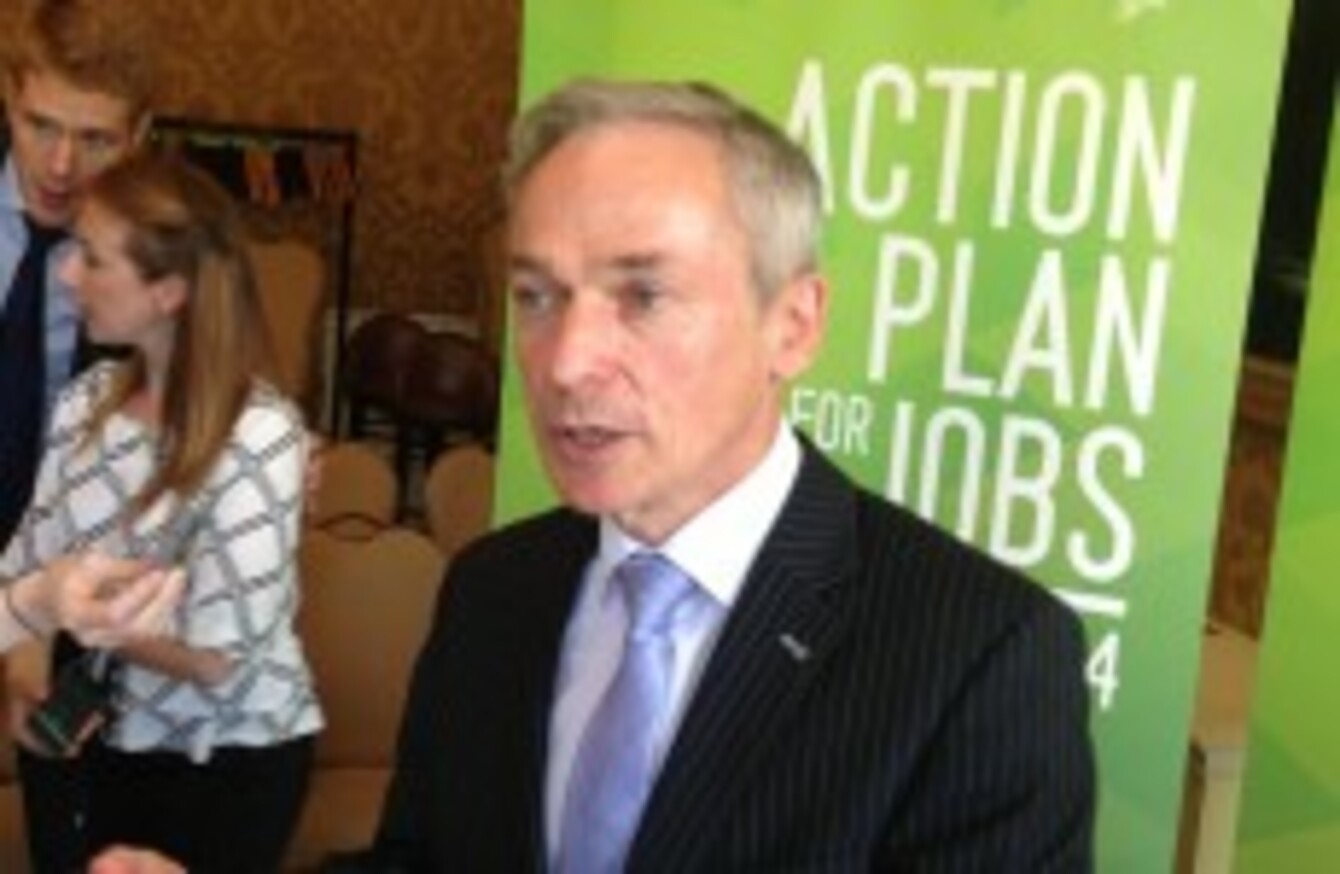 Richard Bruton speaking at the announcement of 400 new jobs at PayPal today
Image: Hugh O'Connell/TheJournal.ie
Richard Bruton speaking at the announcement of 400 new jobs at PayPal today
Image: Hugh O'Connell/TheJournal.ie
JOBS MINISTER RICHARD Bruton will not be drawn on whether he is interested in being deputy leader of Fine Gael again in the wake of huge speculation that the incumbent James Reilly is set to lose his job.
Bruton served as deputy leader of Fine Gael for eight years until he was demoted in the wake of the botched heave against current leader Enda Kenny in June 2010.
With widespread speculation that Health Minister James Reilly will be demoted from Cabinet altogether – putting his deputy leadership of Fine Gael in danger – Bruton was asked by TheJournal.ie today if he'd be interested in the party's number two role.
"There's so many hypothetical loops in that question…" he said to much laughter, before adding: "I'm not going to get into that."
Last year, the Minister was asked by this website about whether he still harbours ambitions to be leader of Fine Gael having failed in his attempts to overthrow Kenny four years ago:
Source: Video TheJournal.ie/YouTube
On the wider Cabinet reshuffle expected next month, Bruton said today he has no indications of whether he will be moved to a different portfolio.
"I've said all along that I was given a job by the Taoiseach to tackle our employment challenge. We set a target for 2016 of 100,000," he said.
"I think we're making good progress for that and that's really something that I've a great passion for. But, you know, I stand in my position at the discretion of the Taoiseach of course.
Asked if he thought the embattled Reilly has the support of the Fine Gael backbenchers and the wider party membership, Bruton said: "Of course I do.
"I think Fine Gael has come through a difficult election and we're learning from that. I think people are hurting out there and we recognise that. There's progress being made in many ways but it hasn't filtered down to people.
"The government recognises that we need to do better and that's what Fine Gael backbenchers say to us and that's what we recognise ourselves."