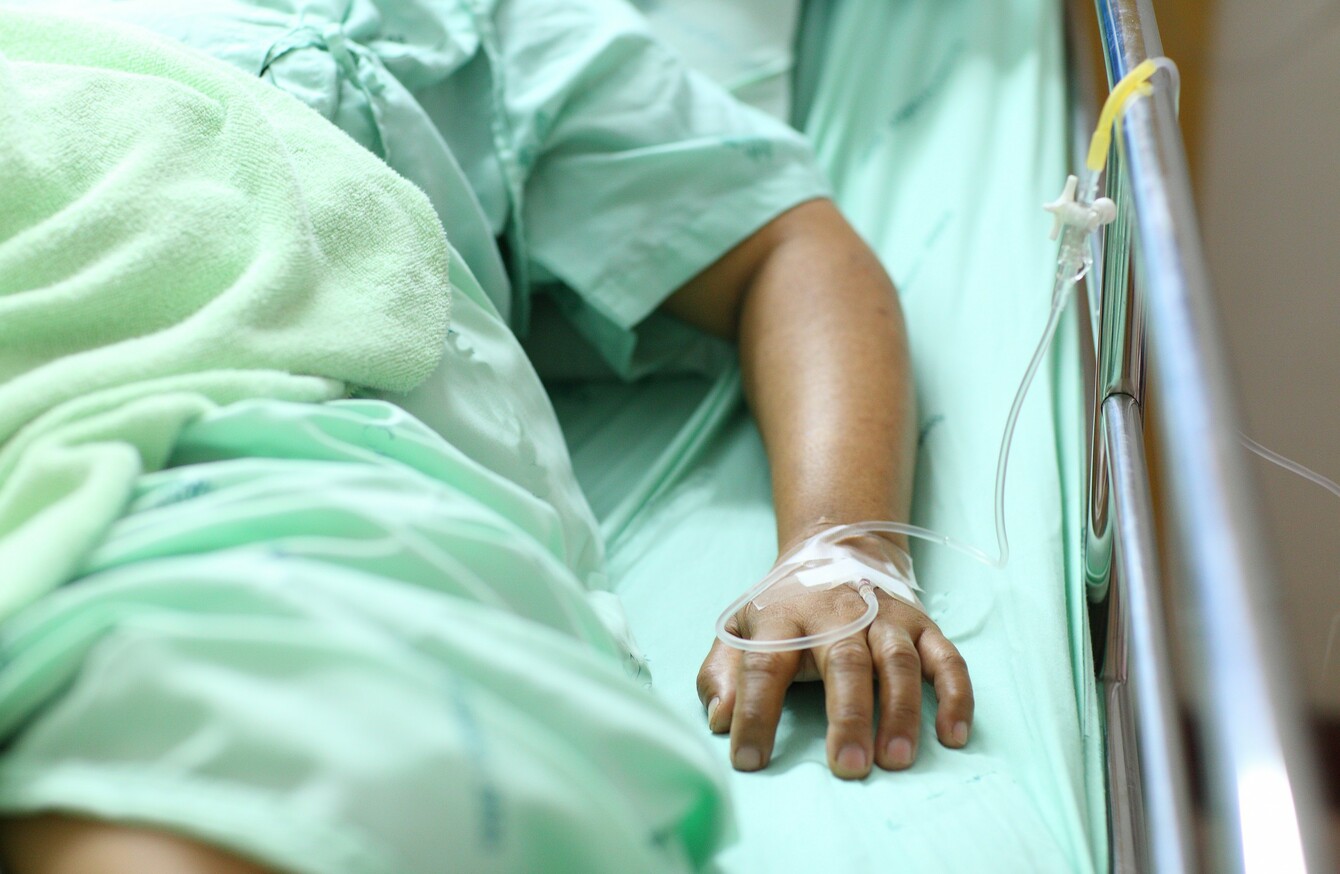 Image: Shutterstock/wandee007
Image: Shutterstock/wandee007
IT'S A FREQUENT topic of conversation in Ireland, but one that is particularly heightened around this time of year: waiting times in emergency departments.
EDs are often overcrowded, sometimes chaotic, with many people waiting for long periods to receive treatment.
In 2012, Dr Richard Zane was tasked with overhauling the ED at the University of Colorado in the US.
At that time, scores of patients were leaving the ED without being treated, waiting times were high, and satisfaction levels for both patients and staff were essentially zero.
Zane says the Irish situation is virtually identical to the way it was in his ED, stating: "We were working hour to hour, season to season."
The ED building in Colorado was never intended to be used as such. Zane notes it was originally anticipated that about 35,000 people would use the ED annually.
When he began working there in 2012, over 60,000 people attended. This year, the ED is expected to treat about 104,000 patients.
Since 2012, the hospital has adopted a number of changes that have seen a huge turnaround in statistics, for the better.
Zane recently spoke to TheJournal.ie about what worked for his team, and why other hospitals around the world are now trying to emulate their success.
He says the "most important metric" is the reduction his hospital has seen in the number of people leaving the ED without being treated. Prior to the redesign, about 4% of patients left the ED without treatment, with this figure sometimes being as high as 20%.
The goal for this is now 1%, but Zane says it's "now never above .2%".
Patients are seen by a physician, on average, within 8.5 minutes. The goal is to always keep this below 15 minutes, previously it often took hours for people to be seen.
Another clear sign the new system is working is the fact patient satisfaction, which is reviewed monthly, averages at about 75% and sometimes reaches very close to the goal of 90% or above.
People who are discharged after receiving treatment in the ED spend, on average, less than two hours there, while people who are admitted spent an average of 3.5 hours. Zane says this is still longer than he'd like.
So, how was this achieved?
Zane tells us his hospital, like many others, attempted to address the issue by building a bigger ED. However, a few months before the larger facility was due to be opened, he realised that, despite being more than twice the size, it had fewer treatment areas than the old ED. Millions of dollars were being spent in the wrong way.
Leadership teams 
Zane says he then knew his team had to "take a fundamentally different approach" and look at how, rather than just where, they delivered care.
It's not about the size of the department, but the process and flow. We are not thinking in terms of the number of beds, but in terms of minutes or bed hours. If we shorten times, a bed is freed up faster.
A senior leadership committee, led by Zane and a hospital senior vice president, outlined three core functions: quality, operations and process improvement (PI).
Each function had an eight- to 10-person subcommittee led by a nurse and physician or, in the case of PI, a nurse, physician and engineer.
Zane says the teams were "fundamental to every single thing that we did".
The patient doesn't care who pays a salary or what title you have. People on the frontline need to be integrated in the decision making process. Nurses and engineers and physicians, everybody has a say.
"Making decision as close to the frontline as possible is the best approach as they are the people best placed to decide things."
Zane notes that this process is transparent as the ED publishes "all the decisions we make, and results – good or bad".
He says if something is not working, this is identified and rectified quickly.
Patient-centred
Zane says the teams' "very, very basic guiding principle" is that everything had to be "patient-centred".
We looked at every aspect of patient care from the lens of the patient. We identified areas of waste – from both the patient's perspective and what we were delivering.
Zane says they noted instances where people's time and skills were being wasted, and sought to eliminate them.
The ED's staff developed a fast lane and a slow lane to cut down on waiting times. Patients always enter in the fast lane, and are moved to the slower lane if more time is needed to provide treatment and/or testing.
In the same vein, triage was eliminated. Zane says the practice slows down the entire ED process, noting: "Essentially it is deciding how long someone can wait and what they need to wait for."
"We try to give them the care they need from the very, very beginning. In retrospect something that could be mild was taking hours to be cared for."
When a patient attends the ED they see a physician within minutes and if they need to wait for further treatment or assessment Zane says the new system has "made useless waiting into useful waiting".
Teams see patients at the same time, rather than one at a time.
Portable X-ray machines are brought to patients where possible, instead of making them move to another section of the ED.
Blood testing and other assessments are also done where the patient is, rather than by bringing them to another part of the hospital. Zane says this point-of-care approach has significantly reduced the amount of time people are waiting.
Zane notes that the amount of staff has increased by about a third during this four-year period, but the cost of staff per visit has decreased.
Staff morale
Zane says the new system means doctors and nurses work harder but have a higher rate of job satisfaction as they are spending the majority of their time working at their skill level and "not doing things that don't require their skill level".
For example, the ED has eliminated nurses transporting patient or cleaning rooms, where possible. Nurses now spend the majority of their time, about 70%, providing care that requires their level of skill. This previously stood at about 45%.
Zane says their work is "harder, but far more satisfying".
Staff morale has increased tremendously for a lot of reasons, but mostly because staff are involved in the decision-making process.
Representatives from various hospitals in the US, Europe and Asia have visited the university's ED to see how it works and for advice on how to implement their strategies.
Zane says the fact other hospitals are now trying to emulate their success is "a point of pride for every person who works there".
Ireland
A cross-party Oireachtas committee is currently looking to devise a 10-year plan for the future of healthcare in Ireland, which will include actions to tackle waiting times and overcrowding in EDs.
Last month, Labour's health spokesperson Alan Kelly called on the State to use private hospital facilities in the event of a flu epidemic this winter to avoid "hell in our emergency departments".
Health Minister Simon Harris said he'd consider the move, but it wouldn't be straightforward.
"Emergency departments in public hospitals provide comprehensive 24-7 emergency care to all patients regardless of health insurance status. Currently, no emergency department in a private hospital offers a 24 hour service and only a minority provide services at weekends," Harris said.
He noted that the HSE has reported an increase of approximately 5% in ED attendances so far this year.
"Despite increased demand, there has been a decrease of almost 5% in numbers of patients waiting on trolleys.
That is no comfort to someone waiting on a trolley, but we have seen increased demand yet fewer patients on trolleys. In addition, patient experience times have been improving, with 82% of all patients completing their ED episode of care within nine hours.
The HSE publishes monthly performance reports, which include statistics about EDs. The most recent figures available are for July 2016.
For that month, over 104,000 people attended EDs nationally. Some 82,000 patients were admitted or discharged within nine hours (82%, the target is 100%), and 96 was the average daily number of patients waiting for over nine hours in an ED.
Harris said his department and the HSE have "been driving a range of integrated initiatives to alleviate overcrowding in EDs", including:
Reducing attendances by expanding primary care services
Providing additional home help and homecare packages
Increasing hospital capacity and improving how hospitals manage demand for emergency care
The minister told the Dáil: "Primary care services are being expanded to alleviate pressures on EDs. 13 community intervention teams are in place and, in the first half of 2016, have reduced hospital bed requirements by approximately 73 beds per day. 92 primary care centres have opened with a further 39 centres at the preliminary stages of development.
"A project to increase access to diagnostic services in GP surgeries is currently delivering approximately 1,300 ultrasounds per month, while the GP minor surgery pilot has delivered just over 4,200 procedures since commencement. Also, in the first half of 2016, usage of out-of-hours GP services increased by 14% on last year.
"In September the HSE published the Winter Initiative 2016 – 2017, which provides €40 million of additional funding for winter preparedness.
"Under this initiative, community intervention team services are being expanded in four regions of the country and the availability of aids and appliances in primary care has been increased to facilitate patients being discharged from hospital back to their own homes."
Dr Zane was in Ireland for a panel discussion on ED care, which was organised by the Royal Irish Academy and the Beacon Hospital.