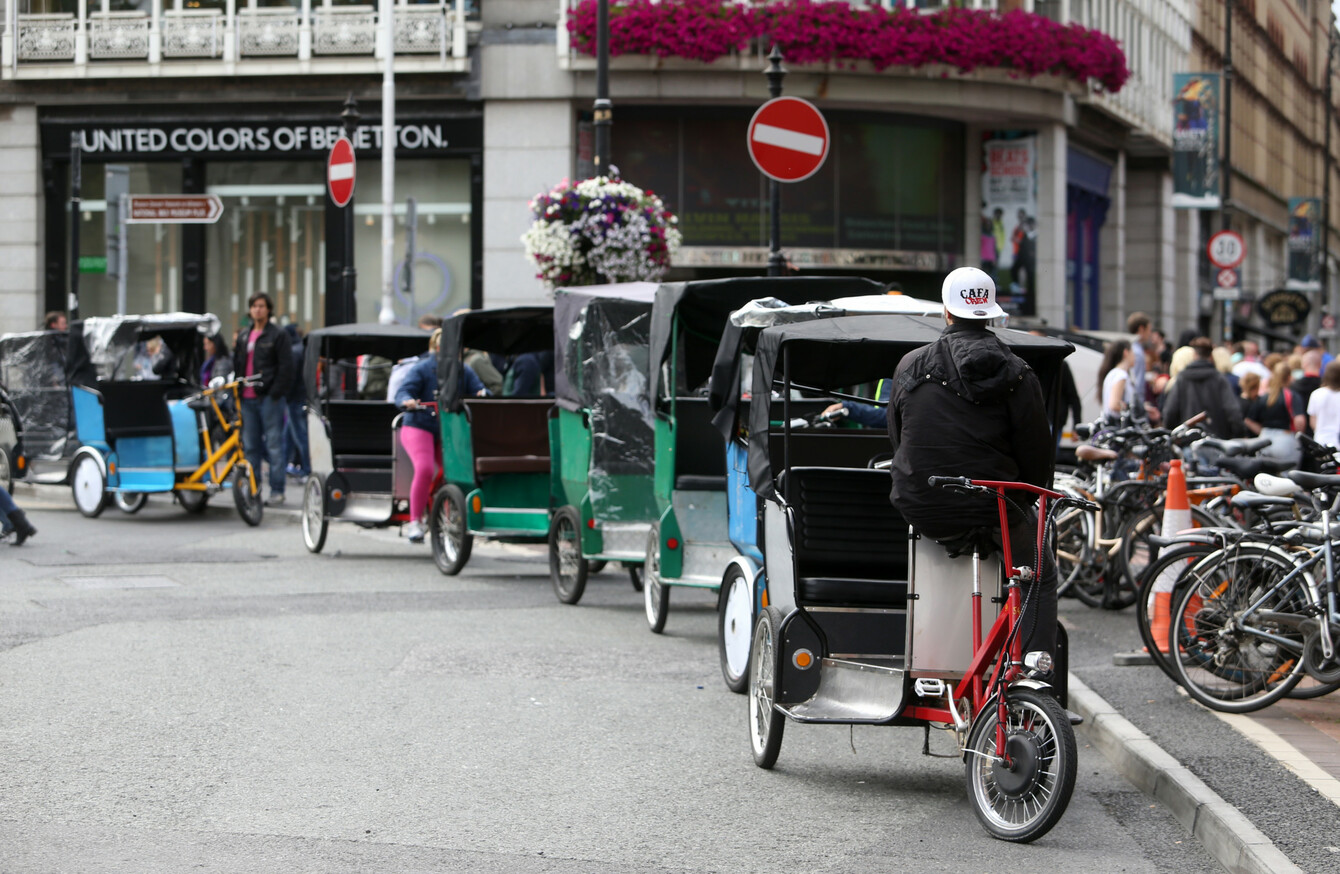 Image: Sam Boal via RollingNews.ie
Image: Sam Boal via RollingNews.ie
COCAINE SOURCED FROM the Kinahan cartel is being sold wholesale to rickshaw-driving drug dealers across the capital, TheJournal.ie has learned.
A figure from the Dublin nightlife scene is being investigated by gardai for alleged involvement in directing the trade among some rickshaw operators. Gardaí believe he is sourcing the cocaine through a west Dublin criminal who is heavily linked to the Kinahan cartel.
The number of rickshaws in Dublin has increased dramatically in the last two years. Gardai have been investigating what they believe to be an increase in drug dealing and drug-related crime as more previously law-abiding people are drawn into the trade.
Sources have told TheJournal.ie that drug dealing from these bike taxis is reaching "epidemic levels".
According to those sources, a typical night would see a prospective buyer entering the rickshaw and asking for drugs. If the driver is not a dealer, he will pedal to one of the designated sellers that night and the transaction is done in private. The figure being investigated by gardai allegedly assigns 'drivers' and 'sellers' for the night.
Network of spotters
Gardaí, as well as Revenue, often carry out crackdowns on the rickshaw drivers. However, a network of spotters are usually able to warn dealers to flee the area before their arrival.
In recent months, undercover officers have been infiltrating the inner workings of the trade. There have also been a number of arrests recently which have garnered useful information about the wider supply chain for the operation.
The figure under the spotlight is also suspected of using his contacts within the nightlife industry to allow his dealers inside certain venues so that they can trade unimpeded.
The network of dealers within the city is growing and gardaí believe that the closure of a number of English language schools has forced normally law-abiding people into a world of criminality.
Spotlight
A number of people, who previously were not involved in any form of criminality, have been caught by gardaí investigating the Dublin drugs trade.
In February of this year, a rickshaw driver caught with over €4,000 worth of ecstasy tablets had her prison sentence suspended on condition she leave the country.
Bianca Francisco (21) was caught with the drugs in her flat on 4 May 2017. She was on bail at the time awaiting sentence for a previous offence of holding drugs for sale or supply in November 2016.
Last year, Dublin City Council issued a public advisory notice warning of the safety hazards of using rickshaws.
The vehicles, which are often motorised, are a popular form of transportation for late night revellers in the city centre.
Safety 
"Dublin City council wishes to advise members of the public, for their own safety and the safety of others, that rickshaws operating in Dublin City are not regulated by DCC or otherwise," the Council said in the notice posted on its website.
"Some rickshaw operators appear not to have public liability insurance," it added.
Earlier this year, it emerged that the council hoped to have rickshaws banned at some stage this year, although to date there has been no movement regarding such a course of action.
"Rickshaws are a real difficulty in in Dublin because they're unregulated," Green Party councillor Ciaran Cuffe told TheJournal.ie. "We have written to the Department of Transport seeking such regulation and we're still waiting for that to happen."