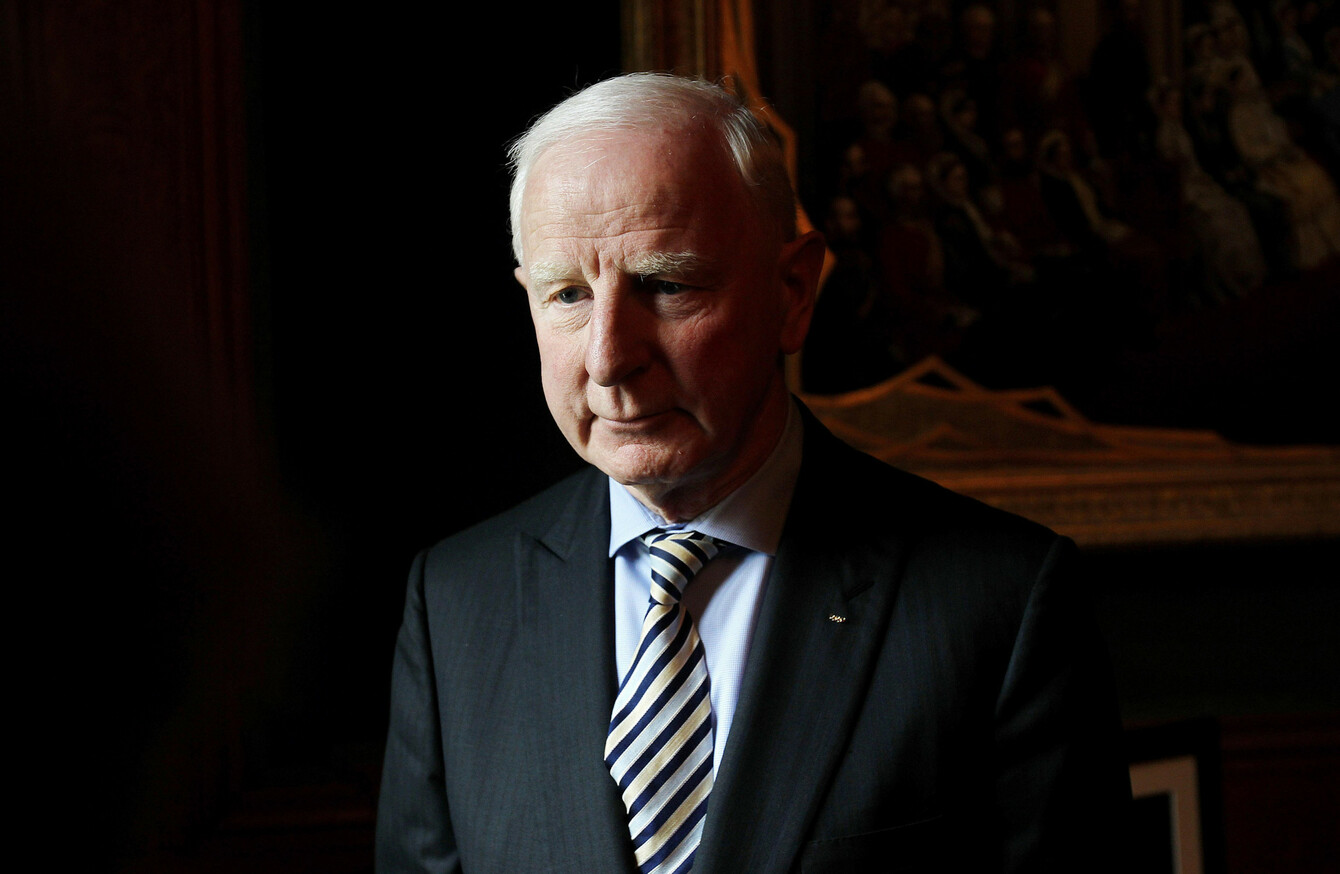 Pat Hickey.
Image: PA Archive/PA Images
Pat Hickey.
Image: PA Archive/PA Images
Updated at 5.35pm
SPORTS MINISTER SHANE Ross has criticised a number of key figures for their failure to engage fully with the probe into the Rio Olympics ticketing controversy.
The 226-page report into the ticketing scandal has been published online this afternoon.
The non-statutory inquiry sought to establish the "policies, procedure, processes and practices" of ticket distribution adopted by the Olympic Council of Ireland, not just in Rio, but going back to London 2012, and also including the Sochi Winter Olympics in 2014.
Former Olympic Council of Ireland chief executive Pat Hickey; Pro10 Sports Management, which was the ticket re-seller for the OCI; ticket re-seller THG, and the International Olympic Committee all come in for criticism from  Judge Carroll Moran, who headed up the investigation.
He wrote that the inquiry respects the claim of "a right against self-incrimination" and "recognises the need to invoke this plea by a party facing serious allegations in another forum".
"Nonetheless the invocation of this plea by the International Olympic Committee, Pro10, THG  and Patrick Hickey has created a major obstacle for the Inquiry.
This failure by so many principal participants to engage with the Inquiry has imposed a major impediment in the preparation of this Report.
Judge Moran wrote that the inquiry "was barred direct access to the details of ticketing, some or all of which were within the knowledge of Pro10, THG and [Rio local organising committee] ROCOGT".
"The provenance and destination of each ticket and the consideration given for them
at each step in their journey were never revealed to the Inquiry.
A general history was given to the Inquiry by some of the participants but, inevitably, not in the necessary detail. This has substantially undermined the ability of the Inquiry to acquire a comprehensive understanding of the facts.
Pat Hickey response 
In a statement, Pat Hickey said that the report contained "significant inaccuracies". Despite this, he said: "I am pleased to see my reputation and good name have been cleared in that there is no allegation of (1) Criminality and (2) Financial Impropriety".
According to Hickey, the launching and conducting of an inquiry while proceedings were still outstanding in Brazil "was ill-conceived arising from an inability on the part of participants to partake in the inquiry based on legal advice".
"For my part I was advised by eminent lawyers in Brazil, solicitors and Senior Counsel in Ireland not to participate in the Inquiry pending the outcome of the Brazilian proceedings as I was advised it could and would prejudice my entitlement to a fair trial in Brazil and my vindicating my constitutional entitlements and innocence."
His legal advice had, he said, been forwarded to Judge Moran, the attorney general and Minister Ross.
His two-and-a-half page response statement continued:
The report contains significant flaws and inaccurate assumptions. Because of the ongoing trial in Brazil now is not the time to address these serious inaccuracies, in time I propose on the proclamation of my innocence to address all issues.
Regrettably the Moran Inquiry has failed to include the full suite of correspondence between my solicitors and the Moran Inquiry that addressed all of the issues in dispute.
Hickey said he acted "at all times" in the best interests of the Olympic Council of Ireland "with a view to maximising revenue for the Olympic Council of Ireland which in turn was channelled into the management of current and future Olympic athletes in Ireland".
His statement concluded:
I await the outcome of legal procedures in Brazil and regrettably I and my family are frustrated by the delays in the process which are outside my control. However, my legal team and I remain totally confident that I will be cleared of all charges in Brazil. I look forward in due course to resuming my international Olympic duties.
OCI
In its response, the current executive board of the OCI said that it  was already addressing most of the issues raised.
President Sarah Keane said that the OCI has cooperated at all points with the investigation.
"There are a lot of things that we need to fix," she told reporters today.
"We are in the process of doing so and we are committed to doing so.
And these will in the long-run make to organisation better, stronger, more transparent and indeed more strategic.
She said that there was no doubt that the reputation of the Olympics in Ireland had been damaged.
In relation to Hickey's comments that he was looking forward to resuming his Olympic duties, Keane said it was a matter for the International Olympic Committee (IOC).
She said that if Hickey was cleared of criminal wrongdoing, he would likely still have to face an ethics commission at the IOC before he would be allowed to rejoin the organisation.
"Pat Hickey is not a current member of our board. If he is reinstated as an IOC member he will be entitled to be involved in our board," she said.
However, she said that Hickey had previously said that he was finished with his domestic Olympic duties.
'Regrettable' 
Shane Ross said the report, which he welcomed as being "comprehensive and insightful", was compiled "despite the failure of a number of the key parties to co-operate with the Inquiry, in direct contradiction to public statements in the immediate aftermath of the Rio controversy last August".
"It is regrettable that the parties concerned chose not to assist Judge Moran in his inquiries," he said.
"I believe that if they had co-operated this report would be more complete.
"I understand that those parties have the right not to incriminate themselves.
"Judge Moran recognises in his Report that this was a legitimate position for them to take.
I do not believe that it has fundamentally undermined the value and benefit of the insights that we now have as a result of Judge Moran's careful analysis.
The report published this afternoon does not recommend a statutory Commission of Investigation be carried out – noting that it is "reasonable to suppose that, because of the change of personnel on its Executive Committee, meaningful reform is now under consideration within the OCI".
Judge Moran found "a palpable sense of openness is evident in the affairs of the O.C.I. since the election of the new Executive Committee in February 2017″ and recommended it "would disproportionate in terms of the cost of time and money to establish a Commission of Investigation".
The inquiry was not investigating potential criminality – but aimed to, as Minister Ross put it in his statement, "establish available facts and to limit the damage to Ireland's reputation in the international sporting world and to encourage whatever measures are required to reform the OCI and restore our global standing".
He said he had confidence in the new OCI "both the new Council and its President, Sarah Keane, to fully implement the reforms set out in the 25 recommendations made in the Deloitte Report [which was completed last year], which Judge Moran had endorsed".
Speaking to TheJournal.ie in an interview carried out last Thursday, Ross left the door open for a potential statutory inquiry, but indicated it was unlikely.
"It took three months, then it took another three months, and then another, so he [Judge Moran] kept asking for more time… there were obviously obstacles which came up. It was because it was cheaper and quicker that we went that route and we left our options open to have a statutory one, which, by the way, is still there. We can always still hold one."
Comments are closed due to ongoing legal proceedings.
With reporting from Cormac Fitzgerald