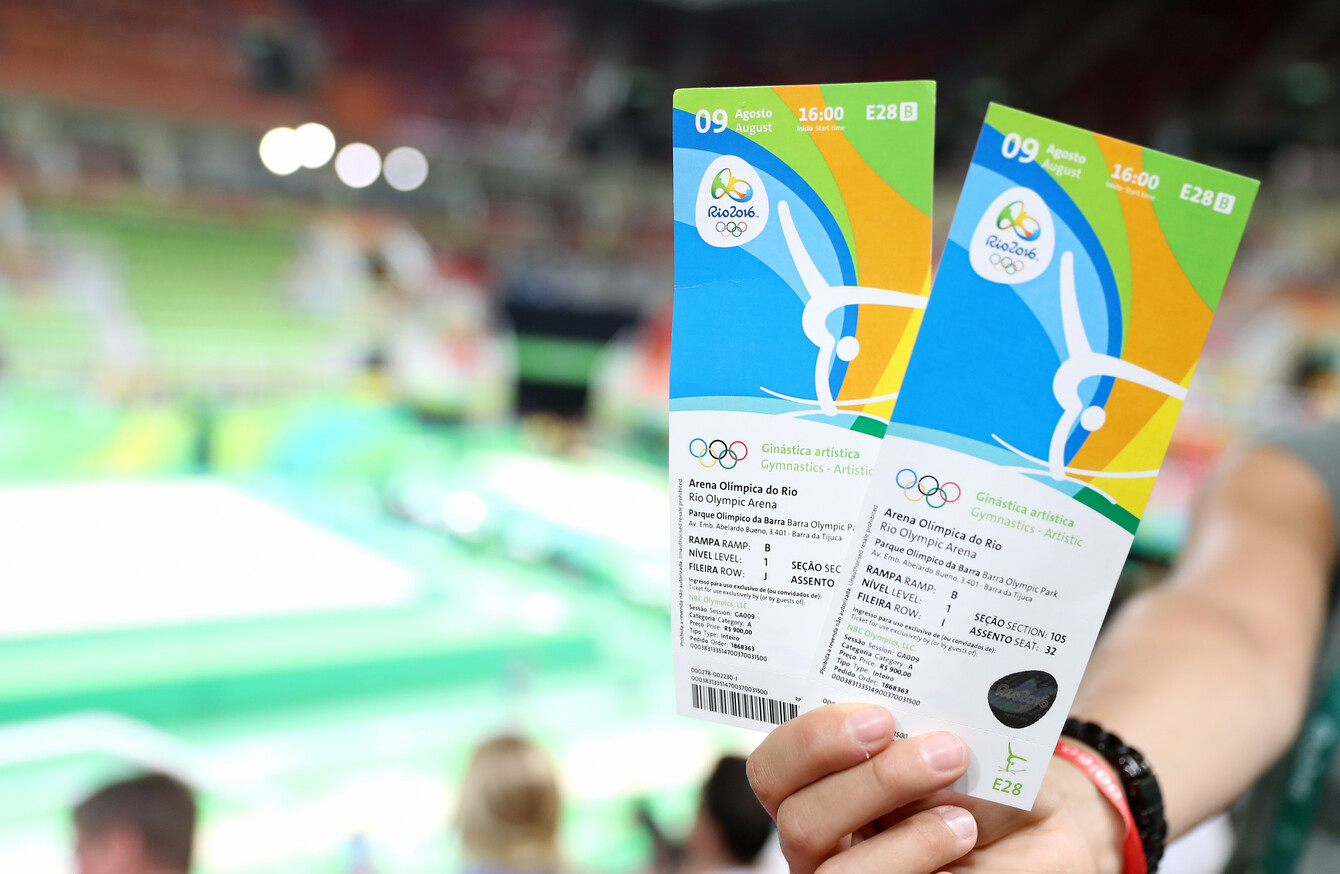 File photo of Rio 2016 tickets.
Image: Martin Rickett
File photo of Rio 2016 tickets.
Image: Martin Rickett
THE OLYMPIC COUNCIL is locked into a contract until 2026 with the company that was at the centre of the Rio 2016 ticketing scandal.
OCI president Sarah Keane told reporters today that a contract had been signed between the organisation and ticketing company THG guaranteeing it ticket reselling rights up until the 2026 Winter Olympic Games.
Keane said that this agreement had been signed by former OCI president Pat Hickey and THG in January 2016, and had only come to the attention of the executive board in recent weeks.
This agreement gives THG ticket reselling rights to the 2018, 2020, 2022, 2024 and 2026 Olympic and Winter Olympic Games.
However, it was revealed today that the 2018 PyeongChang Winter Olympics organising committee has withdrawn approval for THG to act as Authorised Ticket Reseller (ATR) there.
"So therefore we have to look now at who our ATR for the upcoming Winter Games will be," Keane said today.
This is something we have to do without delay.
Keane was speaking following the publication of a report by Justice Carroll Moran into last year's ticketing scandal at the 2016 Rio Olympic Games.
THG – owned by the Marcus Evans Group – is one of the parties at the centre of the scandal, with the report finding that there was a "concealed relationship" between the company and former OCI president Pat Hickey.
There were widespread ticketing issues during Rio 2016, with fans and family members of athletes missing out on tickets and widespread confusion over the distribution of tickets.
Rio
THG was to be the Authorised Ticket Reseller (ATR) for the OCI during Rio 2016, however it was rejected by the Rio Organising Committee.
This led to the company Pro10 being appointed as the ATR for Ireland.
THG was the ATR for Ireland during the 2012 London Games and the 2014 Sochi Winter Olympics.
In his report, Justice Moran found that Pro10 was not "fit for purpose" and merely acted to disguise the continued role of THG in the process.
Sarah Keane said today that the OCI was pursuing Pro10 for monies it believed it was still owed from Rio 2016.
THG, Hickey, Pro10 and the International Olympic Committee did not engage fully with the investigation, Justice Moran said.
Legal proceedings involving THG and Hickey are currently ongoing in Brazil.
Hickey was arrested at his hotel while in Rio last year and was held in a Brazilian prison for 11 days before being released.
Justice Moran made no conclusions on whether any laws had been broken in his report.
#Open journalism No news is bad news Support The Journal

Your contributions will help us continue to deliver the stories that are important to you

Support us now
Contract
Speaking regarding the OCI's ongoing contract with THG, Keane said that lawyers were currently examining the agreement but that it was "pretty watertight".
"My understanding is that there is a clause in the agreement that the fact the THG might not have been approved for a previous Games does not impact on the contract for the future Games," Keane said.
So it's pretty watertight contract in that regard so we just need to consider it legally and look at it going forward.
Questioned over whether the OCI would prefer not to have THG as the ATR going forwards, Keane said:
I mean we obviously have to be conscious of our legal position but I think our preference would be to look at a totally fresh approach to ticketing.
She said that the Tokyo 2020 organising committee may potentially withdraw THG's approval as ATR in the future also, in which case an alternative ticket reseller will be sought.
Keane and OCI board members will appear before the Oireachtas Committee on Transport, Tourism and Sport on Thursday.
TheJournal.ie has contacted THG for comment. In a statement carried by RTÉ, the company said:
THG wishes to reaffirm that it is satisfied that, at all times, it has acted lawfully in connection with the Rio Olympics, or any Olympics and will make no further comment.
Pat Hickey said that Justice Moran's report had cleared his name and that he looked forward "in due course" to resuming his international Olympic duties.
Comments have been disabled due to ongoing legal proceedings