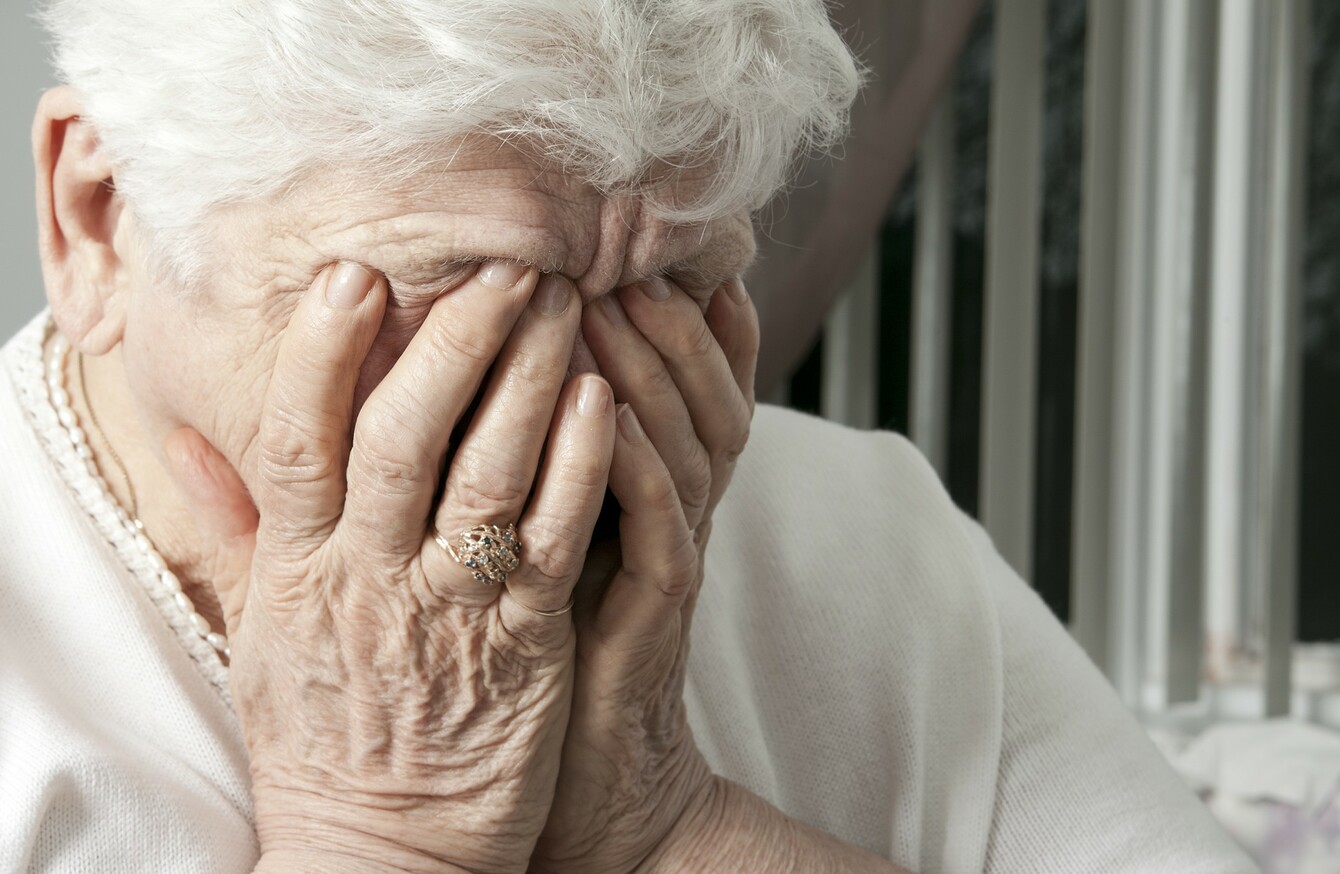 Image: Shutterstock/Lopolo
Image: Shutterstock/Lopolo
Updated 5.45pm
THERE WAS ALMOST a 20% rise in the number of reports of abuse in State-monitored nursing homes last year.
In total, the Health Information and Quality Authority (Hiqa), was notified of 424 allegations of "suspected or confirmed abuse of a resident" at nursing homes in Ireland. This is compared to 357 notifications in 2014 – marking a rise of 67.
Under the Health Act 2007, peeople in charge of care centres are required to notify Hiqa of specified events to do with the disruption of the care of residents.
These would include allegations of abuse, loss of power, unexpected deaths, staff misconduct and others.
In total, there were 10,572 notifications issued in 2015 – well over half (6,187) of these had to do with a potential risk to the health, safety or wellbeing of nursing home residents.
As well as this, three centres for the elderly were shut down last year – two of which were forced to close by Hiqa (and one of which closed voluntarily).
The figures are contained in Hiqa's annual report on the regulation of centres for old people.
411 nursing home inspections were carried out last year in 343 registered residential centres across the country – half of which were unannounced.
In general, Hiqa said that "good levels of compliance with regulations" relating to the appropriate care of residents were found in the centres inspected.
Abuse
Commenting on the figures, CEO of elderly advocacy organisation Age Action, Justin Moran, said that he was "concerned" about the rise in allegations of abuse.
"It is essential that all of these cases are reported to the HSE's elder abuse case-workers and properly investigated," he said.
We need a proactive approach to tackling elder abuse with more training for care staff and ensuring residents know how to report cases of suspected abuse.
Sean Moynihan, CEO of Alone, said it is "extremely distressing to read reports of some of our most vulnerable citizens being neglected and abused in our nursing homes".
These are places that older people should feel safe and secure in the later years of their lives. It is especially worrying to hear of these reports now, considering the recent convictions for abuse of vulnerable people in care homes. We must reflect on what this says about us as a society that this is allowed to continue and there is not a national outrage.
Mary Dunnion, chief inspector with HIQA said that progress had been made in "some areas" in 2015, but that providers of residential care services "must continue to drive improvements in 2016″.
There are a total of 577 centres to care for the elderly in Ireland, the vast majority of which (76%) are privately operated.
Hiqa said that there was a reduction in unsolicited information received by it in 2015. This is information sent from concerned individuals to Hiqa regarding the care of residents.
On Monday TheJournal.ie published examples of some of this information – much of it to do with understaffing and the rights of residents in care homes in Ireland.
- with reporting by Órla Ryan