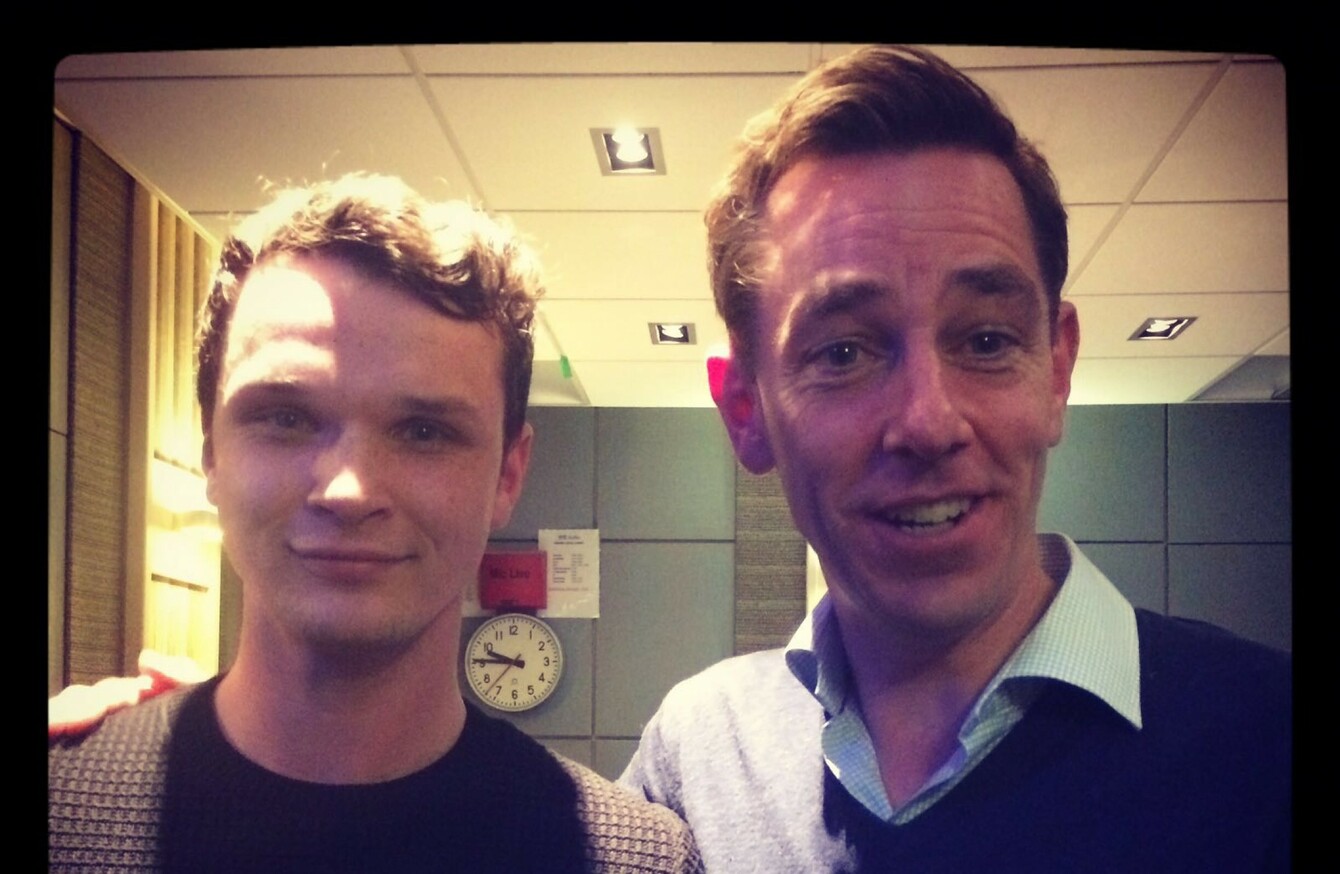 Robbie Lawlor and Ryan Tubridy
Image: RTÉ
Robbie Lawlor and Ryan Tubridy
Image: RTÉ
Updated 7.50pm
ROBBIE LAWLOR HAS said ignorance about HIV has spurred him on to speak publicly about how people with the virus can live a normal life.
Lawlor was speaking on foot of figures from the Health Protection Surveillance Centre (HPSC) that show a 33% rise in the number of cases of HIV in Ireland last year.
There were 498 new cases reported in 2015, up from 377 in 2014.
Speaking on the Ryan Tubridy Show today, Lawlor recalled how he learned he had HIV at the age of 21 when he went for a sexual health check.
The former Mr Gay Ireland said he was initially "inconsolable" as it meant a permanent move to Australia wasn't going to happen.
"I was on my own and it's very hard for me to convey how anyone could feel.
"But I put my hands up as probably the most ignorant person because I really, truly didn't know anyone living with HIV in Ireland.
When you're that young you don't think that these things will ever affect you, this idea of invincibility, 'it won't happen to me'.
Lawlor said his mother and other family members were "amazing" and gave him great support. However, he acknowledges not everyone with HIV is as lucky and many people keep their diagnosis a secret.
He has experienced discrimination because of his status, with people saying things like: 'Don't go near him, he has HIV, you'll get it.'
"That doesn't anger me because it's borne of ignorance," he said.
Lawlor said he will always be on medication but is "going to live a long, healthy life", adding that HIV "doesn't have to inhibit your life in any way".
He stated that sexual health education must play an important role in ensuring people know how to protect themselves.
Increase in cases

While a full report of cases in 2015 is not yet available, figures from quarter one and quarter two (where there were 203 cases diagnosed)  show:
Almost half (95) of all cases diagnosed were gay men;
Over 10% (25) of people diagnosed received the illness by injecting drugs;
Almost 20% (38) of people diagnosed were heterosexual;
It is not known how one in five (44) people diagnosed received the virus;
Almost half of people (92) diagnosed were born abroad.
A rise in the number of cases of HIV has been attributed to a number of factors.
In July, a surge in the use of the drug mephedrone (known by its street name of SnowBlow) among intravenous drug users in Dublin was linked to a rise in the number of people diagnosed with HIV in the capital.
Experts said this was due to an increase in the frequency of injections by drug users.
A programme was launched last week aimed at providing free rapid HIV testing in a number of unconventional venues.
The initiative is aimed specifically at gay and bisexual men.
It is a collaboration between Dublin-based GLEN, the Sexual Health Centre in Cork and GOSHH in Limerick. One venue already confirmed is Pantibar on Dublin's Capel Street.
- with reporting by Cormac Fitzgerald 
Information about support available to people with HIV can be read here.