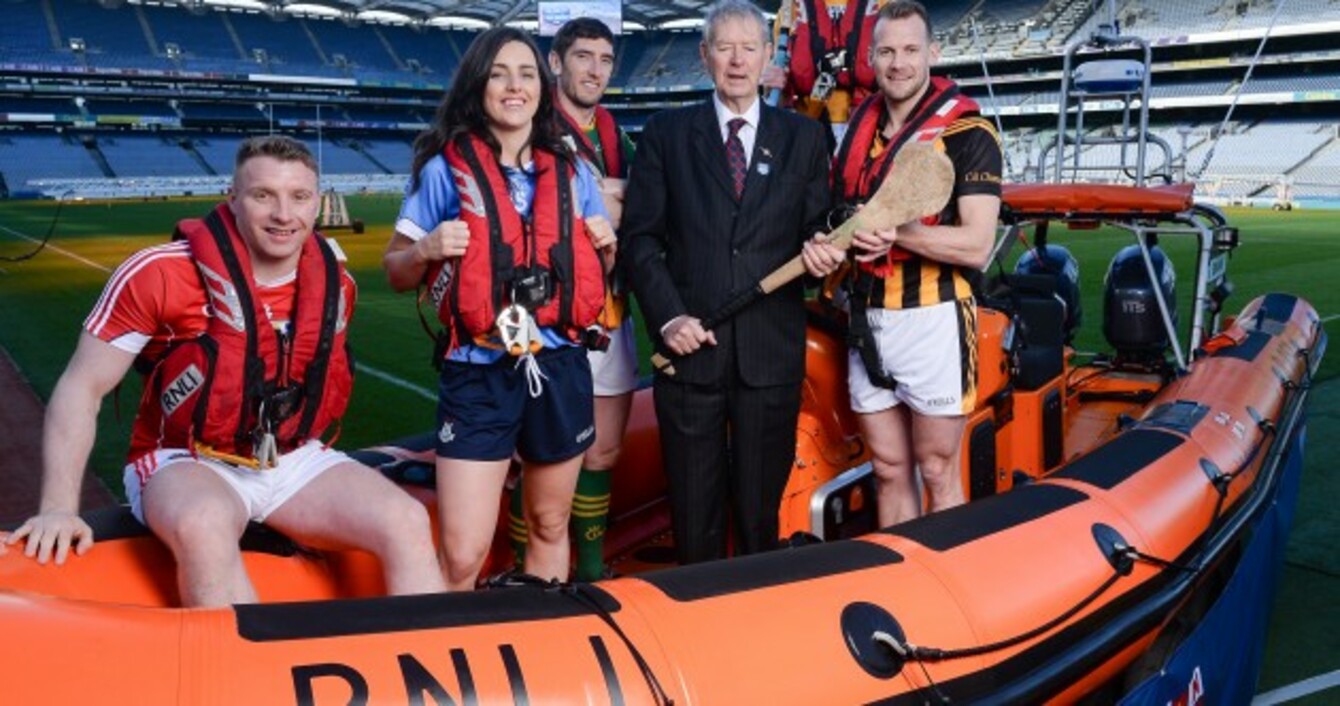 Brian Hurley, Lyndsey Davey, Killian Young, broadcaster Mícheál Ó Muircheartaigh, Neil McManus, and Jackie Tyrell, at Croke Park.
Image: Seb Daly/SPORTSFILE
Brian Hurley, Lyndsey Davey, Killian Young, broadcaster Mícheál Ó Muircheartaigh, Neil McManus, and Jackie Tyrell, at Croke Park.
Image: Seb Daly/SPORTSFILE
THE RNLI AND GAA share a common ethos, the launch of a new partnership between the two organisations heard in Croke Park yesterday.
While what they do is fundamentally different, both are community organisations that only function due to the ongoing commitment of their volunteers. Around a quarter of the 2,000 GAA clubs are within 10km of an RNLI station.
Indeed, their similarities are so strong that in 1914 William Duggan and James Wickham became the first and so far only recipients of GAA medals for services outside the sport.
Duggan and Wickham were Wexford men who saved 12 lives in the Fethard lifeboat disaster and were committed GAA men.
Their contribution to both organisations was highlighted as the GAA and RNLI announced a major partnership aimed at reducing the number of people who lose their lives though drowning in Ireland.

First-hand
Dublin footballer and three times GAA All-Star, Lyndsey Davey, has a personal reason for getting involved in the campaign. Her great uncle Michael Hayes was the skipper on the Tit Bonhomme, which sank off Glandore Harbour with the loss of five of the six crew, including Michael.
The Skerries footballer also saw neighbours Ronan Browne and David Gilsenan lost in Skerries Harbour in 2011.
She told TheJournal.ie at the launch that getting involved was a no-brainer.
"As soon as I was approached, I was very passionate about getting involved. With the work that the RNLI and other groups put into recovering the bodies on the Tit Bonhomme, I tried to find a way to give something back.
I think what's fantastic is that the GAA and RNLI aren't looking for anything off each other, it's all about saving lives through drowning.
Cork footballer Brian Hurley is from Castlehaven and lives close to the pier which the Tit Bonhomme sailed from.
He told the launch that he still remembers that day, five years on.
I woke up around ten past six with all the commotion on the pier. I remember running out to see what was going on.
Within minutes, Hurley was on a trawler "to see if we could be of help". Hurley says that he recalls the support from other GAA clubs, the community rallying around, but also the sadness in the town.
Hurley says that the accident changed attitudes around Union Hall, where "everyone owns a boat".
It used to be seen to be cool or something not to wear a life jacket, but now everyone is wearing them.
Both Davey and Hurley spoke of the dedication and sacrifice of RNLI volunteers, as well as the town.
"The loss of Michael and his crew was a very difficult time for all the families involved," says Davey.
During the days and weeks following the sinking, the whole community of Union Hall really came together. The search and rescue efforts were relentless and the support given was incredible. I got involved in this campaign as I wanted to give something back and help create awareness around water safety and drowning. In doing so I hope we can prevent any family the pain of losing a loved one through drowning.
#Open journalism No news is bad news Support The Journal

Your contributions will help us continue to deliver the stories that are important to you

Support us now
Lifesavers
Source: RNLI/YouTube
Each year an average of 28 people drown accidentally around the Irish coast, something RNLI Chief Executive Paul Boissier wants to tackle.
"Drowning devastates communities, but it's often accepted as just part of life by the water. We believe that many of these deaths are preventable and we need to work with other organisations who, like us, want to keep their communities safe."
All-Ireland winning Kilkenny hurler Jackie Tyrrell told the launch how the RNLI had given comfort to his family when he lost a cousin to drowning.
Like many people in Ireland I too have lost someone close to me to drowning. So many of our clubs live and train near the water, whether on the coast on near inland rivers and lakes. We have a responsibility to help and our sport and our ethos encourage this.
Antrim hurler and Cushendall native, Neil McManus has been at the fore in driving the partnership and told how an local RNLI volunteer resuscitated his father following a 2015 heart attack.
The RNLI sas it will work with the GAA and their volunteers in local communities to promote the campaign and share key safety messages and advice.