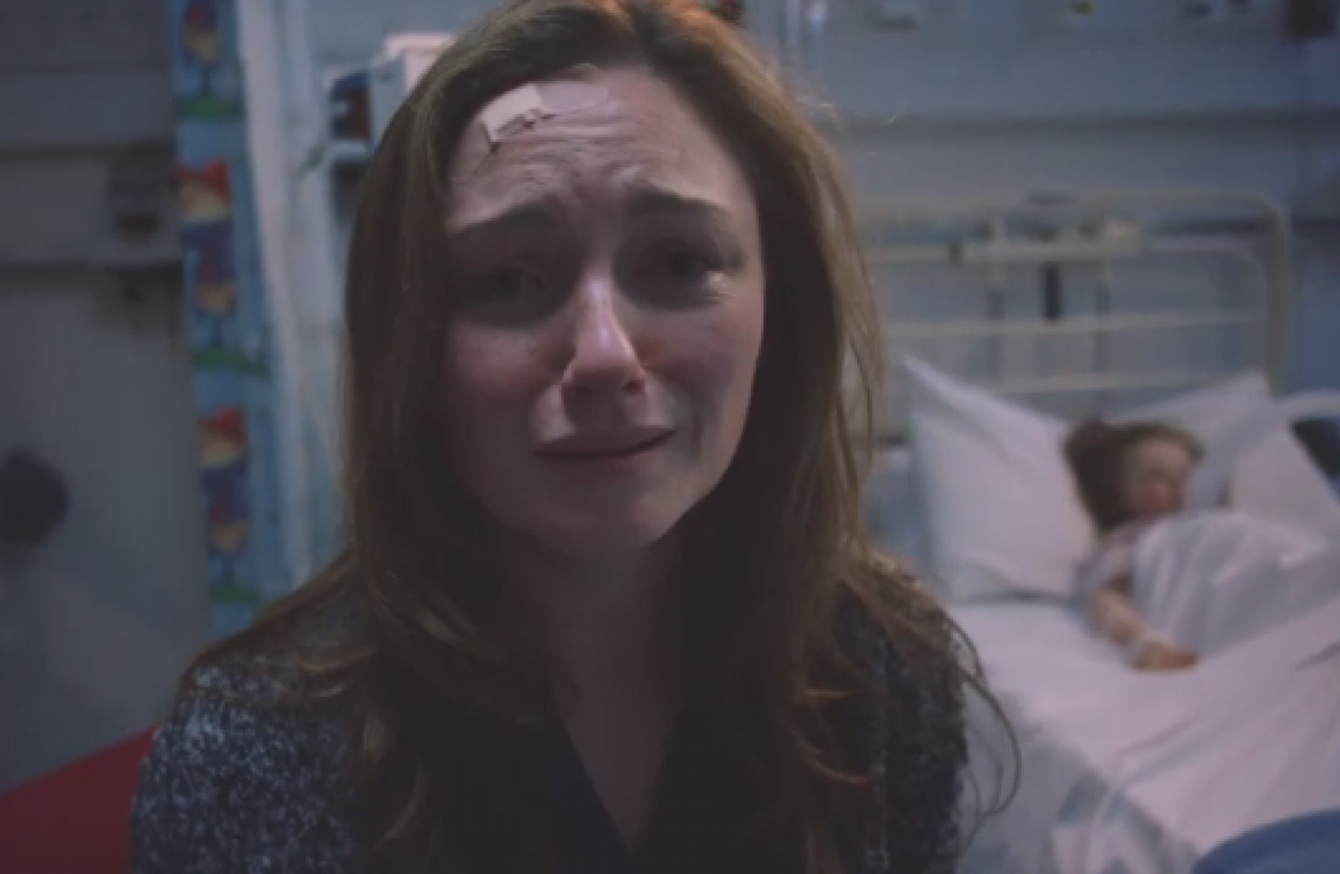 Image: RSA
Image: RSA
THE ROAD SAFETY Authority spent over €2.5 million across four road safety campaigns over the past number of years.
Documents released to TheJournal.ie under the Freedom of Information Act show the production and advertising costs of four of the Road Safety Authority's well-known campaigns.
Advertising campaigns geared towards specific actions and elements of road safety are common from the RSA, and the organisation states that they work in bringing about decreases in road deaths.
In 2015, the RSA had a total budget of €4,196,000 to spend on advertising.
A spokesperson for the organisation said that mass media campaigns in particular help to bring about attitude changes in wider society.
"Mass media campaign combined with high level enforcement have been proven to not only change attitudes in society but build support for high levels of enforcement which ultimately bring about changes in behaviour," the spokesperson said.
Advertising campaigns 
The RSA breaks down its road safety production and advertising into separate campaigns; with each one focussing on a separate aspect of road safety.
1. Anti Speeding
The latest television advertisement for its anti-speeding campaign depicts a car travelling through a Dublin suburb on a bright, sunny day.
Music is playing in a relaxing fashion, but the song begins to speed up as the driver unknowingly increases their speed.
The advertisement ends with the driver slamming on the brakes as the car screeches before hitting a young girl and man.
The screen fades to black and the words appear:
When you're going too fast you can't keep up with the road.
The total production costs of this campaign are €338,914.
This is made up of €319,457 for television advertisement production and €19,457 for radio, cinema edit and digital production.
The total media spend for the campaign in 2016 across TV, radio and online was €416,425.
2. Driver Distraction Campaign
The Driver Distraction campaign is geared towards having people pay more attention while driving.
The two television ads were released in 2015 – both with high production values.
The ads focus on a mother distracted by her children in the back of a car; and a man being distracted by his phone while driving.
The 'Don't Look Back' advertisement begins with an elderly woman and works backwards through time to a mother looking back at her children in the car, before a road accident occurs.
The 'Anatomy of a Split Second' shows a summer scene played in a stop start fashion as a man checks his phone before crashing his car into another car.
Both advertisements won separate awards for public safety and production values.
Total production for the campaign came to €294,087  (€292,089 for television and €1,998 for radio).
The advertising spend in 2016 for the campaign was €628,483 across TV, radio, cinema and online.
Anti Drug and Driver Fatigue campaigns
TheJournal.ie also received figures for Anti Drug and Driver Fatigue campaigns.
In total, the production spend on the Driver Fatigue campaign came in at €138,342, while the media spend in 2016 was €527,589.
The production of the Anti Drug advertisements came to €149.369, while the media spend in 2016 was €157,969.
(The RSA launched the latest phase of its Anti Drug campaign this week)
Aacross the four roads safety campaigns, the spend was €920,714 for production, coupled with €1,730,466 for advertisement in 2016.
Bringing it to a total of €2,651,180.
Do the advertisements work? 
The RSA firmly states that its campaigns are cost-effective and help save lives.
A new report by the organisation – Road Safety Authority Communications Effectiveness – states that it is "efficiently and effectively implementing a well-researched, planned and evaluated communications strategy".
The report points to surveys carried out on the public which show that 95% of Irish adults believe road safety advertising is the most influential factor in the continued reduction in road deaths.
In relation to specific campaigns, it points towards the effectiveness of its driver distraction advertisements.
Two months after it launched its mobile phone distraction campaign, 66% of Irish adults surveyed strongly agreed that they were more likely to put their phone out of reach while driving than before the campaign launched. This increased to 73% in 2016.
Meanwhile, following the distracted parents ads, 63% of Irish adults strongly agreed that they would take extra care to focus on the road when there were children in the car.
This increased to 73% within a year.
In terms of cost-effectiveness, the RSA states that it focusses mainly on TV advertisements and augments this through other mediums – like radio and online.
Its 2015 advertising budget was  €4,196,000. The organisation said that it regularly engages an independent media auditor which reviews its activity annually.
"Road carnage in this country costs the state approximately €1.2 billion each year," the report concludes.
Each fatal crash alone costs €2.7 million. If we prevent just two fatalities each year it reduces the burden on the state equivalent to the value of all road safety advertising each year.