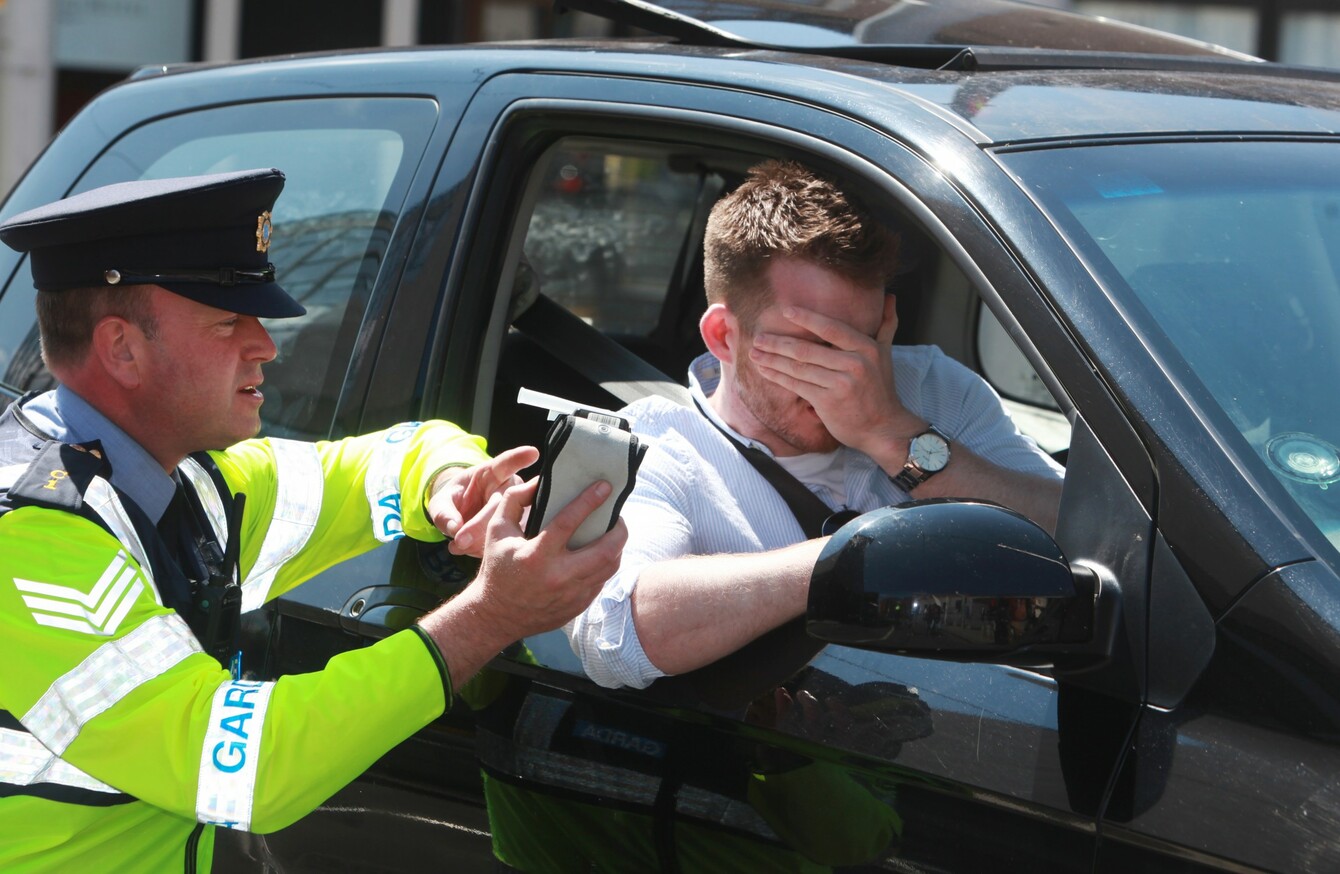 A garda performs a staged breathalyzer test with posed model driver.
Image: RollingNews.ie
A garda performs a staged breathalyzer test with posed model driver.
Image: RollingNews.ie
GARDAÍ HAVE LAUNCHED a major drink driving enforcement operation this month as new figures show road deaths in Ireland have jumped 15% in 2016.
A total of 87 people have died on the roads so far this year, 10 more than in 2015.
As well as this, there has been a 50% rise in the number of road deaths at weekends, a time gardaí say is traditionally associated with drink driving.
Gardaí in conjunction with the Road Safety Authority (RSA) are launching an enforcement campaign for the months of July and August, which are two of the most dangerous months of the year and a high-risk period for drink driving.
19 people died on the roads in July of last year and 14 died in August.
The planned campaign comes as a new report from the National Drug Related Death Index (NDRDI) shows that 32% of drivers who died in 2013 were drink driving.
The report also confirms findings in a recent RSA report which shows that alcohol was a factor in 38% of all fatal crashes.
"Urgent steps"
Superintendent Con O'Donohue of the Garda National Traffic Bureau said that it was important for everyone to take the necessary steps to reverse the upward trend in road deaths.
"For our part An Garda Síochána is increasing its day to day enforcement activity in July and August," said O'Donohue.
"Specifically we have added seven national 24 hour drink driving operations to our operations plan for these months.
We are placing a particular emphasis on targeting drink driving late at night over weekends. My colleagues around the country will put additional effort into targeting those counties that have a track record of drink driving related fatalities.
The top five counties for drink driving are:
Cork (10.6%)
Galway (9.7%)
Dublin (7.9%)
Donegal (7.6%)
Cavan (5.5%)
"We are asking everyone to think ahead and, if intending to have a drink when they go out, plan how to get home," said O'Donohue.
Your positive actions could save a life.
Moyagh Murdock, chief executive of the RSA said that the message of the campaign was particularly being aimed at young people.
"We want people to think of the possible consequences," said Murdock.
A drink driving disqualification could affect your employment prospects, you may never be able to travel to the US or face a lifetime of shame from having someone's serious injury or death on your conscience.