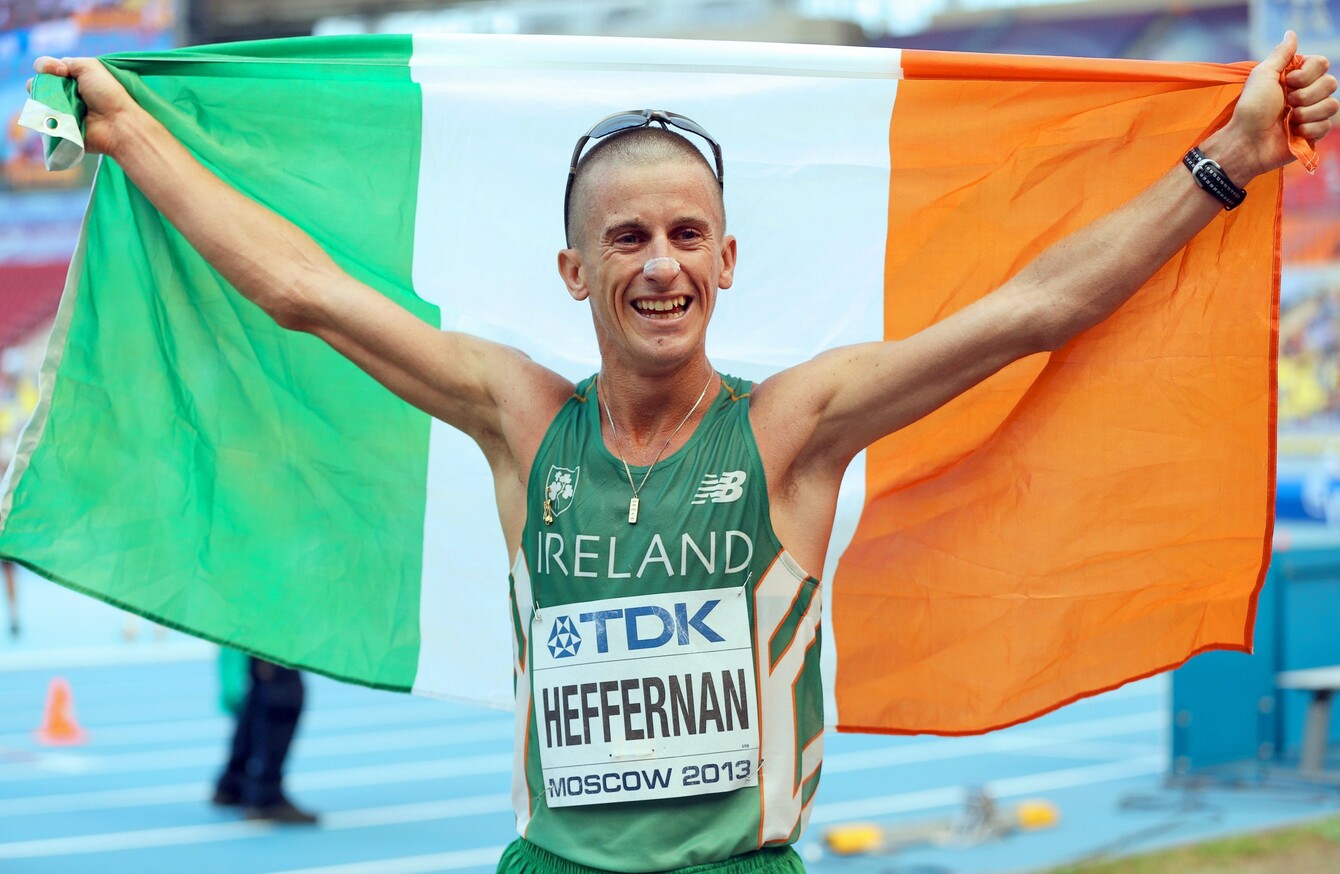 Rob Heffernan celebrates winning gold in 2013.
Image: Ian MacNicol/INPHO
Rob Heffernan celebrates winning gold in 2013.
Image: Ian MacNicol/INPHO
THERE'S NO REAL 'average' time for running a marathon but, as of 2014 at least, the median time for men was 4:19:27, meaning a speed of 9.76 kilometres per hour.
Rob Heffernan can walk 50km in 3:37:54, an average speed of 13.78kph.
Born on the final day of February, 1978, Heffernan originally wanted to play GAA with Nemo Rangers and did so up to minor level until it became apparent he was going to top out as an adult at just 60kg.
Rather than let that put him off pursuing sporting endeavours, the Cork athlete figured that his weight, combined with a VO2 max of 80 (the VO2 max for an average healthy male is 35-40), meant he was perfectly suited to an endurance sport.
Originally, Heffernan thought he'd take to running and was even awarded a scholarship in the US. However, he qualified and competed in the 10km walk event at the European juniors and found, in his own words, that he had a flair for the technique.
Having done very little training before then, there was massive scope for improvement for the young athlete so he worked hard on the technical aspect of the sport of race walking, focusing initially on the 20km version.
His first major tournament proved disappointing, however, with the then 21-year-old finishing 70th in the 1999 World Race Walking Cup in a time that was more than 12 minutes slower than the winner Bernardo Segura.
The following year, Heffernan finished 28th at the Sydney Olympics, again 12 minutes behind the eventual winner. More disappointment was to follow in both Athens 2004 and at the 2005 World Championships when he was disqualified.
It would be in 2007, at the age of 29, that Heffernan's career turned a corner over the shorter distance. A sixth placed finish at that year's World Championships was followed by a top-ten placing in Beijing 2008 and fourth at the European Athletics Championships in 2010.
(That race was originally won by Russian Stanislav Emelyanov, but he was banned due to irregularities in his biological passport in 2014 and stripped of the gold medal promoting Heffernan to bronze.)
Remarkably, in his very first 50km race just three days later, Heffernan finished fourth despite only deciding to give it a go as a reaction to his disappointment at missing out on a medal in the 20km race.
It was another fourth place finish for Heffernan in London 2012 but, once more, that would be upgraded to a bronze just this year when Sergey Kirdyapkin was stripped of his gold.
"It's huge. It's something that, as long as I've been doing sport, I've dreamt of winning an Olympic medal. Now to have one is a lot to take in," Heffernan said after his upgrade was announced.
However, it would be at the 2013 World Championships in Russia that all those hours of training, all the injuries, all the countless, countless kilometres put in would pay off.
With more than a dozen national titles to his name, the Togher AC athlete finally claimed an international crown when he finished over a minute ahead of his nearest rival to take the gold in stunning fashion.
Source: Keith/YouTube
Even Heffernan would admit that race walking was a sport few Irish people would have been familiar with when he first decided to take up the sport.
But through drive and determination, Heffernan conquered the sport and, as he gets set to take part in the Olympics for a fifth time later this year, who knows what else he may achieve?
Rob Heffernan is a Nissan ambassador and now four rising stars of Irish sport have been named among the 20 finalists who are currently competing in a public vote to secure one of ten coveted places on the Nissan Generation Next ambassador programme.
Each ambassador will receive a brand new, taxed and insured Nissan to drive for a year as Ireland's new generation of leaders and champions.
To learn more about the Nissan Generation Next ambassador programme and the sports finalists — Sophie Spence (Rugby), Shane Carthy (GAA), Cathal Daniels (Horse Riding) and Gearoid McDaid (Surfing) — and to vote, click below before 28 June.