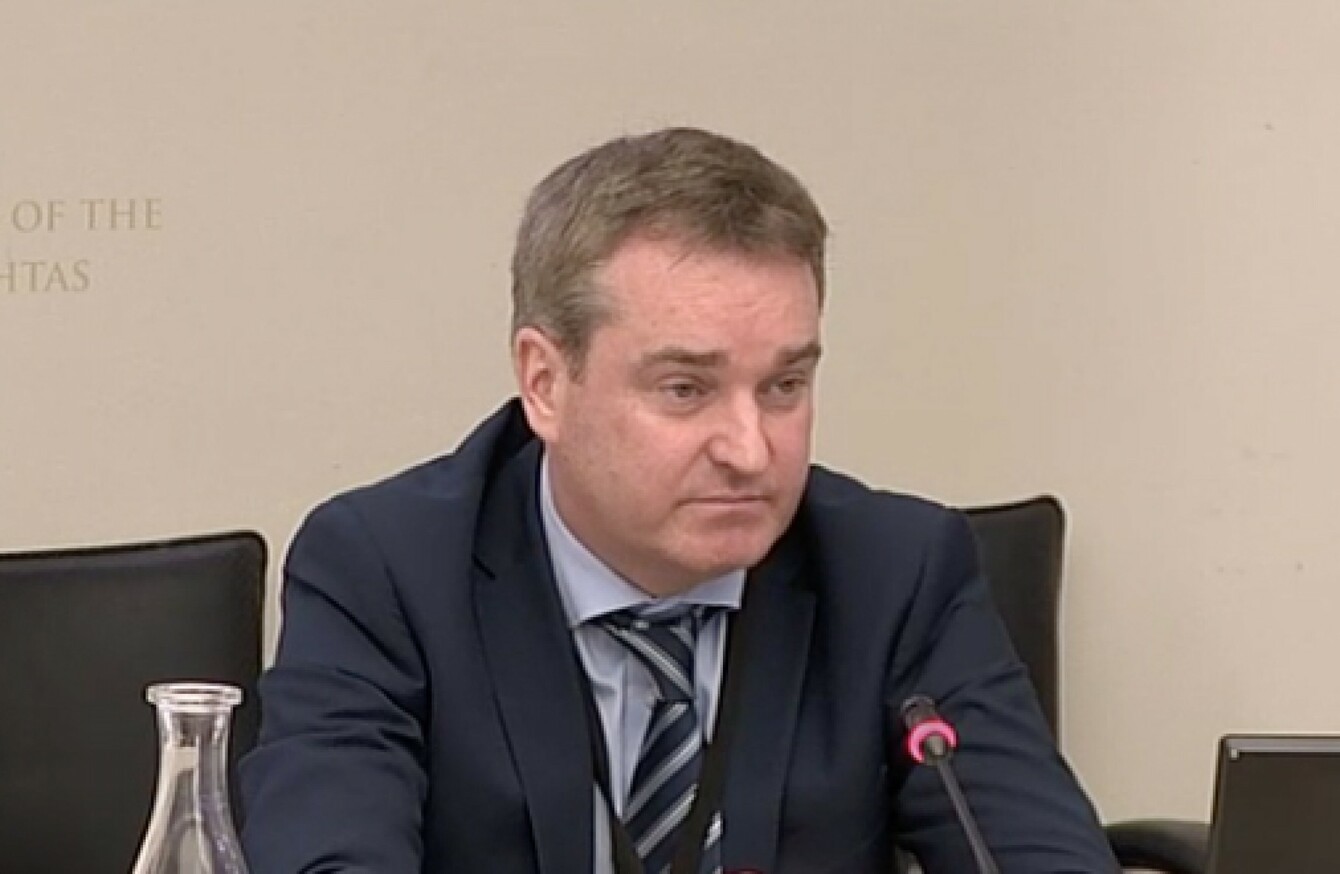 Robert Watt
Image: Oireachtas TV
Robert Watt
Image: Oireachtas TV
ROBERT WATT HAS formally been appointed as secretary general of the Department of Health, following Cabinet approval this afternoon.
The senior civil servant had been in the role on an interim basis since the beginning of the year, and a Government statement confirmed his full-time appointment today following "an independent process".
Questions had been raised about his expected appointment, after the government decided to sanction a pay rise of €81,000 per year for whoever got the job.
Watt was previously secretary general of the Department of Public Expenditure and Reform, where he earned €211,000.
The new secretary general of the Department of Health will get a salary of €292,000.
In a statement accompanying the government's announcement of his appointment, Watt said he would temporarily waive the €81,000 salary increase.
"The proposed salary for this role is higher than my current salary," he said.
"I don't think it is appropriate to take such an increase in pay given the current difficult economic conditions the country faces.
It had always been my intention that, if I were to be appointed to this role, I would waive this increase until the economy begins to recover and unemployment falls.
Watt also expressed his delight at being appointed to the role and said he looked forward to continuing his work with staff in the Department of Health.
Health Minister Stephen Donnelly congratulated Watt on his appointment.
"Robert brings a wealth of experience to this role and I looking forward to working with him in the time ahead," he added.
Opposition TDs have criticised the decision to appoint Watt, pointing out that the temporary waiving of the €81,000 pay increase is superficial.
Social Democrats co-leader, and Public Accounts Committee Vice Chair, Catherine Murphy said that she welcomed Watt's decision to waive the increase, but said it should be made permanent.
"Confirming his appointment today, Mr Watt reportedly said he didn't believe it was appropriate for his salary to be increased, from €211,000 to €292,000, 'given the current difficult economic conditions the country faces'. This is true, but it is difficult to envision a situation in which economic conditions, no matter how favourable, would justify a salary increase of that magnitude.
Mr Watt's statement is also unclear on whether, if economic conditions do improve at some future date, his salary increase will be backdated to the date when he permanently assumed the role he has been doing on an interim basis since January. This should be discounted, immediately.
#Open journalism No news is bad news Support The Journal

Your contributions will help us continue to deliver the stories that are important to you

Support us now
Sinn Féin TD Matt Carthy, who is a member of the Dáil's Public Accounts Committee, said that it was "just another stroke in this sorry saga".
"The reality is that the Cabinet have today signed off on this is absolutely shocking increase – when there has been no justification provided for the additional €81,000 in pay provided for this position.
"This process has all the hallmarks of a good old-fashioned stoke. There are massive public concerns around this and we will continue pressing for Oireachtas Committees to examine this appointment."
Sinn Féin spokesperson on Public Expenditure and Reform Mairéad Farrell called the temporary waiving "a cynical move" – and claimed that there was an applicant willing to take the role at the previous level of pay.
The waiving of this increase quite clearly indicates that the increase was never needed.
If [Watt] were to remain on the top scale and not take the €81,000 increase, he would still leave with a Golden Handshake lump sum payment of €316,000 and an annual pension which is 50% his final year salary (€105,000).
"These are berserk sums of money for ordinary people. If you are someone on the minimum wage your last increase was just 30 cents an hour."