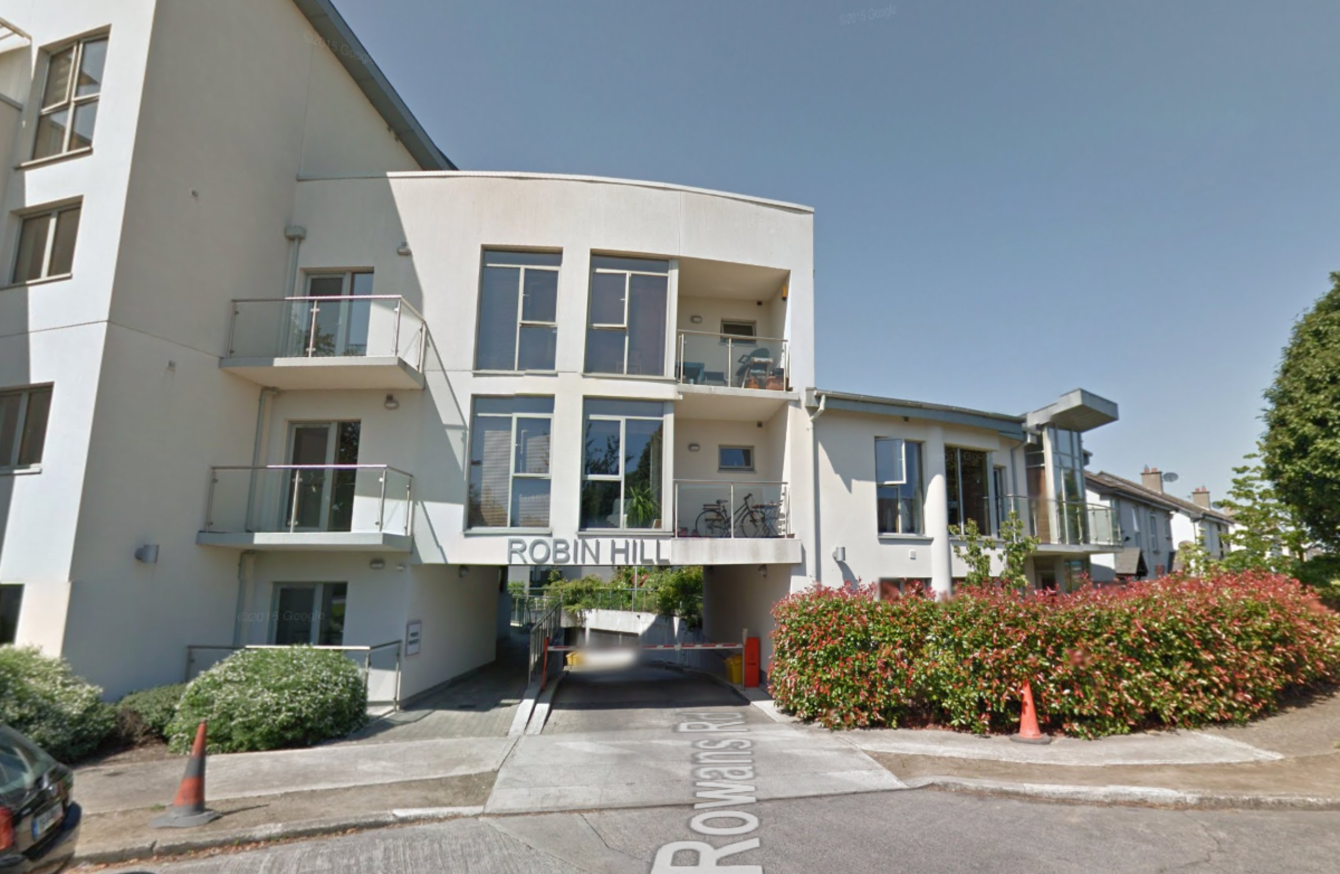 Robin Hill
Image: Google Maps
Robin Hill
Image: Google Maps
A NUMBER OF people are being evicted from their Dublin apartment building while others are facing rising bills after it was sold to vulture fund Cerberus.
The residents of Robin Hill in Sandyford have received notice from an agent acting on behalf of receiver Grant Thornton that some will be evicted as the receiver prepares to sell the development. Others will be forced to pay for heating and hot water supplies for, they claim, the first time in their tenancy.
Their situation was raised in the Dáil yesterday by People Before Profit TD Richard Boyd Barrett. He says that at least 15 of the 52 Balally apartments in the property have been vacant since it was put into Nama over five years ago.
In May of last year, Dun Laoghaire/Rathdown County Council asked whether it would purchase 15 of the vacant units. It was told that it could only buy the entire block.
However, the apartment block was sold to US investment fund Cerberus last year as part of a sale called Project Gem.
"Since that deal went through, Cerberus has moved to start evicting the tenants in a block that is still half empty… Of the 21 remaining tenants that I have met, five are to be evicted in June.
"Others whom Cerberus feels it cannot evict straight away have been told they must pay an extra €250 per month in heating and hot water charges that were previously included in the rent. They were never charged for that previously. In other words, this is a back-door rent increase of about 20%," he said.
Residents say that while heating supplies had previously been part of their rent payments, letters began arriving from a facilities company.
These letters, seen by TheJournal.ie, say that residents will have to pay €250 as a deposit if they are paying by direct debit and €400 if not. Monthly fees would then be around €140, residents have told TheJournal.ie.
This, residents feel, is a method of increasing rents by more than the 4% allowed under recent legislation.
"They're doing it by the back door," says one, echoing Boyd-Barrett.
Residents also feel that the change in their tenancy is an attempt to increase pressure on tenants to quit. Tenants feel that their leaving would allow higher rents be charged or a higher price commanded for the building.

Evictions
Under an amendment passed earlier last year, funds that buy property portfolios in Ireland can only evict 10 tenancies at a time. That amendment to the Residential Tenancies Act was brought through the Oireachtas in December as part of the government's rental strategy.
The provision was enacted to protect tenancies where a landlord or investor wants to sell more than 10 properties in a single development, as happened at Tyrrelstown, Dublin 15, last year.
While Cerberus is within the letter of the law, Kazi and his family are facing eviction. He has been told to vacate the apartment he has been in for four years by 25 June. However, he says that he has nowhere else to go.
My two kids and my wife live here with me – where are we supposed to go? There's nowhere to live – if I do find a place, there's 2,000 people queuing or it's €1,900 a month.
"My kids are going to the local school and we have been here for over 10 years, so we are rooted here. I have my life here."
One resident who didn't receive the eviction notice says that it's "just a matter of time" before they and their family are evicted.
A guy (from property manager Chartered Assets) came knocking on doors and told us nothing would change and now we have evictions and extra fees.
"But we have to sit tight – there's nowhere to go."

Community
The residents of the apartments have formed something of a committee to respond to the evictions. That is something of a "weird positive" according to Holly Fawcett, who has not received an eviction notice. She has been in the apartment over seven years and says that Cerberus is not mentioned on any correspondence she has received.
"It feels like (the receiver's) intention is to empty the apartments by natural wastage. They don't want to sign new leases with us to give us that bit of certainty. New leases would be a new contract and that's not what they want. They want us to go without much hullabaloo.
Through these (heating) charges and having a receiver overlooking everything, there is a lot of frightened people.
"I've been there seven and a bit years, so I want to make sure I'm protected. I'd be looking at a 60% or 70% increase in rent if I tried to find a place in the same area.
"I'm lucky in that I don't have kids but we do have our jobs.
We've been fortunate to not had our rents increased but that has come back to haunt us.
Another resident who hasn't received notice to quit said that residents have built their lives in the development.
We have treated this place as our home – we never even put a nail in the wall. Our neighbours got a letter and they just left. They feel we're all screwed, that there's no point in fighting it.
It's absolute 100% greed forcing us from our homes. We've all made our homes here, all have our lives here. They just want us out and have people who will pay €1,700 or €1,800 a month.
"We'll have to move in with my parents if we are evicted. It's a very sad state of affairs that this is happening in a rich country."

Responses
A spokesperson for Nama said they sold the property last year and thus has no involvement.
The Residential Tenancies Board said:
As this case could come before the RTB we cannot make any specific comments that would prejudice the independence of the decision makers in the RTB.
Representatives for Grant Thornton, Cerberus and property agent Chartered Assets did not respond to a request for comment. However, Cerberus has previously told a Northern Irish Assembly committee
"Cerberus takes its responsibilities as an investor and lender very seriously, acting within the framework of local laws and taking account of local cultural practice, endeavouring to develop and maintain positive relationships with borrowers, other local stakeholders and the communities in which they live and work.
"Cerberus has a long and successful track record in restructuring distressed real estate loans, supporting improvements to the underlying properties and working cooperatively with borrows. Typically and where possible, Cerberus' preferred outcome is to reach agreed resolutions with borrowers which are appropriately tailored to borrower circumstances."